Welcome to Autoshite Welcome to Autoshite, like most online communities you must register to view or post in our community, but don't worry this is a simple free process that requires minimal information for you to signup. Be apart of Autoshite by signing in or creating an account.
Start new topics and reply to others
Subscribe to topics and forums to get automatic updates
Get your own profile and make new friends
Customize your experience here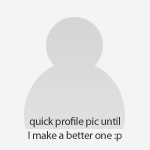 Signature
Started by
pompei
,
May 27 2008 11:50 AM
#1
OFFLINE
Posted 27 May 2008 - 11:50 AM
How do you put a picture in the signature box ?

---
#2
OFFLINE
Posted 27 May 2008 - 11:55 AM
Using the board tags link to one off site (f'rinstance Photobucket)
If you want to be really swish, you can do a HTML link to the pic such as:
[img]
http://autoshite.com.../logo_phpBB.gif
Which looks like:
[Url=www.autoshite.com ] [img ]http://autoshite.commlm/forum/templates/subSilver/images/logo_phpBB.gif[/img ][/url ]
Without the spaces
Autoshite... Its like the Posideon Adventure, without the adventure.
---
#3
OFFLINE
Posted 27 May 2008 - 11:56 AM
---
---
0 user(s) are reading this topic
0 members, 0 guests, 0 anonymous users