Well, I've finally gone and got meself a new daily (more details at the weekend when I've picked it up, suffice to say it's Gallic, but not the 505 I was gonna have.....), so, with a heavy(ish) heart, I have to do this: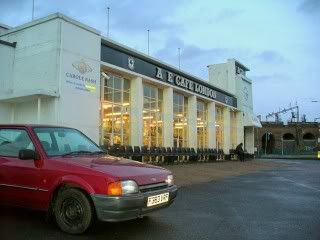 1989 Ford Escort 1300L, resplendent in Knacker.....I mean Lacquer Red with a grey cloth interior.
56,600 miles from new, MOT'd until July 8th 2008 and taxed until June 30th.
I bought this car in Jan 2007 off Lankytim's wife, since then I've put almost 14,000m on it using it every day for work and for scooting about the country at weekends to shows and suchlike.
It's utterly bog standard, with such refinements as analogue windows, keep-fit steering and original Ford radio/cassette player (which even works!). Plus a heater you could fry eggs with.
Good bits? It's just about the most economical petrol-engined car I've ever owned. Averages out at 51mpg doing the daily M5 shuffle to work and back, will do 54 on a long run if you don't thrash it, and 46mpg if you do. It's also been spectacularly reliable, other than a couple of oil/filter changes (it's overdue for a new filter by about 1000m now) and a set of brake pads I haven't had to put a spanner on it. Starts first time, every time.
Passed its MOT last July at 49k with NO advisories, needed just three patches on the floor and the aforementioned brake pads.
Bad bits? Ford's Valencia engine was never one of their best efforts, and this one's no exception. It sounds like a bag of nails (they all do that, Sir), breathes quite badly through the oil filler cap and burns a drop out of the exhaust as well under full throttle. As long as you keep it topped up weekly though, it's fine. I've been doing that virtually since I bought it, on the upside it's almost always running on fresh oil..... ;D
Clutch release bearing is noisy if it's been standing for a couple of days, again it's been like that since I bought it and has gotten no worse. If you use it every day it's silent. Gearbox is excellent, one of the nicest tightest gearchanges I've experienced on an FWD Ford. It's a 5-speeder, by the way...... ;D
Has also got the usual Crusty Wheelarch Syndrome that affects almost all Mk4 Escorts, though as yet there are no jagged edges. Paintwork's dull on the front end (typical Ford 80's paint problem).
Comes complete with the original purchase documents, finance agreement (

) and service history up to about 35k, all in a lovely Chatfields of Stoke wallet!
Will take some more pics of it if anyone's interested (I've got loads but it looks all shiny on them!!!).
£160ono
Two month's cheap motoring before needing any tax or MOT-type shanenigans, you could use it for that time and weigh it in, getting over half your money back. If it's not sold by the end of next week that's what I'll be doing, before SWMBO chops off my love spuds. :

Car's in Bromsgrove, just off J4 of the M5/J1 of the M42.