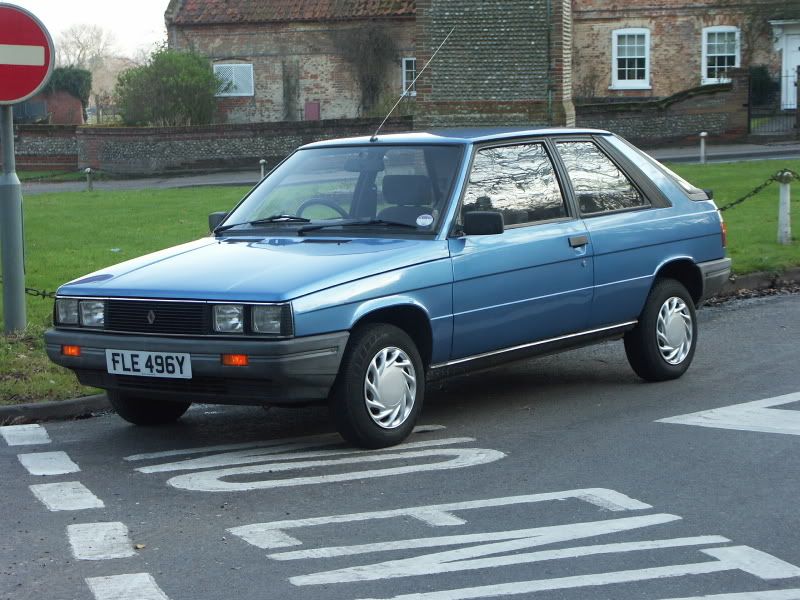 ....My trusty R11?
Impending new arrival (and housemove....again

) mean that the Eleven is surplus to requirements, and will shortly be in the way....Was just wondering if any of you chaps would like it? I don't want anything for it, I just want it to go to someone who'll run it at least as far as it's next M.O.T. in September, and maybe beyond if it passes!
I have a work colleague who would take it I'm sure, but he's the kinda muppet who's first question upon being offered a free car would be: "What sorta service history has it got?", i.e. a total prick! My only concern at the moment is to ensure it doesn't get scrapped, or end up in the hands of an idiot expecting 12 months unlimited mileage warranty!

As I say, the car is tested until september, but I currently don't have it insured or taxed, so any new custodian would have to arrange collection.
The photo's flatter the car slightly, but there's no major rust that I can see....It always starts, although there is a "knack" and it has never let me down....It's slightly rickety, and certainly doesn't drive anywhere near as nicely as the R9, and there's a "knock" when the weight transfers from left to right during a roundabout (I thought it was the steering rack end bush, but it evidently isn't serious enough to fail an M.O.T), but it starts, stops, and drives....In fact a good service and the renewal of a few breather pipes/hoses would probably improve it no end!
Oh, and the tyres and driveshafts are new!

I love the car, but I can't just keep everything, so it has to go....The offer is open to established contributors to the forum only (or friends thereof) and is on a first come, first served basis, via P.M....If you're the first to P.M. me you get first refusal, and so on!
Please, somebody give my baby a good home?