Welcome to Autoshite Welcome to Autoshite, like most online communities you must register to view or post in our community, but don't worry this is a simple free process that requires minimal information for you to signup. Be apart of Autoshite by signing in or creating an account.
Start new topics and reply to others
Subscribe to topics and forums to get automatic updates
Get your own profile and make new friends
Customize your experience here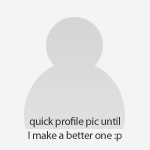 Strange stuff
Started by
pompei
,
Mar 18 2008 10:43 PM
#1
OFFLINE
Posted 18 March 2008 - 10:43 PM
---
#2
OFFLINE
Posted 20 March 2008 - 01:18 PM
I have singled this out as much for the strangeness as for
the mortal danger of the thing
Is it called a DEXION 75

What would happen if it stopped in a hurry?
Headline..Driver of two storied Dexion 75cc
impaled fom both ends on shelving
take the picture home and blow it up
and you will see how lethal it is.
but top marks to whoever built it for trying
---
#3
OFFLINE
Posted 20 March 2008 - 01:25 PM
Bit of a Mr Bean moment there!
The vehicle details for SLW 287R are:
Date of Liability 01 10 1991
Date of First Registration 01 03 1977
Year of Manufacture 1977
Cylinder Capacity (cc) 998CC
CO2 Emissions Not Available
Fuel Type Petrol
Export Marker Not Applicable
Vehicle Status Unlicensed
Vehicle Colour GOLD
---
---
0 user(s) are reading this topic
0 members, 0 guests, 0 anonymous users