Welcome to Autoshite Welcome to Autoshite, like most online communities you must register to view or post in our community, but don't worry this is a simple free process that requires minimal information for you to signup. Be apart of Autoshite by signing in or creating an account.
Start new topics and reply to others
Subscribe to topics and forums to get automatic updates
Get your own profile and make new friends
Customize your experience here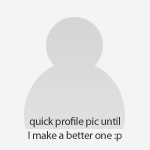 Spilt from trucks
Started by
pompei
,
Mar 16 2008 09:54 PM
#1
OFFLINE
Posted 16 March 2008 - 09:54 PM
---
#2
OFFLINE
Posted 16 March 2008 - 11:08 PM
The Sunny D one is a bit of a worry tbh!Lots of dead fish - whats in that stuff?There was a rumour that if you drank enough of the foul concoction you went orange, due to the artificially high levels of carotene in it....

2004 Alfa Romeo 156 JTD Sportwagon - Much Lovliness
1985 Ford Capri 2.0 - Baby - Sulking - Broken
2012 Vauxhall Combo 1.3 Dizzle - Workshite
2012 Kia Rio - Mills -o- matic SWMBO
2005 Ford Fiesta 1.25 zeeetekkyo Stepdaughtershite
2017 Ford Kuga - Stepdaughterinlawshite - On Finance like a mug
2003 Ford Focus 1600 Ghia - Bargainous Stepson shite
---
#3
ONLINE
Posted 16 March 2008 - 11:56 PM
I heard that also, however it doesn't make it any more true

---
---
0 user(s) are reading this topic
0 members, 0 guests, 0 anonymous users