It's home!
Picked it up yesterday. Engine sounds great, and it's quite solid really. Downsides (apart from the "old boy" style paint touch-ups) are that the clutch isn't currently working (reckon it's either the pipe (plastic for some reason) letting in air or a leaky slave cylinder), the front seat upholstery is Donald Ducked and it has a few of the usual '70s Italian electrical issues (no main beams, no indicators). Other than that I'm quite pleased with it, especially given what I paid for it (although with the cost of trailering it back form Kent and six months' tax it's already starting to add up), and hopefully by next weekend I'll be happily zooming around in it.
It was ably dragged back from Edenbridge by this:
£140-worth of delightfully scruffy Rover 825D. These make chuffing brilliant tow cars - the 2.5-litre VM turbo diesel lump has a huge amount of torque, and because they're so high geared (60 in 5th is about 1800rpm) they're quite economical on a run too. It's tested till the end of August so Imight hang on to it for as long as space permits in case I bag any more non-runners on the Bay.
Then of course there's this.
The ex-Torsten Renner Twelve Estate. Picked it up on Wednesday evening from Torsten's Aladdin's cave in south London, it drove home without missing a beat despite heavy traffic. It's a really nice old thing to drive, not dissimilar to the 304 in a lot of ways - it's slightly less refined and doesn't feel as solidly built but it's appreciably quicker despite being a cc down, and the seats and ride are just as comfortable. In fact I really rather like it.
Also bought this: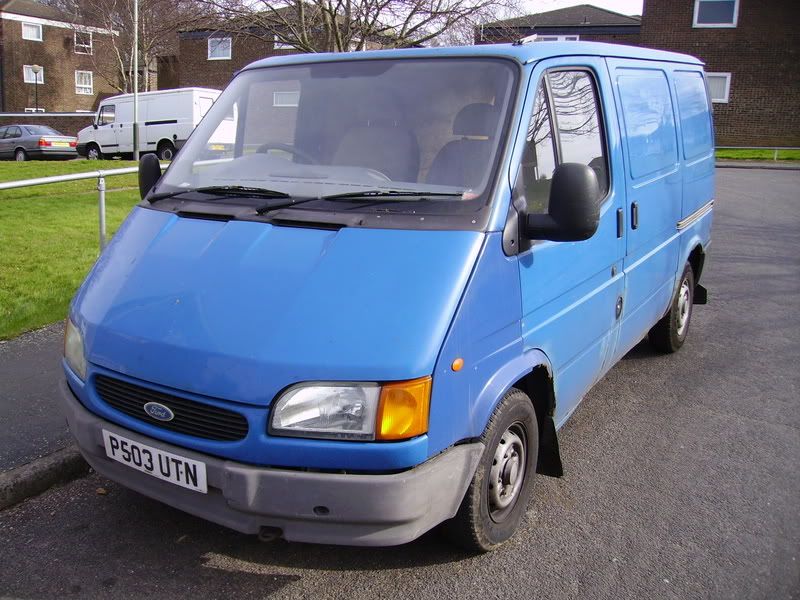 Sold my last Transit after it started cutting out on long runs but I was missing having a van and this one came up. Rough as a badger's behind but it's got plenty of test left on it and, being a 2-litre twin cam petrol, it's bloody quick too. Reckon it'd break the ton given a long enough straight. No PAS though, which is a pain.
I've got something else coming in the week - I'll post about that when it arrives. I've also got rid of the Saab 9000, got buyers lined up for the white 900 and the Renault 9 turbo (needed a lot more bodywork for its test than I had anticipated - it's sold to a mate though, and hopefully I'll end up buying it back off him when he's bored with it) and the Metrocab will be going on eBay soon, so the fleet size is roughly stable. Well it's still below 20 anyway, unless I'm forgetting any. I'm enjoying it while I can - when I move house it's likely the size of the fleet is going to have to be trimmed substantially.