Welcome to Autoshite Welcome to Autoshite, like most online communities you must register to view or post in our community, but don't worry this is a simple free process that requires minimal information for you to signup. Be apart of Autoshite by signing in or creating an account.
Start new topics and reply to others
Subscribe to topics and forums to get automatic updates
Get your own profile and make new friends
Customize your experience here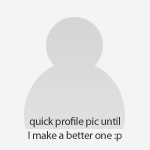 Litres
Started by
bigstraight6
,
Feb 02 2008 08:06 PM
#1
OFFLINE
Posted 02 February 2008 - 08:06 PM
http://uk.youtube.co...-aC5B348rA&NR=1

---
#2
ONLINE
Posted 02 February 2008 - 08:30 PM
I've read about that car before. I think it's cost the guy two wives.I was a vintage car show once where there was a Meteor engine in the Stationary Engine section. They only fired it up a couple of times but it was incredible.Watch the paperwork on the bench when this one fires up.

http://uk.youtube.co...h?v=CJuS0jR6_E4
The Rover has a whole forum to itself!
http://www.ppcmag.co...asp?FORUM_ID=15
---
---
0 user(s) are reading this topic
0 members, 0 guests, 0 anonymous users