About half past midnight last night I heard a loud noise outside. Unfortunately I had decided to get an early night last night and was already in bed, otherwise I would have been at the window like a shot. As it was, by the time I got up and got to the window there was nobody there. This morning though I went outside and this was the sight that met my eyes.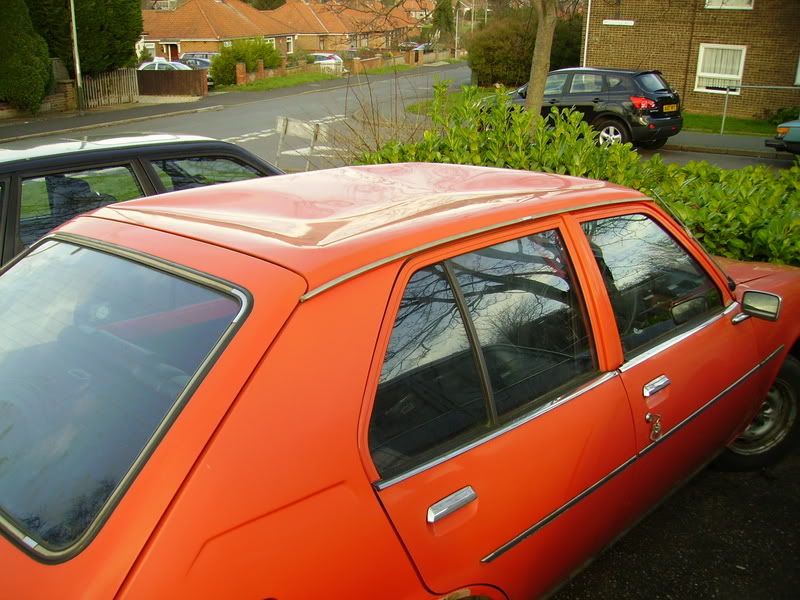 Completely fucked. I know I could probably straighten the worst of it out by lying on the back seat and heaving with my legs, but it's never going to be perfect. That was probably one of the best RWD 323 hathcback shells left in existence, and now it's screwed. I might as well stick it on the Bay for banger racing.

They also seem to have tried the roof of the 304, but that is made of somewhat sterner stuff and the damage is barely noticeable. Oh, and they kicked the passenger side mirror off the 460 and broke the glass in the P/S mirror on the R5. And they ripped the dreadful plastic Halfords door mirror off the 304, but as I'd been planning on doing that myself it's no great loss. They obviously decided against "roof jumping" the Volvo and the 9s in case they went through the sunroofs - the little darlings wouldn't have wanted to scratch their ankles, now would they? I've now got to decide whether I can be arsed to call the police as we all know they're going to do fuck all about it. Of course if I'd been awake when it happened and had gone out there waving a knife/crowbar/whatever you can guarantee they would have been up here to arrest me like a shot. This country really is a complete toilet.