Welcome to Autoshite Welcome to Autoshite, like most online communities you must register to view or post in our community, but don't worry this is a simple free process that requires minimal information for you to signup. Be apart of Autoshite by signing in or creating an account.
Start new topics and reply to others
Subscribe to topics and forums to get automatic updates
Get your own profile and make new friends
Customize your experience here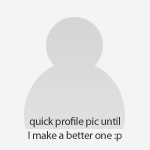 #61
OFFLINE
Posted 10 January 2019 - 08:10 PM
Paging Junkman!!!

Sent from my TA-1012 using Tapatalk
Sigh...
I'm too old for this emotional rollercoaster game.
Jim Bell, They_all_do_that_sir, Partridge and 4 others like this
Obviously possessing superior knowledge of all things automotive, finding contradicting everything on here as some form of game, which some find pretty tedious, but sadly not tedious enough to just fuck off as a consequence.
---
#62
OFFLINE
Posted 10 January 2019 - 08:21 PM
Bramz, sell it to yourself once every couple of weeks and your itches will be scratched.

That'll be £500 for the initial consultation please.

eddyramrod, Junkman, robinmasters and 5 others like this
Touched by His noodly appendage
---
---
Also tagged with one or more of these keywords: For Sale
0 user(s) are reading this topic
0 members, 0 guests, 0 anonymous users