Here is another of my heaps.
I bought this one in April from a lad in Preston who was going to scrap it then felt guilty, I gave him £75. It then sat in my garden for ages annoying the mrs, then got shoved in a mate's yard till a couple of months ago, when I finally pulled it in the workshop for some TLC. Its an 'EX16' 1.6 16V with a 125 bhp engine as found in a CRX. Its had two owners and done 107k so is not a concours job but is pretty decent and remarkably original, I think its had a front wing on it but is otherwise unmessed-with. I have fitted a new waterpump, cambelt, exhaust, assorted MOT bits (brake hoses, CV boots, wipers etc), tyres, and done quite a lot of welding on the rear of the sills/wheelarch area. Plus some faff activities like adjusting pop-up headlight positions etc to get the panel gaps bob-on again. This week it passed the MOT at last and I gave it a blezz. Its great. really zippy, the engine is very eager and sounds great. Driving position is very nice and everything works inside (radio aerial is snapped sadly)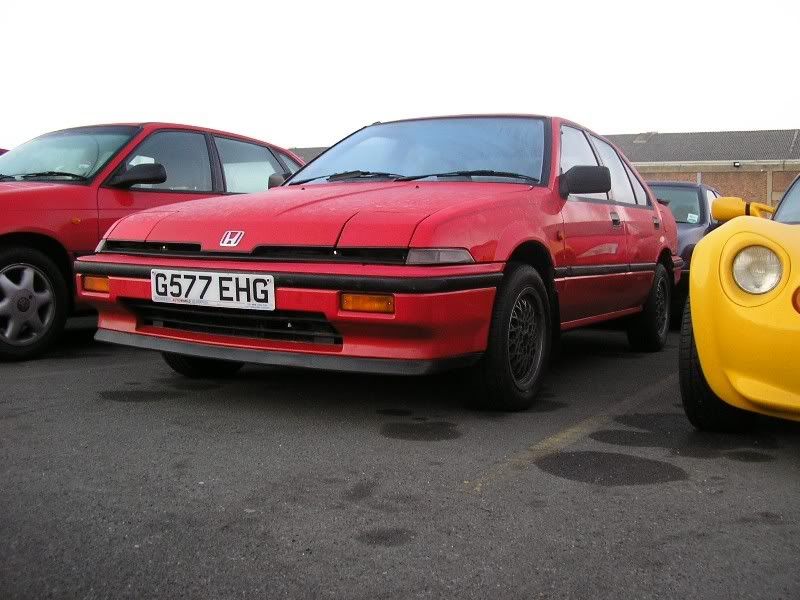 Unfortunately, its too young for a classic insurance policy, does not get cheap tax, and is no good for towing stuff on the A frame, so its going to have to go to a new home as it does not really meet any of my motoring needs. I dont really want to get rid of it as these are now super rare and very appealing, but I am not in any gasping hurry to get rid so hopefully i'll find someone appreciative to take it on. I'm taking it home to Crewe over Xmas and will give it a good going over with the polishing mop which should be rewardsing as its a bit grubby after its workshop stint.