Welcome to Autoshite Welcome to Autoshite, like most online communities you must register to view or post in our community, but don't worry this is a simple free process that requires minimal information for you to signup. Be apart of Autoshite by signing in or creating an account.
Start new topics and reply to others
Subscribe to topics and forums to get automatic updates
Get your own profile and make new friends
Customize your experience here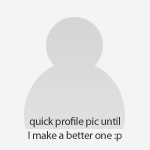 #31
OFFLINE
Posted 14 November 2018 - 10:42 AM
Checked - my sticker says 1.83.

---
#32
OFFLINE
Posted 14 November 2018 - 10:48 AM
Ive got a set of dark red back lights for one of these in my shed. Free to collektor before I bin them.
Sideways is the only way forwards!
1976 Manta B coupe
1987 Manta Hatch 16valve
1989 Mercury Grand Marquis
1992 Vauxhall carlton 2.3TD
2005 Discovery 3
---
#33
OFFLINE
Posted 16 December 2018 - 06:21 PM
What happened to this steed in the end ?

---
---
Also tagged with one or more of these keywords: For Sale
0 user(s) are reading this topic
0 members, 0 guests, 0 anonymous users