The Touring.
I'm not one for selling off members of my family but I have too many cars and would like to off load this, much to the missis' disgust. have just replaced it with a more suitable vehicle for my needs. using this touring but only at weekends, it just sits there all week, under a tree because now I commute by trainz to the big smoke.
MOT June 2019, Taxed to get you home. Cambridge, can haz deliver, meet halfway, pick up from airport... agree expenses beforehand.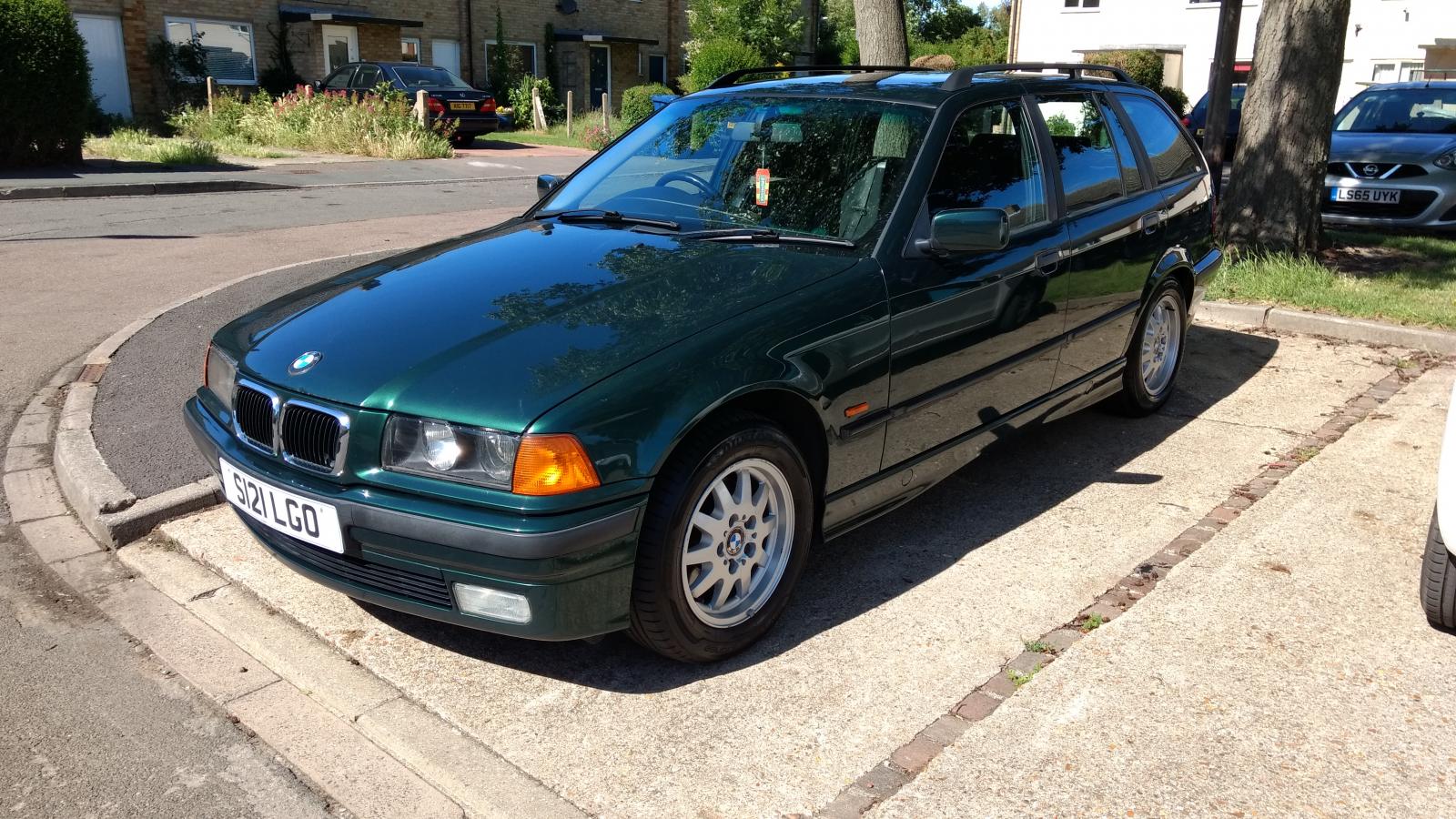 Shit interior shot:
Engine obvs:
At work as a family truckster:
The shit bits:
It has no ASC Traction control or ABS which hasn't been diagnosed and I've assumed it's a wheel sensor so I bought 4, changed the fronts and can't be arsed to do the rear. I went through the Beast from the East with it and I'm still alive.
It has a very light clutch judder now and then when cold, it's always done it in the years I've had it. Clutch bite is great with no slipping.
The engine may seem to hold back and let go sometimes when booting it and again, it's always done it and is really undetectable unless you know that it's there. I have never got to the bottom of it, I even took a chance and changed the lift pump which made no difference, so it comes with a spare pump.
Revs can also drop sometimes when stopping or reversing, especially when the ambient temp is below say 13 degrees. I suspect both these issues are related to a fueling issue. It's not changed in the years that I've owned it.
Front calipers get sticky if left for ages without being cleaned or serviced
Rear rear courtesy light has always been inoperative, I have no idea why and again, can't be arsed to sort it as the car has 3 other interior lights.
Radio display goes wanky sometimes. Not done it recently but turning it off and on kinda sorts it. Volume control knob is worn and can go uber loud when turning it up sometimes. Radio has code.
Recently I pulled the gear knob off by accident and it keeps coming off when enthusiastically changing gear... now that is annoying.
Rot is starting to set in, needs dealing with now.
When I sold it to a friend, she managed to add some dents and scratches to it before I bought it back.
Tailgate bottom has been repainted and the paint is crazed. I initially bought it like that and it's just got worse over time.
Heater motor is beginning to squeak on low sometimes when cold. 16/2/19 No problem with it now.
Cover in the boot over the CD changer keeps falling off around corners. Can supply a bit of wood to keep it in place... maybe.
Small chip in screen which is recent. I changed the screen (see MOT history) to a sun strip type but failed to notice the back of the rear view mirror has a little bit of silver showing through.
High miles, just clocked over 182,000. I commuted 100 miles a day for a year last year so they stacked up quickly. All motorway driving.
Interior cloth gets dirty, quickly. Comes up lovely with a wash though.
BMW bonnet badge recently de-laminated and got blew off at high speed. Edit 5/12: Replaced with cheap fake badge... Looks great (for this season maybe...)
Getting a bit 'loose' feeling up front when blipping the brake, reckon it'll need top mounts soon but not fully diagnosed yet.
Rear screen scratched from a duff wiper which got thrown in the bin when I bought the car back.
The amazing bits:
Still a very usable car, it takes seconds to remove the luggage cover and flip the seats and you can throw a bike in the back. Despite it's character* (see above) it's still strong, pulls great, doesn't smoke and is great on fuel. It regularly charges up and down the M11 at over 4000rpm and i can't see why it wouldn't keep doing it.
Takes off well, will take abuse. Sits in traffic for ages quite happily. Easy to drive manual and fairly comfy yet firm ride. I have back problems and hours in this doesn't hurt other than a numb arse.
Dunlop blue response in correct size fitted all round including the spare. about 2 thirds worn and I have just rotated them, no puncture repairs or damages, balancing is fine. Edit 5/12: Got a punture dint eye... Got it reapered/ balanced and put it as a spare. Put the spare on n/s/r to use it up.
Regular servicing when it asks for it. Plugs, oil, filters including pollen. Uses valvoline Maxlife but in the winter it developed a rattle when freezing cold on start up so I changed the oil from 10w40 to 5w40. Seemed to cure it and hasn't repeated the issue since. Recent leads as one packed up when I carefully* removed it.
Edit 5/12: Service approching. Service due 16/2/19
Meyle rear shocks, top mounts and dust covers fitted a few months ago. The originals I took off still worked but the shafts had rotted thin at the top.
Recent front pads and lower suspension but it has covered some motorway miles now.
Edit 5/12: Bought rear pads and discs to stop a squeak, but it stopped itself. So spares!
4 electronic windows, remote alarm central locking all with security codes on secret bit of paper.
1 and a bit year old Battery.
Original car throughout. Only addition is the BM CD changer I added.
Reversing sensors work brilliantly.
DISA valve appears to be working still. This can be a troublesome part that costs over 200 quid from BM
Brighter bulbs in headlamps. They don't improve it much but the old bulbs were shockingly dim.
Edit 5/12: 1 blew! Replaced. Reverted back to normal bulbs now. 16/2/19
Recent cam cover gasket and oil filler cap. Gasket cover is weeping. Poor quality part has failed 16/2/19
Comes with some spares: Cam cover for tarting up and replacing the one that's on there, there is another gasket for that too. Spare used coil pack, no idea if that works. Bought coz cheap and 'get you out of bother' part. 2 new rear ABS sensors Now fitted 23/2/19
I have covered almost 400 miles (with an average speed of 34mph!) in it over the last two days and sat in some pretty horrific traffic and it hasn't put a foot wrong. Despite it's age, this car will see you alright.
Priced to sell, oiro £650 drive it away. My ears are open to offers.