I got this HR-V from a mate a couple of months back as a swap for my C4. He'd had it for a couple of years and it'd never let him down, but he's now upgraded to a CR-V. I held onto it for a while to use as a tow car, but I now have the ex-cpjitservices Rover 75 which is towbarred up and which will (all things being equal) be staying in the fleet for a little while, so the Honda is now surplus to requirements.
It's a fun thing to drive and goes well for a 4x4 with a 1.6 petrol engine. It's surprisingly decent on fuel as well. Mechanically the only bits I can fault it on are the clutch is getting high, the brake pedal has a bit more travel than I'd expect from a Honda (although the brakes still stand the car on its nose if you stamp on them), and the rear end feels a bit tight on full lock so could probably do with a dose of that magic fluid whose name escapes me. Oh, and the EML sometimes comes on after a few miles, but makes no difference to the performance or economy and goes out again as soon as the ignition is turned off & on, and importantly it will stay off for long enough for the car to go through the MOT emissions test, so I've not investigated further. Current MOT is to 25th November.
Bodywork is mostly fairly good but has some bubbling coming up round the edge of the rear arches. When my mate bought it it had gone where they normally go, just in front of the arch on the back of the sill and the bottom of the rear wing - he chopped out the rot and welded it up so that should be OK for a bit, although the touch-up paint he used isn't a perfect match. I've Kurusted the arches to stop them getting any worse - I think they are still very much at the rub-down-and-respray stage. I've bought a can of Honda Supersonic Blue paint from Halfords, and this will come with the car together with a tin of lacquer.
The interior is all there apart from the tailgate trim which is MIA for some reason. The seats have a few marks on them but nothing too horrific. There is a radio fitted, but it is a single DIN job shoved in a double DIN slot so looks a bit odd, although it's all wired up and working. The aircon doesn't do much but everything else works as far as I'm aware. The remote for the central locking doesn't work though, so needs to be locked / unlocked via the key in the door, and the tailgate is done separately.
When I got the car there was a rattle from the back end over bumps when unladen which sounded like the drop links. I've just replaced them (what a fun job that was...) but haven't had a chance to get all my tools out of the boot so I can take it for an unladen test run - weather permitting I'll do so tomorrow.
It's currently running on 15" steels from a Citroën Picasso. It will also come with the original 16" Honda alloys, but two of those will need tyres (205/60x16).
This is the only photo I have of it at the moment. I'll take some more when it stops pissing with rain.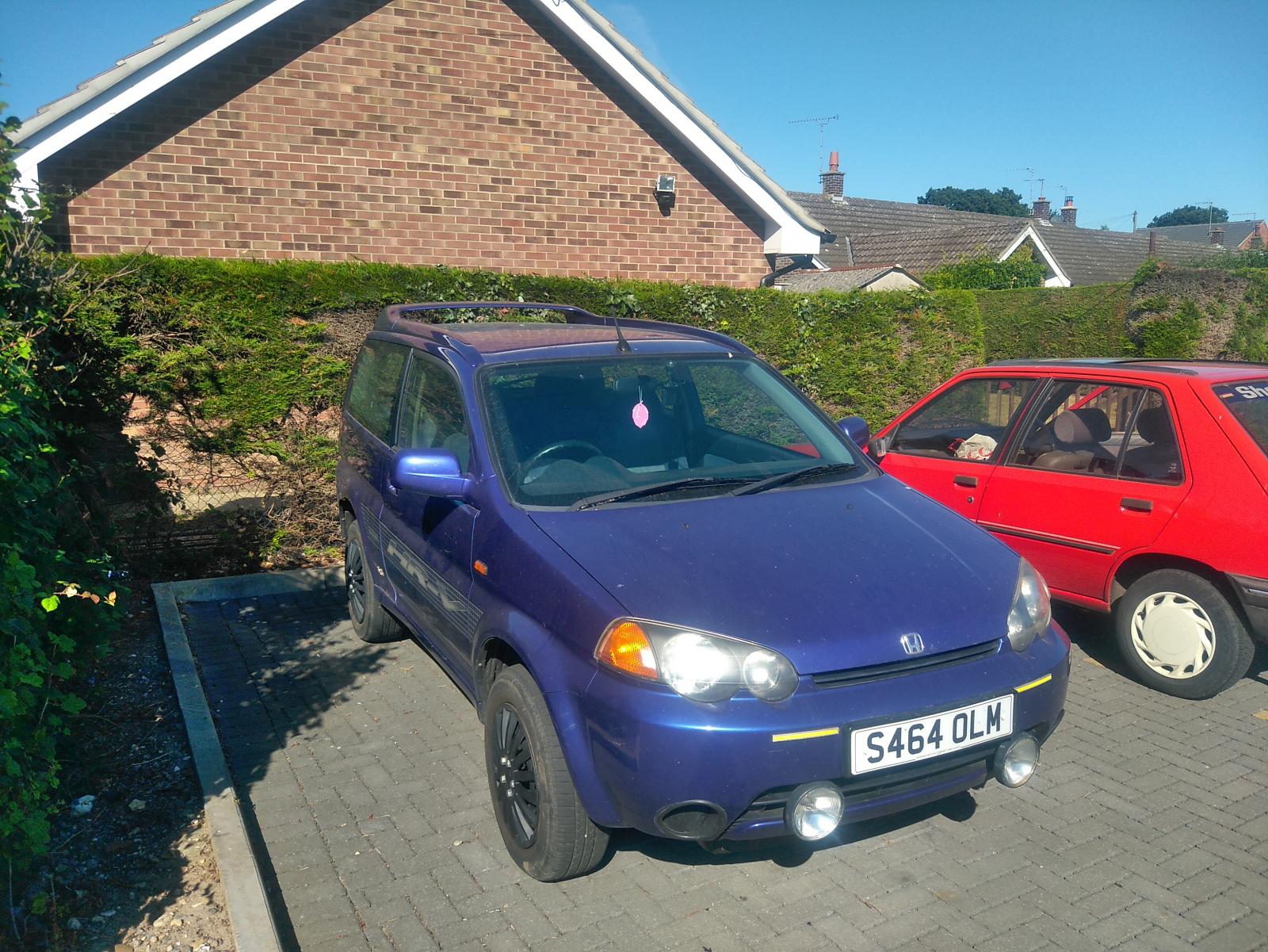 In NE Norfolk, as always.