so how do I start this post off well...
to cut to the chase I know of a picture that was taken 9 years ago and its a picture of an abandoned invacar and I have been trying to find said invacar for reasons that are probably quite illogical

(also some slight sentimental ones)
I have managed to stalk track down the person who took the photo, and he said that it was by an art studio on fish island bow (which is hipster-central FYI) (the photographer is currently on holiday apparently, but said that when he gets back he will go through his archives and see if he has a reg plate shot)
so the other day I went to fish island and had a good old fashion hunt

(and utterly did my back in) but sadly I was unable to find it despite finding plenty of other chod.
so Im wondering if any of you guys might have any idea where this invacar is or what might of happened to it?
the sentimental reasons why I want to find and save this/get an invacar is because when I was about Age 3 I saw an invacar parked up by the side of the road and it was the the first car that ever stood out to me made me go "WTF is that?" (but in 3 year old words, I didn't learn the middle finger until i was 4

) to which my mum said "its a car for disabled people" (which 3 year old me took as, "all cars with 3 wheels where built for disabled people" so I also thought for a long time that reliant robins where built for disabled people too...)
the "illogical" reasons are that well I have never owned a car before... and I think an invacar would be a good simple vehicle for me to cut my teeth on so to speak, and then once I got it going I could "daily it" as a small run about, since ironically enough I have a bad back which prevents me from doing much outside of the house otherwise... also owning a car in Central London is a horrible idea but if you must, best it be a small compact car right?

(and also hopefully its cheap to have/run as well...)
also finally its also a case of I Just want to do SOMETHING, my chronic back injury has meant that I have been housebound for the last 5 years or so and I just want to fucking do something... and what better to do then to try and find and save a historically important vehicle thats also proper autoshite

(this also leads to, even if I cant personally save it, I hope that its at least found and persevered by someone here but ideally id like to grab it

)
PS while out and about looking for the invacar I came across this yard in fish island which seemed to have some traveller type people mulling around about in, I was hoping to ask one of them if they knew about the invacar since they seemed to of been the sort of person who might know about it sadly I could not find a way into the "compound",I also grabbed this shot since my inner bus person wonders what that coach is? sadly I could not grab a reg plate shot, for those wondering as well the thing with the blue tarp roof looked like a pretty old Lorry but I could not get a good view of it sadly, there where also some cars and broken transits sitting around.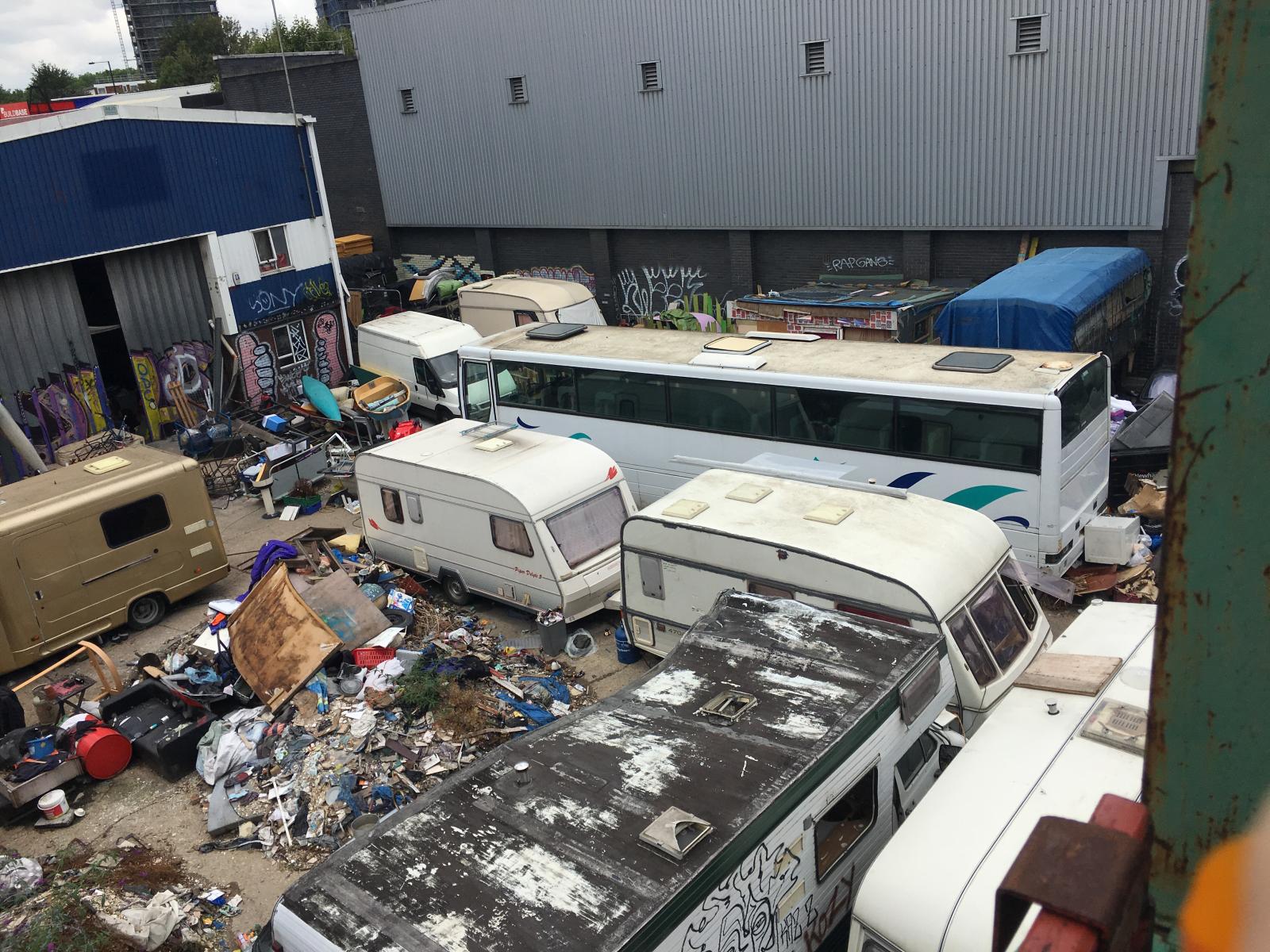 so yeah I hope you all dont mind me making this post I know its a bit far fetched so to speak (the picture WAS taken almost 10 years ago and fish island has been quite heavily redeveloped since then I think)...
but I am stubborn bastard so I hope to find it still