Yes, I suck at collection threads. But this happened a bit spur-of-the-moment and even took me by surprise...
Earlier in the day I posted in the Grump thread about being effectively gazumped on a GS300 because I put off going to visit it for a day to save the seller an hour's trip each way to open up.
Faced with an afternoon off that I didn't wish to waste, I dutifully got on Autotrader and anger-searched through the Lexuses...but alas there was nothing worth investigating. I think I've concluded that what I actually want isn't yet really something I could afford with a comfortable contingency.
As I really need a car for work now, I became a bit derpy and did an extended search for all vehicles with an engine 3.0 in size or more, petrol, sorted by distance.
I was on page eleventy-eight and about to give in when I was drawn into an advert for quite a rare beast. I read the advert title and contents before I clocked the price, and my jaw dropped.
Two lovely phone calls later with the private seller, and I was at my dad's house cadging a lift. I took no photographs as I didn't dare think I could be collecting anything today - that surely doesn't happen to me, right? I was told the V5 was elsewhere but on its way back to the seller's house...I daren't be optimistic.
I arrive, meet the lovely chap selling it, sadly because of a bereavement. I am shown into the garage where it has been kept most of its life, and he starts it up and backs it out. I am awestruck, and immediately fall for it. I cannot drive it because it is SORNed, but I don't care. I'm buying it. Money is exchanged. Insurance is arranged (£30 cheaper than the S60).
As the car has an MOT until middle of August 2019 (!), all we needed to do was wait for the seller's son to bring what I thought was just going to be the V5 from Reading, so I could tax it and drive home 100% legal-beagle.
A bit of waiting ensued. A lot of waiting, but no matter. I was quite giddy, and I entertained myself by sending cryptic* context-free photographs to Supernaut and 17_Coffees in our Faceache chat...
Dealer plates...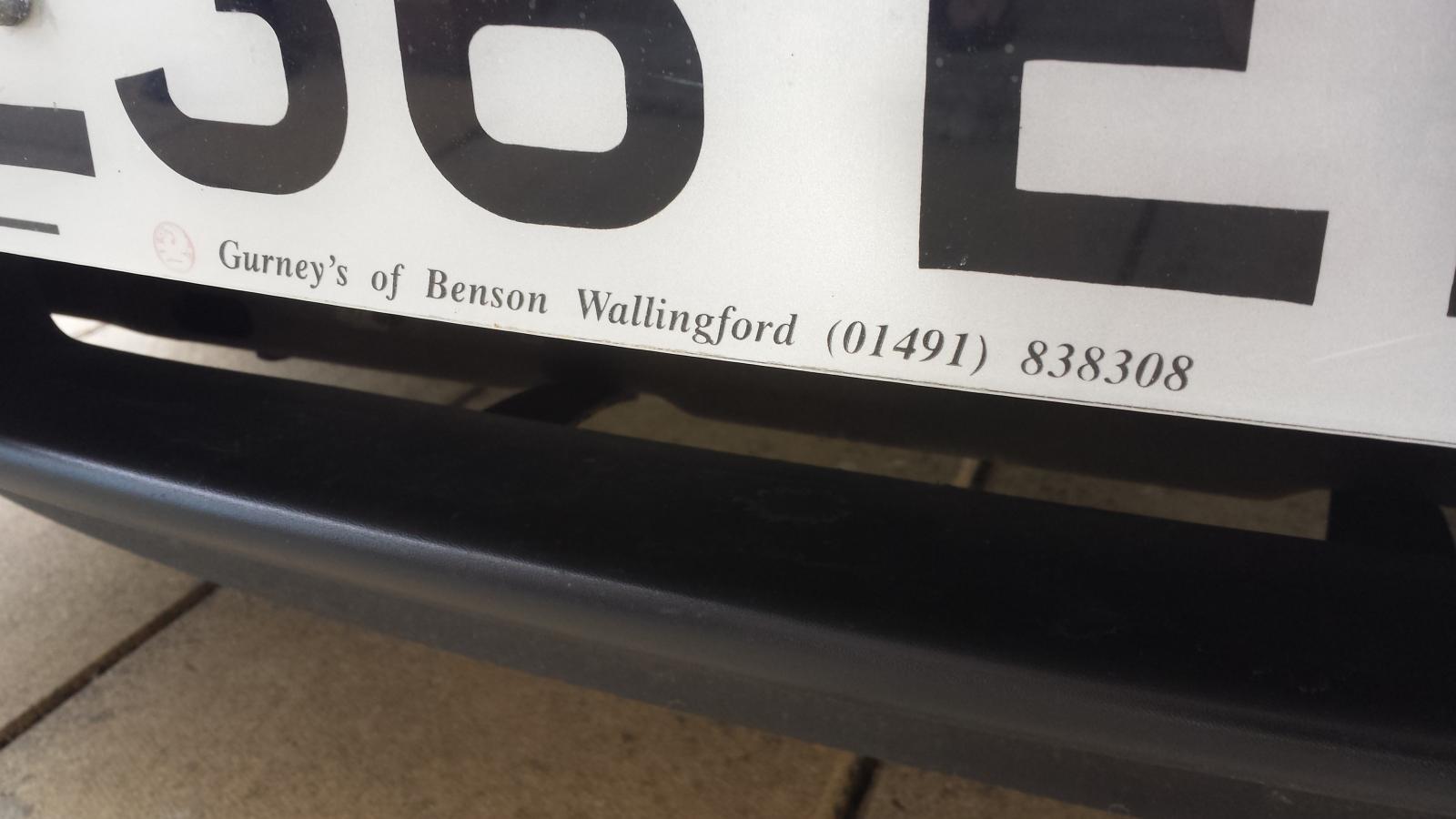 WHAT SEATS....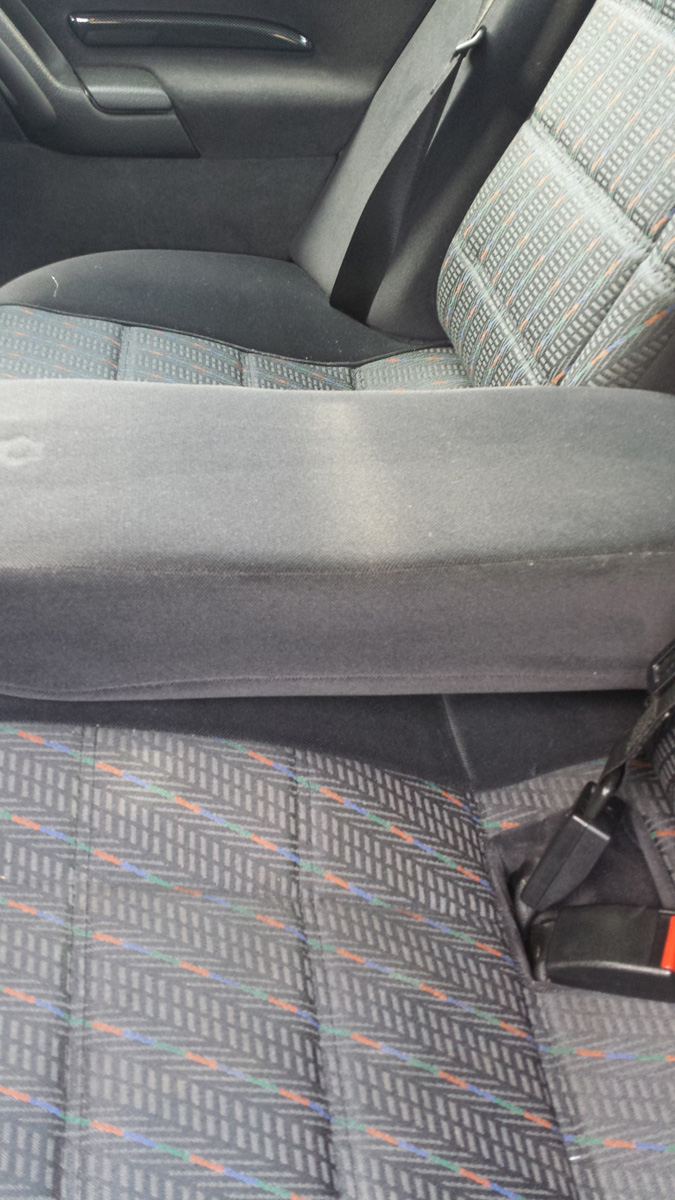 Headlamp sprayers...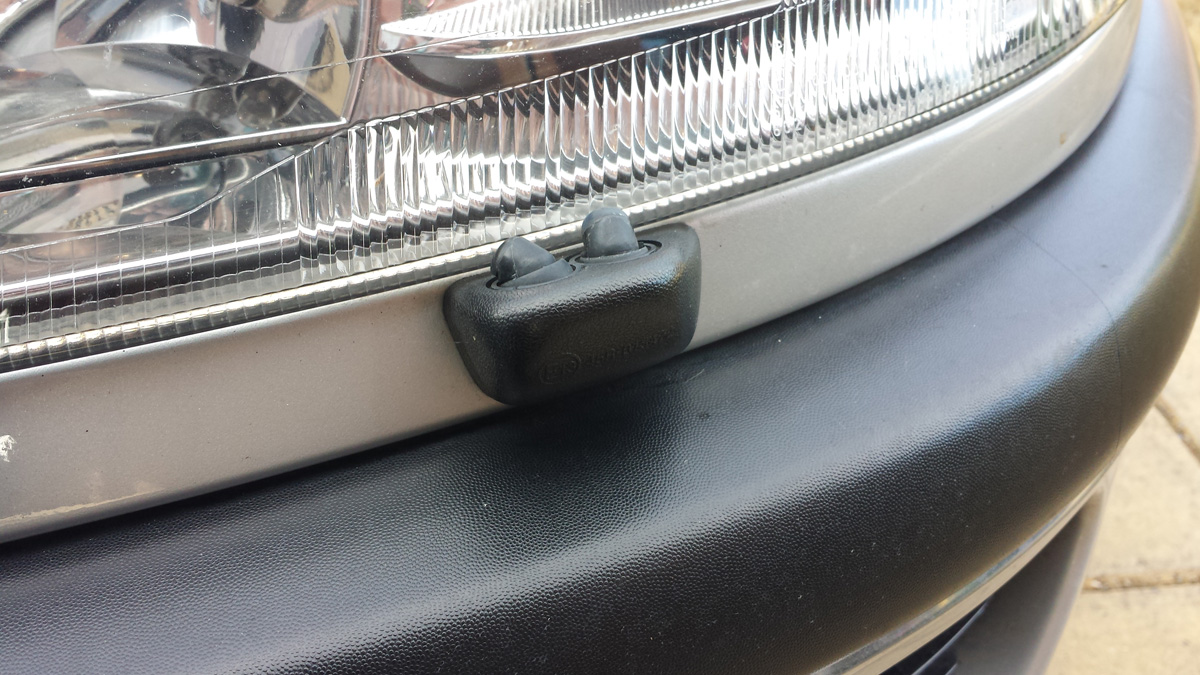 This last one wasn't so cryptic...
Anyway, the V5 arrived along with a wonderful bundle of service history documentation, including the original bill of sale in 1998 for around £23,000, and shortly after that I was off in convoy with my dad. First stop was a local petrol station to put some air in the driver's side tyre, which was 17PSi.
No pez shot though, because it had nearly 30 litres in it. So onwards to home, which took an hour. I averaged 30mpg.
Money shots? Oh, okay then.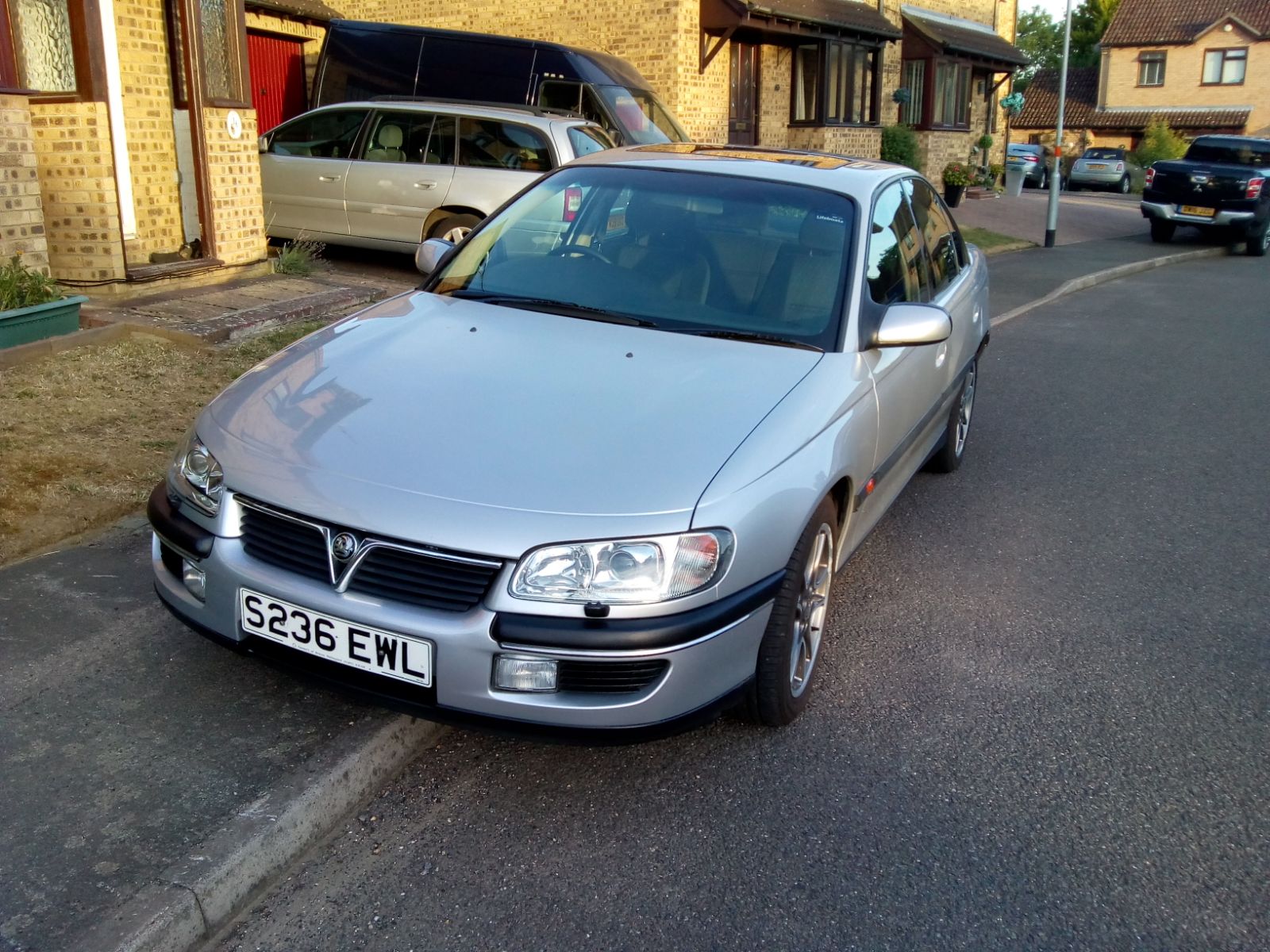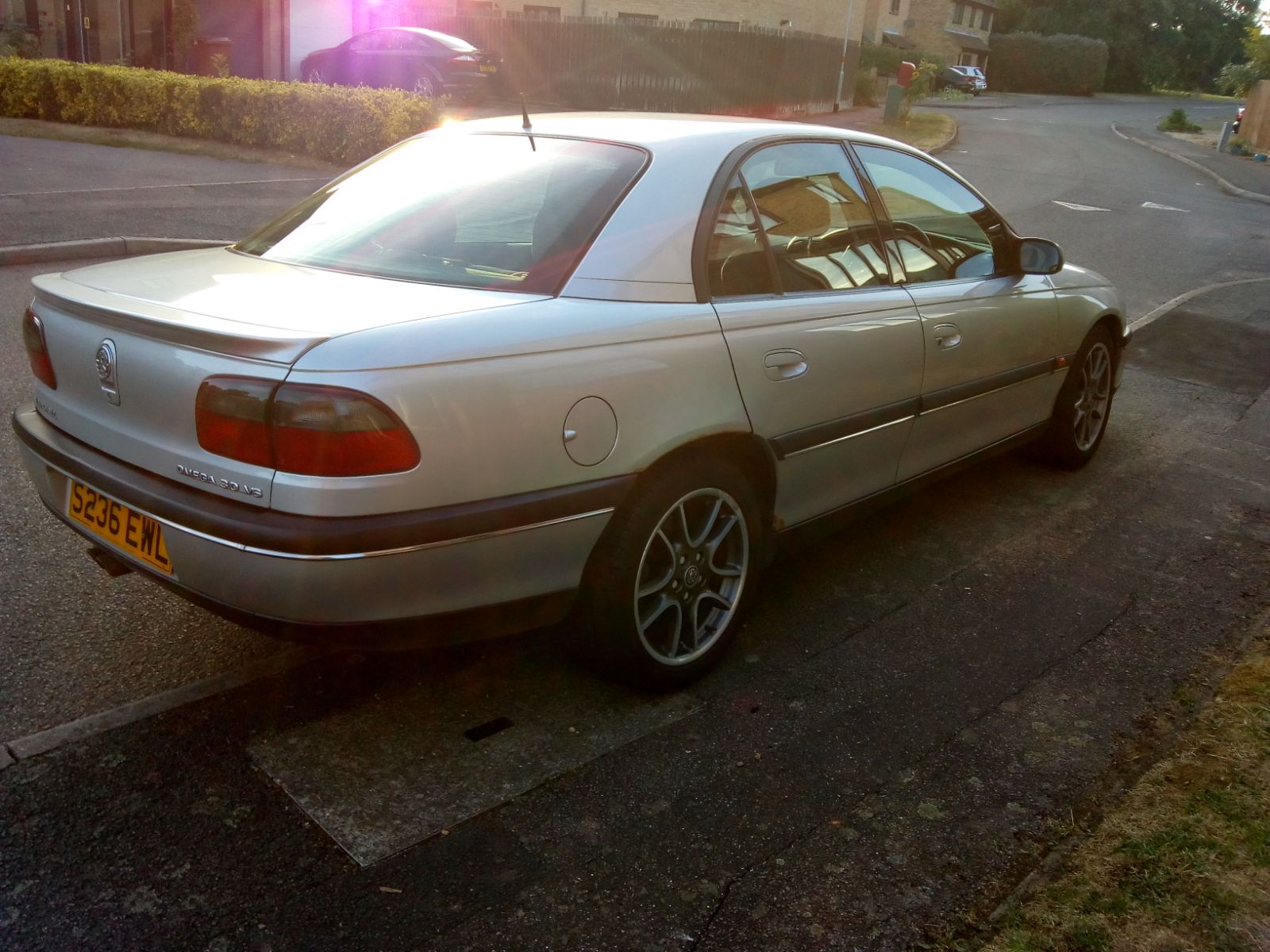 This is a pre face-lift Omega 3.0 MV6 with Junkman-approved gearbox and desirable* interior. It has done just 45,000 miles which is fully backed up by its astonishing MOT history which I thoroughly encourage you to check and be in awe of.
All the gadgets work, including the freaking air-conditioning! I didn't use it though, and drove home with the sunroof fully open instead.
It has been fastidiously maintained and lovingly kept in a garage all its life. Here's some context: the nice gentleman who owned it changed his tyre pressures depending on how many people were travelling in his car. The PSIs he used are written down somewhere in the service book in hand writing. This is someone I regret never getting a chance to meet...
It does has the usual blebs on the arches and around the door. Underneath looks like it has some light surface corrosion, but nothing structural. I have no reason to doubt the lack of any such advisories on the MOTs; all the stamps/invoices are from either the supplying main dealer or a local specialist. Looks like the last cambelt change was in 2014, albeit only 3000 miles or so ago. As it's the tensioners that normally go first I'm taking the 3000 miles as a sign that the roulette game isn't likely to be terribly risky.
This is a stop-gap* car which I intend to have a wonderful time blatting around in for a time while hopefully saving more monies for a more substantial modern car purchase later on in the year. I intend to do the following...
Blebs to hopefully be sanded back and treated to prevent further spread
Investigate the spongey brakes - looks like the last brake fluid change was 2015
Investigate a slight knocking from the driver's side front, particularly when turning right - maybe a CV joint?
Notwithstanding those snagging issues, I've not yet actually stopped grinning. It feels good to be playing around with bangernomics again.