Afternoon all,
My wife is changing cars this weekend so her trusty 147 JTD will be for sale.
It's a facelift 2005 5 door with the 8-valve JTD 115hp.
Pre-multijet, no DPF, so relatively simple as modern dizzlers go.
Has had various bits done in the 3 years we've had it, cambelt and waterpump done by my own fair hand about 2 years / 8k miles ago, had I think 2 top and one bottom front wishbones at the last MOT so the suspension is creak and clunk free. Drives great, handles really well for a FWD hatch, brakes are sharp as the front discs & pads were done last year.
Issues are mainly cosmetic, there are a couple of small dings and the paint is flaking off on the front bumper, think this maybe a past repair as we've done nothing to provoke it but it's got worse over the last year or so.
It could also do with a MAF sensor.
It started hesitating out of junctions so I checked the injectors and turbo control bits (which were all OK), unplugging the MAF fixed it so we've left it unplugged.
This gives you a "MOTOR CONTROL SYSTEM FAILURE" message when started but does not affect driving or mpg.
On the mpg front, it's always given us 38-40 in stop/start traffic around town, if your commute involves any A road or motorway you should be at 50+mpg, it's the same engine as Bollx's Stilo.
Equipment wise, it's a Lusso so comes with electric stuff, well comfy leather interior and cruise control. Can't say if the cruise works, it has a fault code flagged for clutch switch so may need minor investigation there.
It's passed it's test today so covered till August 2019.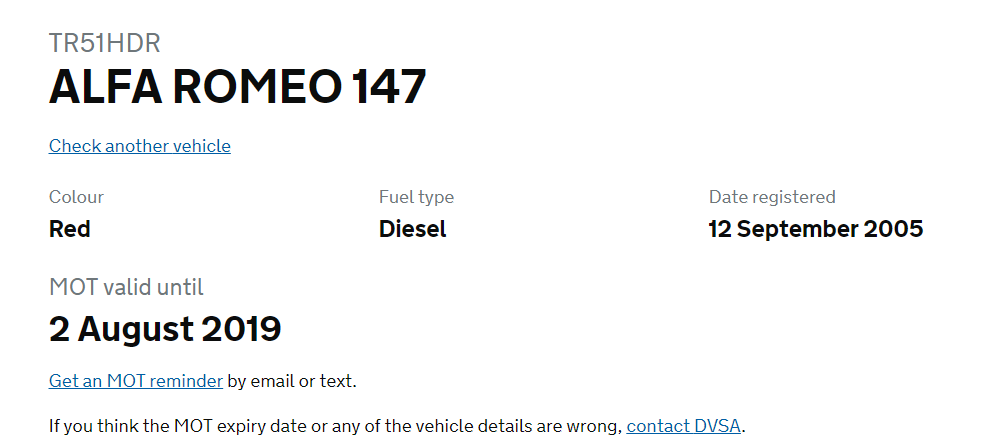 I had it done at Halfords Autocentre though so they've gone a bit mad on advisories.
Price, £750 to a shitter? We bought it for £1100. Or roffle for £12/ticket if there's interest.
We're in Brighouse West Yorks which is near to such train stations as Leeds, Bradford and Huddersfield.
For the MOT history crew, it's currently on my wife plate which is TR51 HDR, although it will go back on it's original plate BK55 CUX before sale.
Here are a couple of out of date pictures, will update with current ones once I've got them.