Due to having stumbled across something else that's been on my wish list for more than 20 years unexpectedly, I need to clear a slot.
Sadly the Lada is the one which has drawn the short straw - main reason being that I'm the only one in the family who really gets anything from it. My husband isn't confident driving it and nobody really enjoys traveling any distance in it. While it's actually surprisingly comfortable, it is loud at speed...and there's no radio fitted (never has been).
Here are the vital statistics.
[] 1993 Lada Riva 1500E Estate.
[] 18789 Miles (will go up slightly as it's in use).
[] MOT to 7th June 2019.
[] Fuel injection system from a 1995 Niva 1.7i retrofitted, so no more computerised carb nonsense - blew a CO level of 0.074% at the MOT, so the system and cat seem healthy. Fuel pump and tank were brand new from Lada only a few months ago (at a cost of £350!).
[] New brake pads fitted six months or so back.
[] Full set of Laufenn tyres of the correct size in October 2016, they still appear as new (tracking was checked when they were fitted too).
[] Factory new tail lights fitted last year as the originals had faded.
[] Includes a period roof rack (used by me mainly for hauling around a Sinclair C5).
[] Interior is near immaculate.
Issues.
[] Exhaust could do with replacing. It's been patched and bodged who knows how many times.
[] Wing tops are rotten above the headlights. A new pair are supplied with the car. The inner wings look fine, so it should just be a matter of getting them fitted and painted. Go figure, all Ladas rust there.
[] Couple of creaky ball joints, full set are supplied with the car.
[] Clutch release bearing can rattle a bit when cold, has never got any worse since I got the car.
[] Some of the wiring and pipework in the engine bay from the injection project could do with a final tidy up. Nothing to do with it actually working - just trimming a few wires and hoses down to length etc to make it look properly like it came out the factory like that.
[] Couple of minor scratches and such, but nothing you'd not expect from a car of this age, the only one that's really visible is a little ring on the nearside rear wheel arch - I'd planned to get these all sorted when it was in a body shop to get the wings done.
[] Bit of plastic on the offside rear seatbelt is broken.
Spares included.
[] Brake shoes.
[] Full set of engine mounts.
[] Full set of gearbox mounts.
[] Propshaft flexible coupling.
[] Full front suspension ball joint set.
[] Full brake hose set.
[] 15" wheel set with old but serviceable tyres. Think these had just been refurbished before I got the car, but I prefer the original white ones.
...probably a bunch of other stuff I've forgotten.
The one bit of engineering from the injection system project that's been a bit of a faff has been the throttle linkage, as it's totally different in the Riva to the Niva the injection system came from. The current setup is a bit notchy in operation, but I'm going to try to get it a bit better before the car moves on.
The photos below were taken this evening. I'll try to get some better ones when it's not boxed in.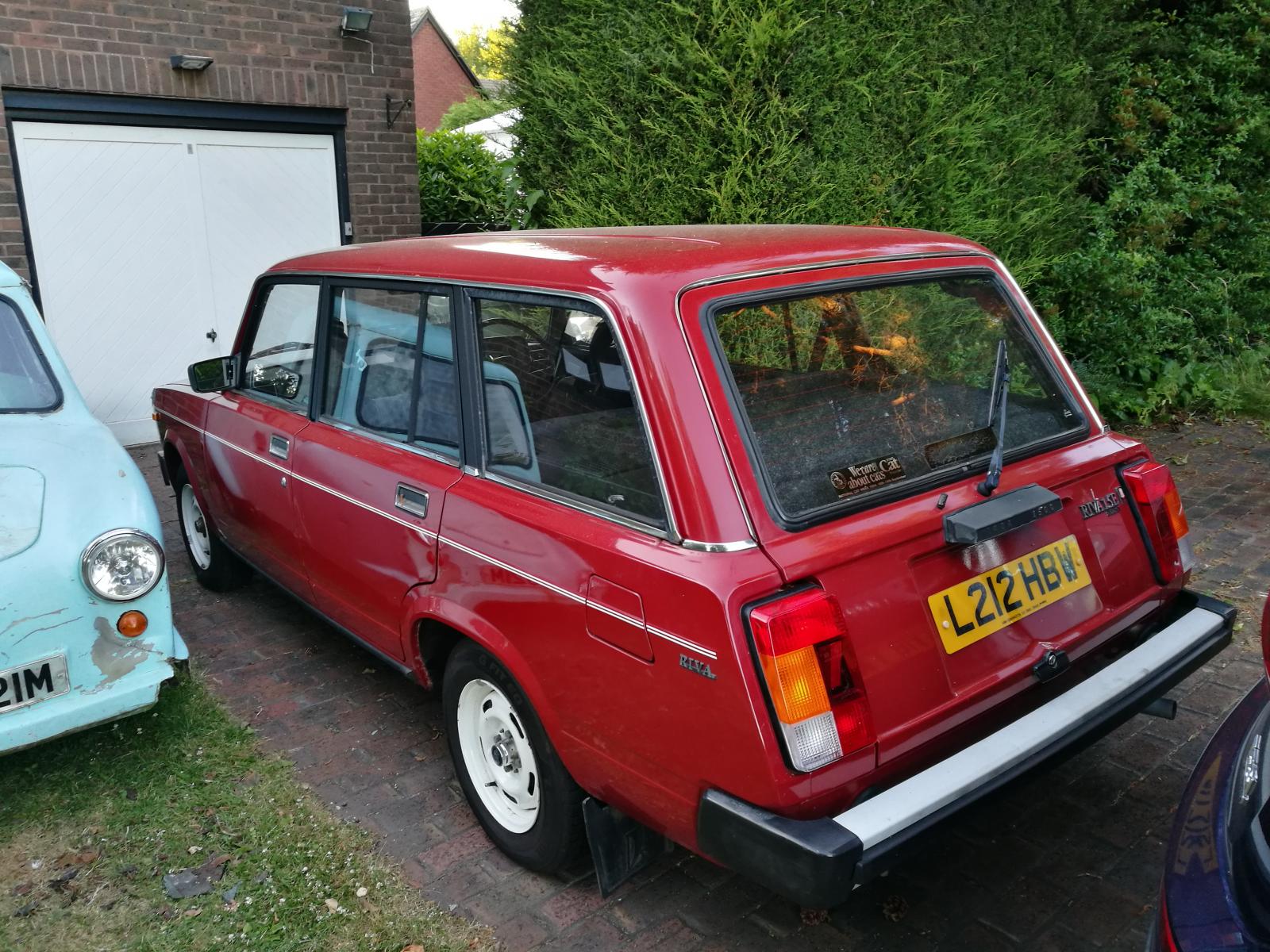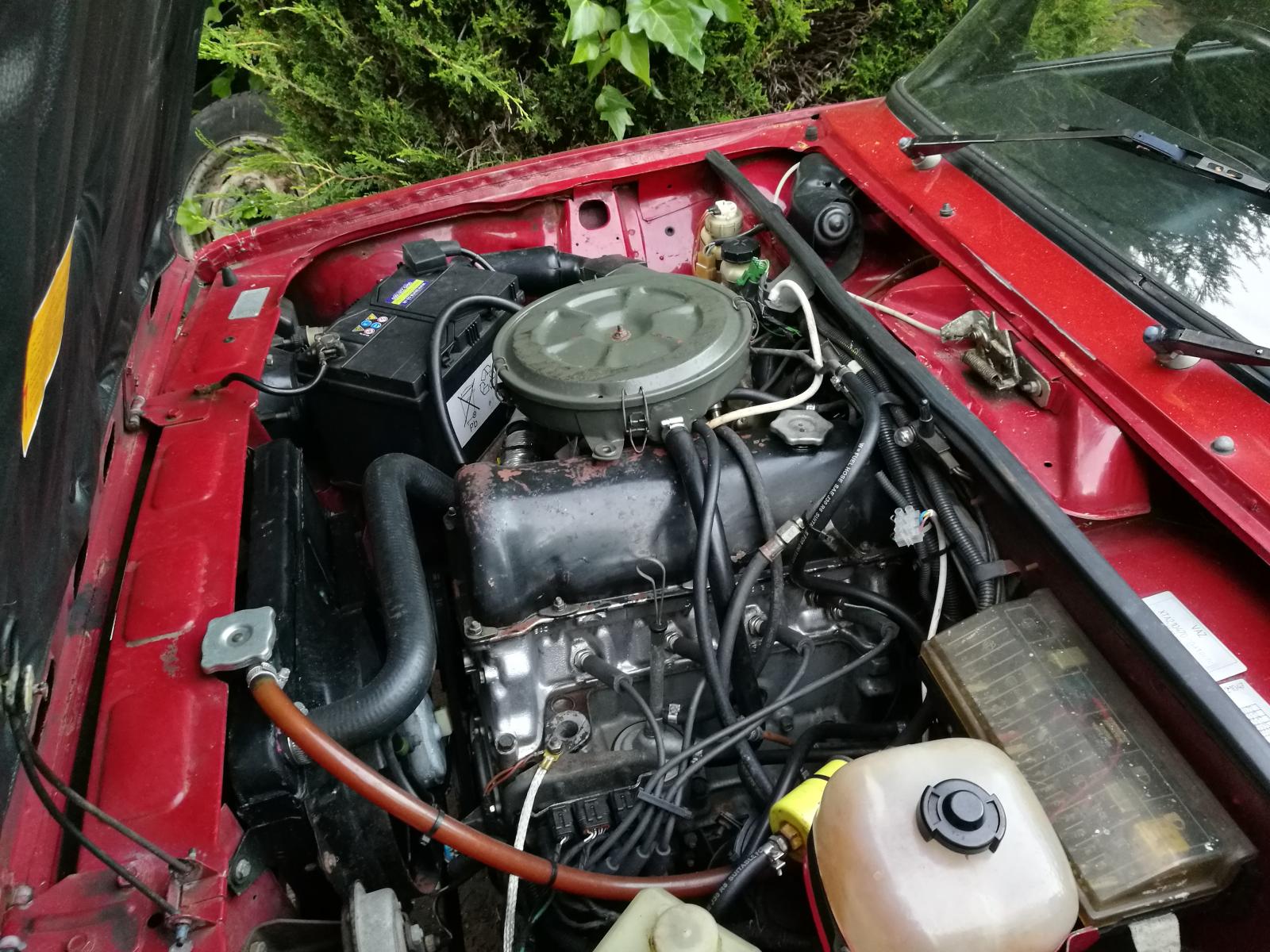 The car owes me a packet. It cost me £3500 back in September/October 2016, in a state where it was barely driveable...but being obviously damn solid and an example that could clean up to A1 condition (and having just spent seven hours on a train to get to it!), I just dealt with it.
Since then I've probably spent nearly the same again fixing previous bodges, getting the injection system up and running etc...and I've not even got it to a show yet!
Realistically I'd like to get somewhere around the original asking price...it *is* one of the cleaner examples out there, and actually works, rather than being a show queen that spends 95% of its time in a garage. The price is very much open to negotiation though.
Any questions...please ask away.
Demo runs out welcome, likewise test drives provided you have appropriate insurance in place.
Assuming it's still with me by then, she will be on display at the Festival of the Unexceptional, and I'll be hovering around happy to discuss things.