"The Humber Sceptre is an automobile which was produced in the United Kingdom from 1963 to 1976 by Humber."
So says Wikipedia. Well, quite.
One could add the following to that rather dismissive description: It is a medium-sized car that wasn't quite sure if it was a sports saloon or a luxury cruiser; it is a parts-bin special, taking absolute advantage of the Rootes Group's model range, but wrapped up in a body shared by no other car; it is, for reasons unknown, achingly desirable.
Why am I obsessed, all of a sudden? I don't particularly like British cars. I don't have any special affinity for the Rootes Group. I prefer Modernism to traditionalism, and I like cars with are technologically advanced or, at the very least, pay lip service to advanced technology in their styling.
Then again, I also love Randall & Hopkirk (Deceased) and that whole hazy, sunday-evening 1960s ITC milieu. I love half-speed cameras replicating 'night', guys in slim ties chain-smoking filterless cigarettes and the mundanity of crime. That is the world in which the Humber Sceptre fits, to me at least.
In 1963 the Rover and Triumph 2000s had pretty much sewn up the newly minted 'junior executive' market in the UK. City planners, council members, maybe the odd junior MP. Chaps (and they were always chaps) under 60 with money in their pockets and a real need to impress with their choice of motor car. The Humber Sceptre sort of fits in to this niche, but as usual Rootes didn't quire hit the target. Mechanically, it used the venerable 1600cc 'four' with twin carbs and raised compression as normally seen in the Alpine. The superstructure was borrowed from the Hillman Super Minx, to which is bore a vague resemblance, but the upper half of the Sceptre was all new - a sharply raked roofline with a deep wraparound rear screen. The rear window pillars formed peaks along the top of the rear wings, under which ran a second chrome streak which passed over the rear lamps and then down to the bumper, creating a wild set of vee-shaped fins. The front end was an odd mix of Sunbeam Rapier-style grille and quad headlamps. The whole thing harked back to previous Rootes designs and was clearly influenced by the Bob Bourke-for-Raymond Loewy Minx of the '50s (which was a crib from Bourke's groundbreaking '53 Studebakers) and it all looked weirdly antiquated next to Rover's DS-influenced P6 and Michelotti's sharp effort for Triumph. Performance was sprightly but nothing to shout about. It would do a genuine 90, which actually wasn't much less than the much lighter Alpine, and handling and refinement were highly praised. Still, nobody was quite sure if it was supposed to be 'sporty' or 'sedate'. Humber wasn't the 'sporty' brand in the line-up, for a start, and nor did it build 'small' cars. In hindsight, the Sceptre was one of the first signs that a policy based solely on badge-engineering might lead to manufacturers building a range of un-categorisable cars with very little to distinguish one from the other.
The Mk2 Sceptre of 1965 went a long way to solve the aesthetic problems, with a restyled front end which improved things immensely. This is the model with which I have become enamoured. The engine was also enlarged to 1725cc, although I'm not sure there was much change in power output or top speed. The Mk2 was produced for a couple of years before it was superseded by an Arrow-series Sceptre. But, I don't care about those.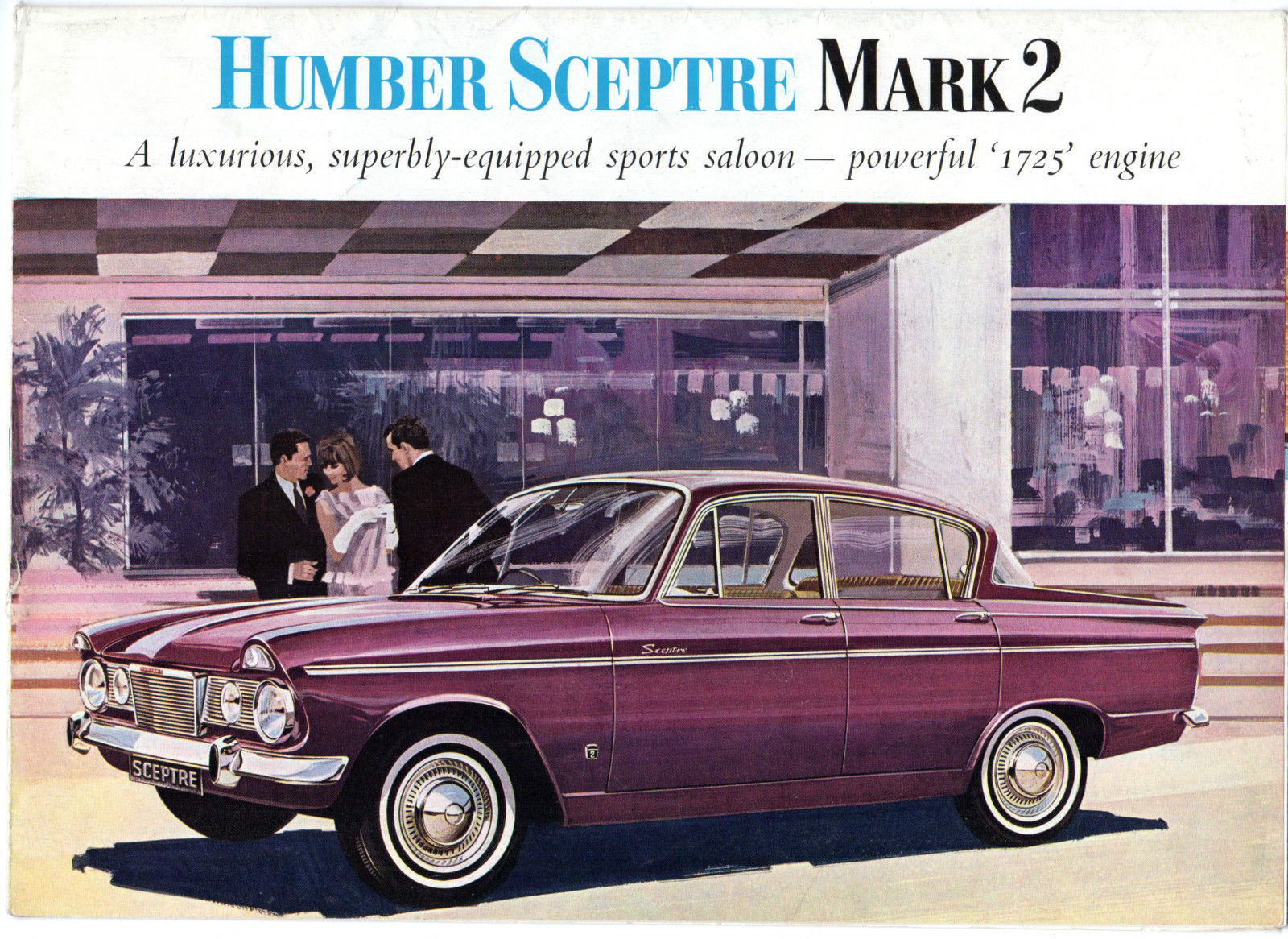 I find the whole appeal incredibly hard to define, but this brochure image almost sums it up: what appears to be the early stages of a menages-a-trois at the Sona Electronics factory Christmas party. "Don't be such a prude, Carol. I've got a bottle of scotch in my office if you need to loosen up."
Annoyingly, these things have become very rare. I guess most hand been banger-raced into oblivion when values of all Rootes cars were at their lowest. I can't imagine how unfashionable one of these would have seemed in about 1974. I am keeping a beady eye open, but I suspect even if I could find a nice one I wouldn't be able to afford it.
It's not even easy to find nice pictures to, er, satisfy myself with. This fabulous brochure comes close but it's for the obviously inferior Mk1. Lets have a look anyway:
Typical 1960s modesty there. The 'brilliant' new Humber Sceptre.

hey, take a look at that rear end! There is something so nice about the subtle lip over the rear screen and the way those fins trail off along the wing line. Seriously over the top but 100 per cent satisfying.
The other major factor in my lust is the interior. The seats look like the most comfortable armchairs and the dash has SEVEN DIALS, including the two main ones under deep hoods. I love a hooded dial, me. The Mk1s were all manual, with overdrive on third and fourth, but an automatic was introduced on the Mk2 and I suspect most were sold in that configuration. I'd have the manual, personally, but I'd probably compromise. The steering wheel looks like a deeply-dished Alpine item. '60s Rootes switchgear is all really nice to handle and I just know I'd have a whole load of tactile pleasure sat here.
Let's just consider some random google pictures, eh?
I do think I'd have to go monotone, frankly. Maybe a nice light metallic colour? I will never get tired of looking at those fin things, that's for sure.
So, have I lost the plot? Am I getting old? Why do I feel I can't live without a Humber Sceptre Mk2 in my life? I want to play out my ITC fantasies, but deep down I know a P6 would be a much better chariot in which to pretend to be a junior architect on his way to a town planning meeting. But, somehow, I just can't shake this thing.
Is anyone else on here similarly afflicted? Could we form a support group?