Well, the time has come. The V8 4.0 Discovery has decided to show me who is boss and utterly destroy itself. We were going to take it to the airport when going on hollybobs but the day before it shat itself, so we went in the BM back up family truckster instead.
To add to the many things that sit on my mind whilst abroad, I knew that when I returned I'd have to face this fucker and mend it. That time is now.
Q: What's the problem dude?
Well, Besides needing rocker gaskets it eats HT leads and they are a bastad to change if you like your skin on your hands. Changing the gaskets looks to involve a bit of surgery so its been put off but now they might as well be made from paper and they are doing nothing. The leads are just as bad, the cars history file shows regular replacements and it is need of a good hard service.
A couple of days before I left the country it started 'chuffing' from what seemed like the middle of the engine and power was down on at least one cylinder, perhaps two, also the accelerator pedal was stuck solid first thing in the morning until it warmed up a bit.
Not wanting to totally destroy it, I laid it up until now. This morning I went out and started it after 3 weeks or so standing and it failed to extinguish the oil pressure light.
So, I have a few issues to attend to. I've started stripping the thing creating and finding more problems along the way like this little beauty:
This is the coolant line to the throttle body, blocked with some alien material... This: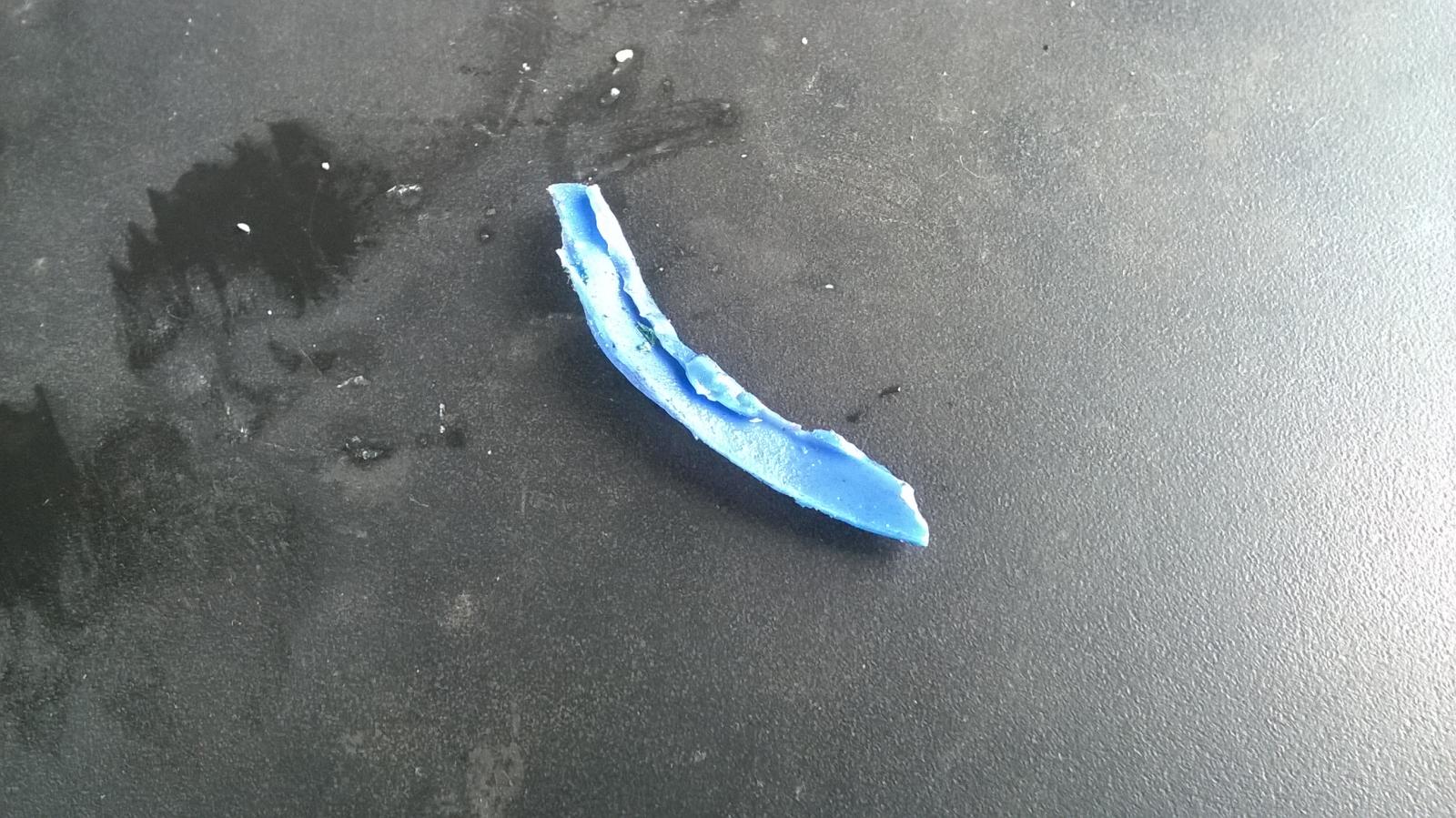 Which is where someone has fitted a new* part and has been a bit over enthusiastic with the instant gasket on the water pump. I know this because I can spy the exact same sealant oozing out from the pump itself deep in the bowels of the engine. Great. I suspect, and it's only a theory, that this blockage has stopped whatever was supposed to happen to the throttle body and caused it to gunk up because its got a nice coating of sticky oil holding the butterfly shut. I cleaned this part only a few months ago. This pipe also shattered into 4 pieces trying to remove it so I need a new one now.
What else? Oh yeah, I got to the coil pack to remove it along the way and found suspicious looking HT leads...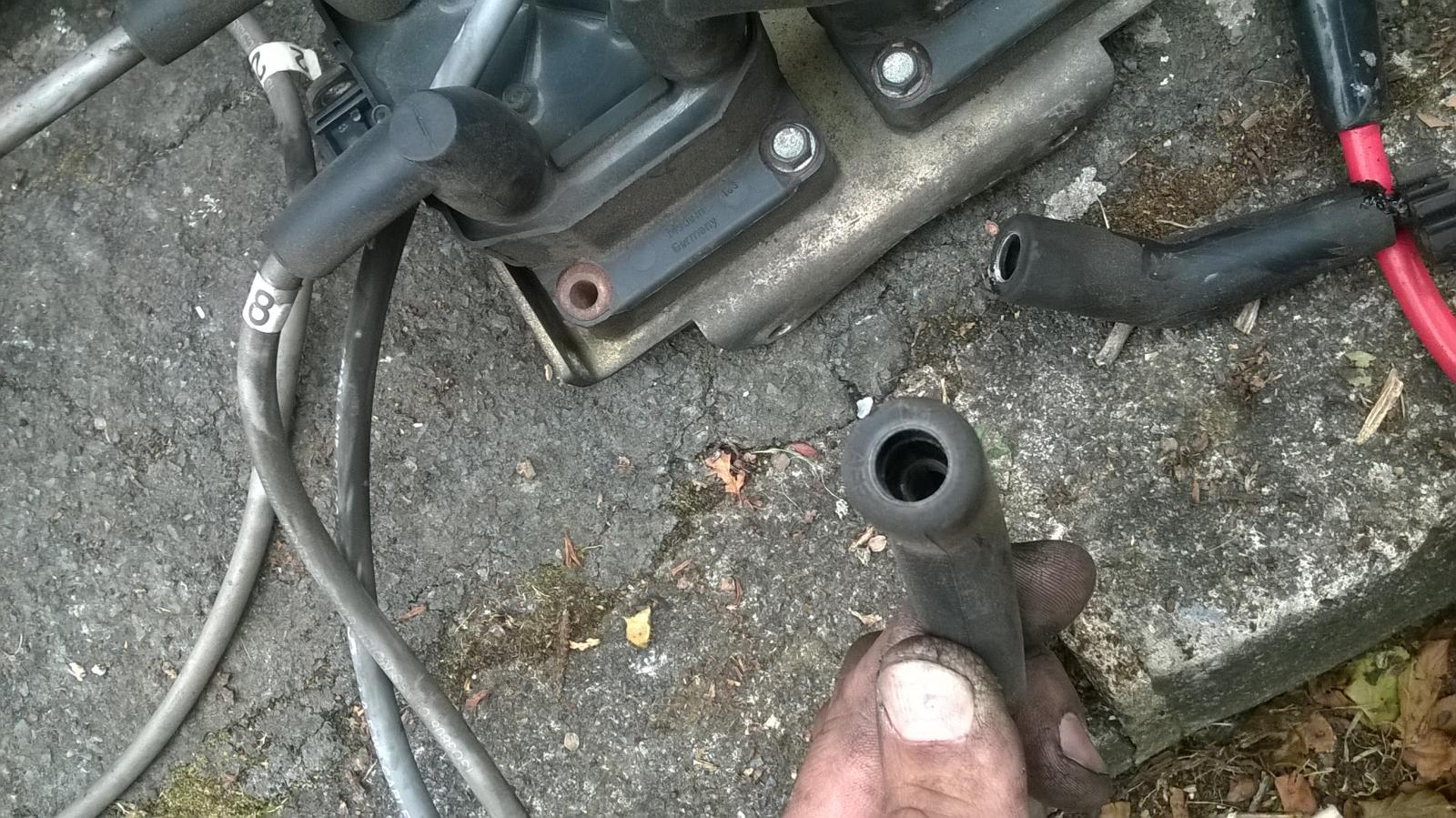 Both have strange deposits of shite in them where they have obviously been correctly* doing their job. I have a replacement coil pack and leads to go on.
So after a few hours with a ratchet where are we? Here...
I am now faced with a stuck steel water pipe into the alloy inlet manifold which will not budge for toffee so I need a new one of those, missing bolts from the intake manifold top bit, so I need a set of those and I plan to pull the inlet manifold completely and replace that gasket as a matter of course as it's soaked in oil, full on service which I think will solve the sudden oil pressure issue, a bit of a clean up, rocker gaskets, those coolant pipes and hey presto, we will be good to go right?
Whilst I'm here, I'd like a linky to a decent parts catalogue for the 4.0 V8 so I can get some numbers pls. It's the first time I've performed surgery on this heap but it's not difficult, just er... tight and there is plenty of evidence that a blind bloke has been in there before keeping removed nuts and bolts safe* for refitting.