Evening All,
Being a relative newcomer to the beige forum, I fancied a foray into a Project thread. However, as I previously established, the sentiment towards VAG products here can be described as frosty at best. Naturally I assumed I would be hounded off if I were to write a Project thread. However, I thought perhaps it would be an easy solution for venting the hatred of VAG that builds up over time here, and I would thereby be doing a service to the good people of Autoshite. Should this assumption be wrong however, feel free to do the hounding, and I will get my coat!
So, back in June of last year, I bought myself a big, ugly heap of German rubbish, in the form of an X reg Audi A4 Avant of the 1.8 petrol flavour. Having cost me a mere 100 beer tokens when I bought it, i was chuffed with my purchase of an apparently working car, with almost a year's MoT left on it. How wrong could I be?
On getting it home and doing a little further inspection, I discovered that front and rear wheel bearings were grumbling, the front brakes were binding, the rear shock absorbers were beyond the pail and the tires were balding. Splendid, I thought, a list of light projects for me to be going on with. Again, How wrong could I be?
I set about replacing the rear wheel bearings. This wasn't a job I fancied myself, as I presumed it would require a bearing press (being a novice mechanic, in case you'd not already noticed from my dreadful car buying tactics....). And so, I made my first major error - booking a mechanic to come and replace the bearings. He succeeded in graunching up the bolts that hold on the brake caliper carriers before admitting defeat and charging me £80. Bother. So I thought, how hard can it be, and set about removing the trailing arm altogether, to give better access and allow me to remove the caliper carriers and replace bearings, which I did with minimal fuss.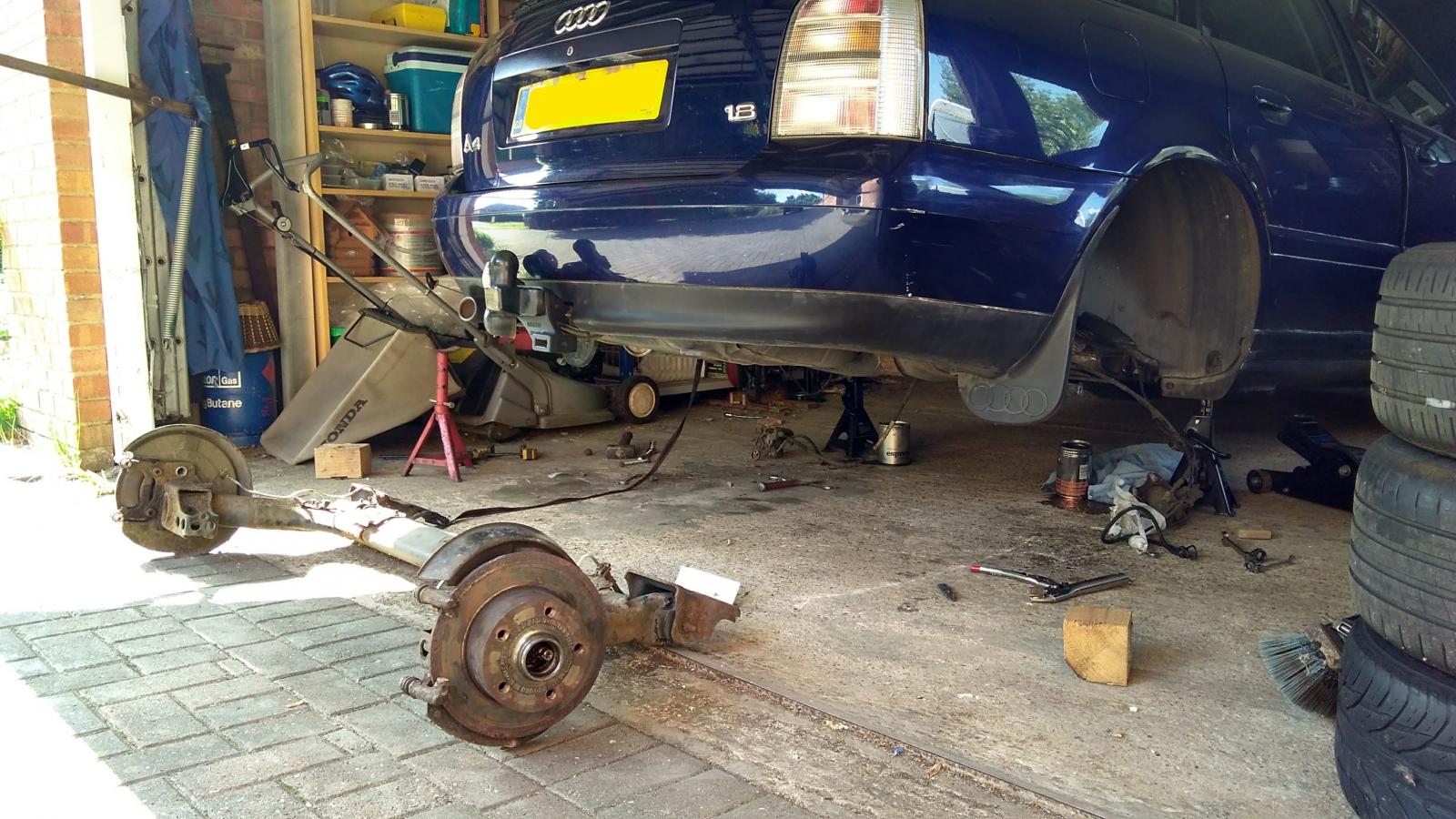 Sticking brake calipers were traced to stuck slider bolts, and mended. Rear shock absorbers replaced, cheap bearing press bought and used to replace the front bearings.
In replacing the bearings, I removed the brake calipers altogether, draining the brake fluid to be changed at a later date. When this date came, I proceeded to (not knowing the tap-it-with-a-hammer-first trick) strip the threads from several of the calipers where the bleed nipples attached. Again, bother. So, I ordered used brake calipers from a breakers yard and received the wrong ones. I ordered them again from a different breakers yard, and received the wrong ones. Finally I got hold of the right ones, and fitted them.
No to worry, I thought, I was near the end of the issues and soon miles of trouble free motoring would be mine. I refer to my previous comments regarding my own wrongness here. Having replaced the calipers, I started the Audi again, only to see the ABS light come on, and stay on. Bother. So, (As I was later corrected upon doing without first reading the fault codes.... only so many times I can use the novice mechanic excuse....) I replaced all four ABS sensors.
Finally, I decided it was MoT ready, and booked it in, quietly confident that it would pass. My lack of correctness is now getting dull. It failed on a nice little list of issues, both front springs being broken, and catastrophic Carbon monoxide emissions being just a few.
Cue jokes about VAG products and emissions.... I can only assume that it was MoTed by VW themselves last time...
So currently, I'm in the process of remedying the broken springs issue (and the shocks while I'm at it, as they're tatered too...) and updates will follow, should the VAGness not be deemed too distasteful for this establishment. Please do let me know your thoughts on this, I've no wish to create a disturbance to the autoshite serenity*
Thanks,
abelw44