Back between 2002 and 2011, I lived in a 1.5 bedroom granny-annexe barn conversion down in Dorset. It also had a massive double garage and a driveway capable of fitting about 15 cars on it. I bought an awful lot of chod, but never really did anything sensible with my time there. If I'd known then what I know now, I've no doubt I would have done things very differently, but hey, hindsight.
First off is the small selection of Seville-built J5 chod I owned.
The first one was advertised on gumtree in it's very early days, as "Talbot Express, £200". Sounds brilliant! Lets get a train up and buy it! So I did.
One of the very last pre-facelift models. It was TERRIBLE. I could not for the life of me find 5th gear on the drive home, and I wondered what on earth I had bought. I had never owned a van before, so this was a learning experience. It came with about 6 months ticket, so for £200 it was brilliant, and I could forgive it pretty much anything.
It was immediately a very useful vehicle. Moving stuff here there and everywhere. It also had opening quarterlights (remember them?) which was brilliant. I miss them a lot. The gear linkage turned out to be a known issue on these vans, and was the sloppyest change I have ever experienced. There was so much movement side-to-side that reverse was basically on the passenger side of the vehicle, and you had to hit the dashboard to get it in. 1st and second were vague. 3rd/4th were easy enough, as the biasing spring meant that they were the default choice. 5th, however, was further towards the driver than there was movement left in the lever, so the only thing you could do was move the stick all the way over to the extreme of it's travel, then hurl the van into a vicious left-hand turn. This moved the engine and box on it's mountings just enough to give you the additional movement needed on the selectors, then quickly shove the gearstick forwards to get 5th. I got surprisingly good at this manouvre, and for a while used to randomly steer left whenever I was changing into 5th gear in anything else I was driving too.....
Very soon into ownership, it was quite clear that it had OMGHGF, but being an older pushrod design engine it was easy as you like to change the head gasket. It had clearly been shot for a fair while though, as this was the best that my local machine shop could do. He refused to charge me for the skim as he thought it was a bit crap, but I felt rather bad about that, as it had still taken up his time. We agreed to go halves on the cost, but no guarantees whatsoever. After the skim, it looked like this: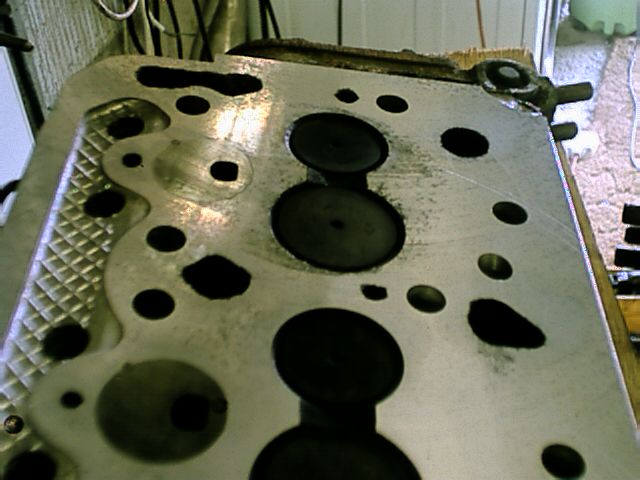 Which I thought wasn't that bad at all.
Shoved it all back together and it ran fine.
Come MOT time, there were some issues:
And a lot more rot everywhere else too. Had a think about what the best thing to do was, and clearly the answer was to buy another van! It was a very odd situation, where there was someone with a j5-bodied camper who wanted to buy an engine, as his was 1.9D powered and hence very slow inded. He had been looking at another van that was available for scrap, but he couldn't get it back, so would I be interested in delivering my engine to him.
Long story short, he never did bother with his engine "upgrade" (1.9D 70hp, 2.5D 75hp. Not exactly a huge upgrade!) and I got the details for the guy who wanted to get rid of his van. Contacted him, and he wanted scrap money for it, despite having plenty of MOT on it. Reason for getting rid? Slipping clutch, and he'd been quoted £loads to have it done, as the engine and box have to come out complete to seperate them on the bench. Anyone who has worked on Citroen DS or CX will know why... the camshaft (which is buried in the block) extends about 250mm over the top of the gearbox, and has a snakes-pit of belts that drive all the auxilliaries. There is no aux belt at the "normal" end of the engine. Consequently, you have to extract the gearbox off of this shaft to get them apart. Fun.
So on the basis of this picture:
I got on a train to Reading to go and collect it.
Turns out the owner had been using it as a trials bike transport / dayvan, so had had very limited mileage over the past few years. Looking further into the history, it used to be owned by Gatwick airport, so had been trundling about Gatwick for a lot of it's life. It looked good, so I paid the £100IIRC for it, and drove it home. Very slowly, as anything more than about 1/3 power, and the engine raced away while you travelled no faster. 50mph was just about achievable. Just.
Having got it home, the first thing to do was the clutch. Handily, I had an overhead gantry, so lifting an engine and box was easy peasy.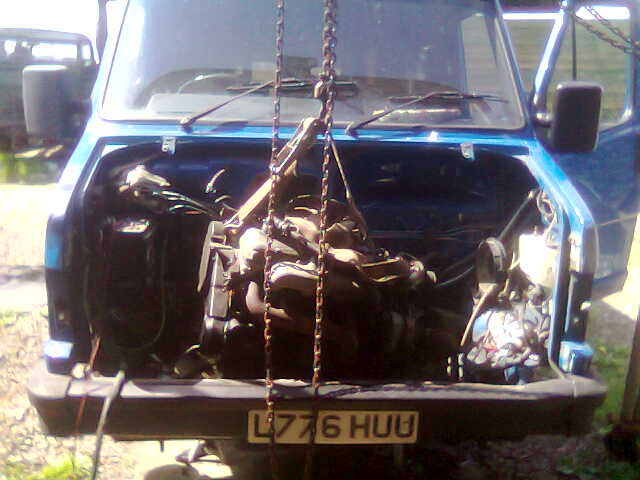 Once the clutch had been done, it was pressed into service, and being a LWB-High-top vehicle was even more useful than the last one. Speaking of the last one.. I had some friends over one weekend, and we decided to cut it up to get rid of it. After an interesting afternoon of beers, hammer-and-bolster, grinders and varous other tools, this: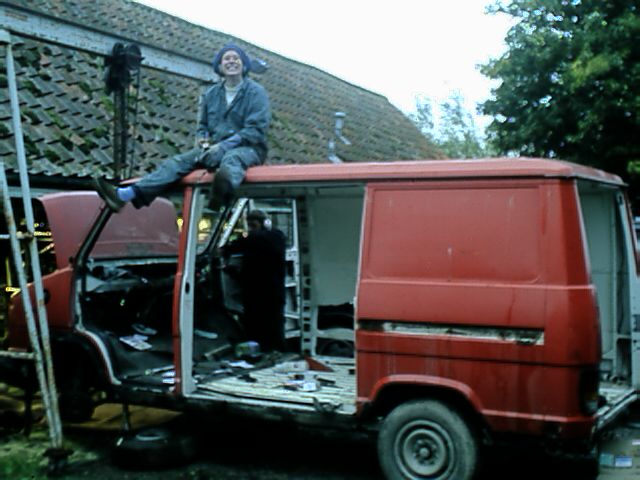 got turned into this:
The blue one needed a few mechanical bits and pieces over the next year or two. Firstly the front suspension was rattling like a machine gun for no obvious reason. Eventually found one side damper top mounting was loose, and had worn a large hole in it's mounting plate:
To get to this, a few things had to be done. This for instance, which is a fairly frightening thing to do:
And, as I had no 22mm ring spanner to get the damper top mounting undone, but I did have a rather tatty 22mm deep socket and a grinder, this happened: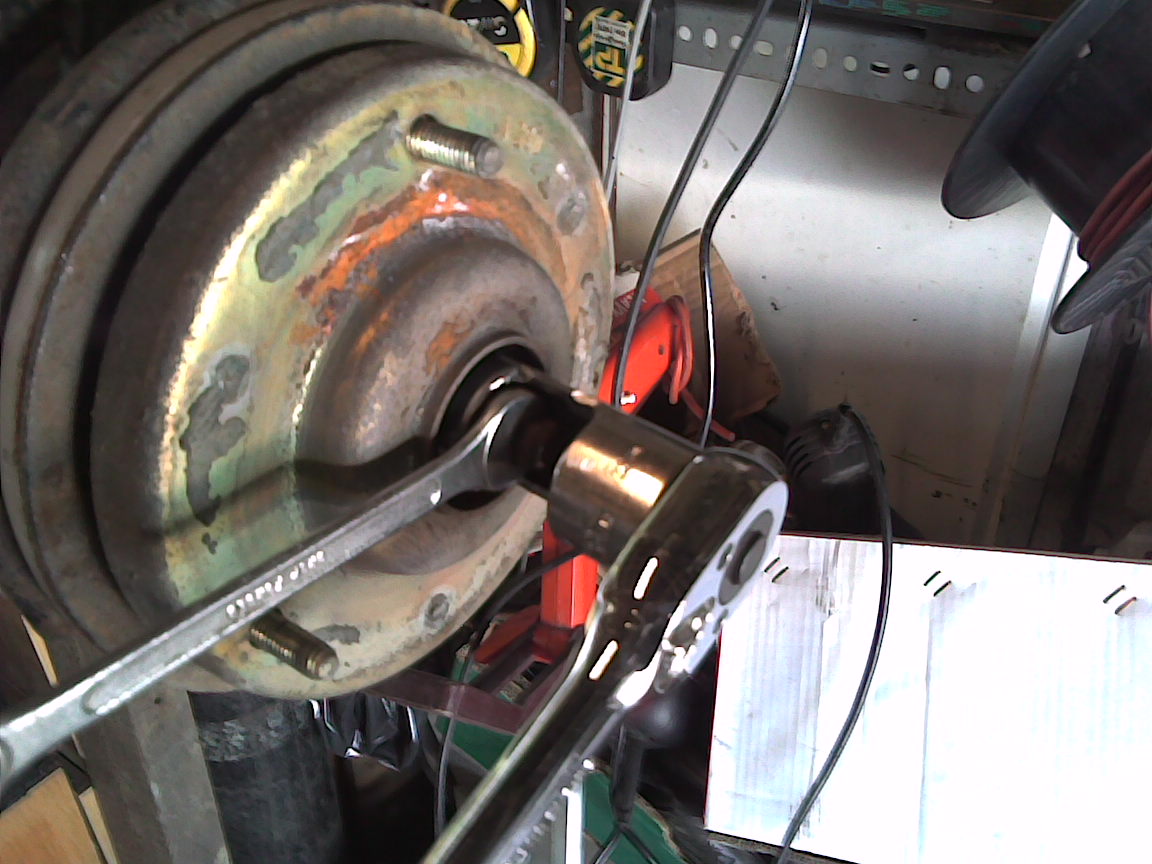 After a while, I also noticed I was loosing coolant, but could find nowhere that I had any kind of leak. It took several months, but I eventually traced a blown head gasket. Not to the combustion, but from the water to the outside world.. Very odd:
So, head off, and a complete rebuild of the head. I was even a bit bored one evening doing it, and used a die-grinder on the inlet ports and machined them all smooth. Made absolutely sod-all difference! One thing I had done while stripping and rebuilding the head was removed the injectors, which were utterly siezed in position. Doing so compltely disturbed their opening pressure setting (I had to dismantle them in situ and take them out bit-by-bit) so needed to get them re-set to the correct opening pressure. Everywhere I contacted wanted rather too much money (like £50 per injector!!) so I came up with something else, which I'm still quite pleased about even today:
That is a BX hydraulic pump, with a cut-open coolant expansion tank as it's supply, with a 0-300bar pressure gauge and a connection for the injector. You fill the reservoir up with diesel, then turn the pump by hand. After priming, the inector starts spitting out fuel, and the pressure needed to do so is shown on the gauge. After a bit of fiddling and adjusting, it was quite easy to get the opening pressure to roughly the 185bar needed, and got all 4 injectors set the same. With them refitted, it ran beautifully, and even gave more power/economy than before. I suspect the injection pressures had all been a bit low beforehand.
Next: The welding. Oh my word the welding.