Apparently I've just bought a 206GTI with no MOT and a fucked back axle, to go with my broken 405 estate, so this other broken car (Mrs_l1's first if you exclude that Ginetta G26 she* bought from tonedepear) needs to leave the premises.
Works just fine. Will *always* start and sounds exactly like a toyota sewing machine.
MOT until December
At least 45MPG everywhere
115k on the odometer, I think.
Two owners, same family (father / daughter)
Main dealer serviced until we got our grubby mitts on it, then it's had a service in the summer and MOT in December each year. Most recent attention has been by our resident old-cortina.
Downsides:
Scary advised that the front discs will need replacing next time the pads are due, which will probably be some time this year (if our annual mileage hadn't suddenly dropped significantly with Mrs_L1 giving up working in fucking Hartlepool.
The biggie, however, is the bonnet/windscreen.
The bonnet catch has never really been happy, and both catches have operated at the same point. We have assumed this was because the front of the car was slightly dented, from spending the first 45k driving around Londinium - we had to sort the lights out so they pointed straight and the kidney chrome grills have never sat right whilst we've had it. In December, the bonnet sprung up and hit the windscreen at 60MPH, in the dark, sub-zero temps, round a corner, with a car coming the other way, with Mrs_l1 driving and with l1_jnr in the passenger seat.
Outcome is a quite dinted bonnet, bent bonnet hinges, a large crack in the windscreen, and (according to the man from autoglass) a slightly bent windscreen recess at the roofline. We were advised that the screen should be removed at a bodyshop, the recess bent back, and then a new screen fitted. Given we've been thinking about getting rid of it for literally years, it's just not worth it to us. Of course, now the bonnet sits differently, the catch works perfectly.
We were also told the car was safe to drive, but it will not pass an MOT with the cracked screen. Apparently I've failed to take any pictures of the screen at all, but I'll take some tomorrow in daylight and update this thread.
The car should still have plenty of life left in it, and anyone who can be arsed to fix the windscreen will have many years of slow and boring service out of it. Anyone who can't, can have 10 months of driving for less than the price of a lottery ticket.
Any takers at £1.50 a ticket?
Here it is in slightly happier times collecting a Kia Pride from DodgyTom: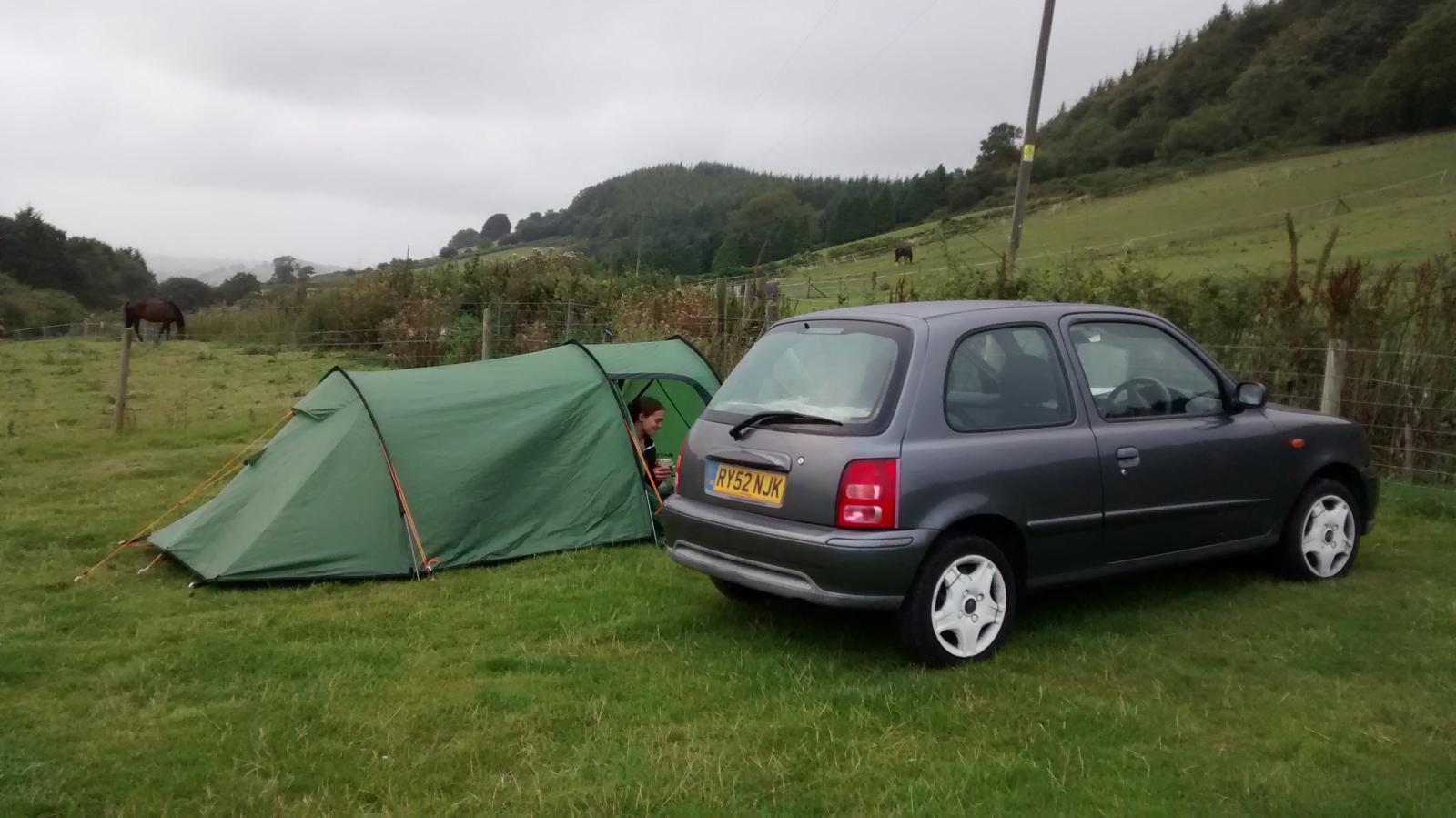 Current location: County Durham. Can deliver for £
Update for pictures: