I'm going to have to have a bit of a fleet clearout again. It looks like my hours at work are going to reduce quite significantly come next month, so I'm having a rare rational moment regarding the number of vehicles I can realistically continue to lavish attention on.
I bought this Fiat in October intending to run it through the winter as a commuting car. It had various issues when I bought it, most of which I've fixed. The only one I haven't been able to sort is the heater blower, which is completely dead - I bought another blower assembly but haven't been able to get the old one out - as far as I can see the only way to get it out is to remove either the pedal box or the entire heater box, neither of which I've had the time or inclination to do. The result is that the car hasn't had nearly as much use as I'd intended - the heater itself works and at A road speeds you get enough warm air coming through to take the chill off, but it's pants for defrosting the windscreen on an icy morning.
Other than that it's been a pretty good car really. I've not had any major issues with it and it's never let me down - in fact it's in a minority in the fleet in that it hasn't had a flat battery all winter, even when left sitting for a week or more. It's pretty much the top of the Stilo range, which means it gets alloys, climate control, electric windows all round, cruise control (working), trip computer etc. It also gets the 115bhp version of the 8-valve 1.9 JTD engine, which was used in pretty much everything at the time and is actually a bloody good engine. It has plenty of power for a car of the Stilo's size. The gearbox is 5-speed but the ratios are quite wide so gearing is relaxed on the motorway.
Other than the heater fan, the only issues really worth mentioning are there's BFO dent in the nearside front wing, the airbag light is on (as per with these cars - usually dodgy connectors somewhere), and one of the rear tyres will need replacing soon. Apart from the dent the rest of the car is quite tidy. The stereo is an aftermarket single DIN JVC unit, which sounds pretty good, but unfortunately the surround is a cheap flimsy Chinese eBay job which doesn't fit properly - this is purely cosmetic and I couldn't give a toss myself, but it might bother some people.
MOT is until July, mileage is about 128K. Here's some pics: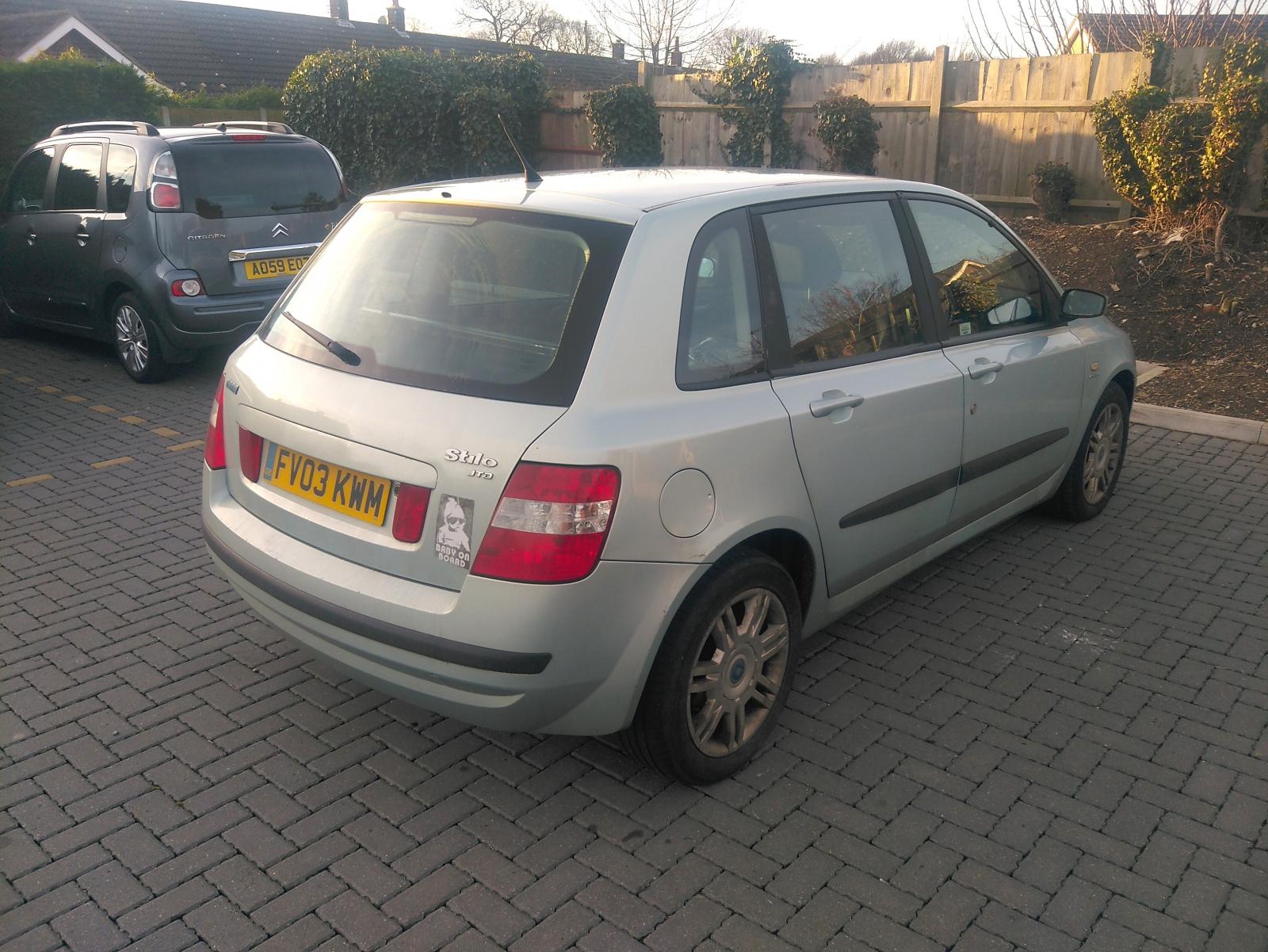 In NE Norfolk.