Let me first start by saying two things. Happy new year to all. And, All vauxhalls are shit.
I bought this at some point last year. I read the advert wrong and when I turned up, noticed something missing. A turdbo. Even the T is missing from the badge. How sad did I feel? Very. But alas, the misery was welcomed and I bought a cheep cavalier diesel. I took it home and the journey was cheep, cheerful and dirty. (it was local, so not all bad).
Its got power steering and central locking. Thats the good bits done and dusted. There isnt really much else to rave about, other than the 145K just run in 1.7 GM diesel engine runs sweet as a nut, and fairly economically. Its quite a plesent car to drive, no knocks, bangs, doent pull (at all) and has so far been quite reliable. (ish)
As far as POG goes, it was horrid. The lad I bought it off admitted that the rubbish inside was from the guy HE bought it off! Epic.
I filled two plastic bags with bottles of corona (some half full) and redbull, and half eaten cheetos from under the seats. Grim. The seats were brown.
It took 2 whole days to clean, evict past inhabitants and cleanse.
But alas, it came up clean and tidy. Shes a little rough around the edges, scabs, surface rust, tip-ex repairs etc.. but she does the job of carrying me to work.
But not every cloud has a silver lining. Within the first couple of days driving I noticed the clutch was biting High. So with that in mind, I bought a clutch off ebay for £4. The gearbox is one of those that doent need to be removed to change it! BONUS.
I tried a set of manta wheels i had lying around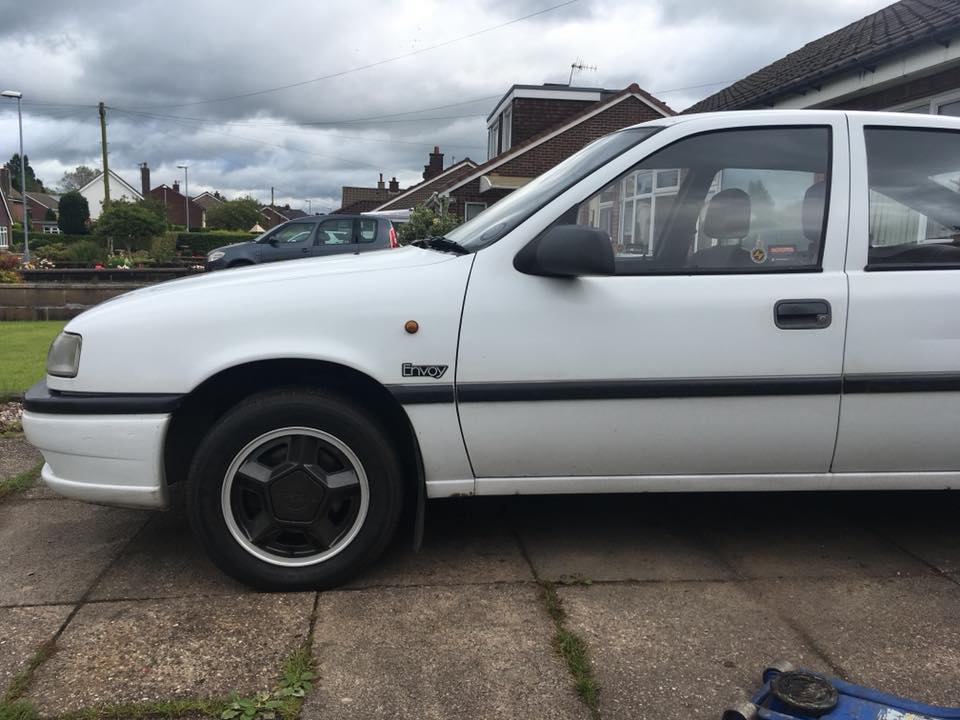 Wasnt happy with the size of tyre so put the steels back on.
So yes, its the slowest car ive ever driven (apart from the 2.1/4 series 3 ambulance) and really wouldnt pull the skin off a rice pudding. But I love it. It brings a bit of fun back in driving, taking the racing line round roundabouts, shouting at people for making me loose momentum (because it all counts!). So far its also had a radiator that fell apart (£40), roll bar links (£10) starter motor gave up a week before xmas (£45 repaired) and a set of front winter tyres (£60). What makes me smile, is that those repairs are a fraction of the cost of repairing a new modern car. So thats what its all about!
And the compulsary Autoshite sticker got fitted.
Enjoy the epic shiteness!