Well, it had to happen sooner or later. I know I've been fairly lucky in the Autoshite department, with most of my shiteworthy heaps only ever developing faults that could be quickly diagnosed and easily fixed. I've skipped over threads on this very forum, detailing maddeningly insoluble mechanical problems, with a slight shudder and muttered supplication to the Gods of Shite. But now it's happened. And - perhaps typically - it's a Renault.

Backstory. I picked up this January 1998 registered Renault Laguna 1.8 RT Sport in Fiji Green - that's the pre-facelift 8v version, 1783cc, fitted with Siemens multipoint injection and distributorless ignition via a pair of coil packs - back in July, at a very moderate price. The seller, an elderly chap who had owned it from new, felt it was "too good to scrap" and I was inclined to agree. Pushing 120k but fairly well looked after and with a new set of belts fitted last year, I figured it was well worth a punt as my loyal but battered and moth-eaten '96 Laguna RN had started to make some odd noises.




She's run well enough for the three months I've used her, only needing a pair of rear wheel bearings so far. So, pushing my luck rather, I thought I'd use her on a break to Galway last weekend. And in fairness she did well, clocking up 800-odd miles on both motorway and fairly rough rural tracks without a murmur - right up until the final stretch back towards Belfast.

Leaving Lusk services north of Dublin, I noticed a bit of hesitation while accelerating back up to motorway speed along the on-slip. Nothing dreadful, just a bit of a hiccup that evened out once we hit 70 and started cruising again. I'd filled up outside Galway (Texaco) and we still had 3/4 of a tank left - and I'd thrown some Redex in at the last-but-one fill-up, just to keep things clean.

About 25 miles on, we had to come to a complete halt for the M1 Toll just outside Drogheda. Pulling away from the cashier booth with the driver window still down, a burbling, jetting roar came echoing back to me from under the car and a LOT of hesitation this time. Fuck, thinks I. The exhaust's bollocksed and I've lost compression. Having hammered along some very rough rural roads for much of the break, this didn't come as a complete shock - my other Laguna had ongoing leaky exhaust issues, while a cracked manifold in one of my Cortinas had produced similar symptoms. No warning lights had appeared on the dashboard or anything, and temperature was still normal.

We hauled off at Castlebellingham services just to make sure the whole system wasn't about to come adrift (nope), and then ploughed on towards the border, reasoning that if we came to a complete grinding halt then the RAC membership would finally come in handy. By now, I had to absolutely floor her in each gear to make progress, with a massive amount of judder and vibration evident, having to take her up to 30mph in second before pulling third, and then couldn't change into fourth gear until she hit 45mph. Once at a steady speed she was okay, but getting there was a struggle and a burbling, chuffing noise (evident even when idling) was audible, loudest at the centre of the car and at the tailpipe - though absolutely no smoke, either white or blue, to suggest a problem with gaskets or piston rings.

We made it home that night, and a quick headscratch the next morning convinced me that maybe the wadding in the centre section of the exhaust had slipped and was part-blocking the pipe, hence the chuffing and possible back-pressure at anything under 2,500 revs. I took her over to a decent exhaust place nearby, where the lad threw her up on the ramps and confirmed that while a pinhole had indeed opened up in the centre silencer causing the rasping noise (which he temporarily cured with a dab of GunGum), the main problem was a misfire coming from the engine.

So. Judder judder judder home again; my next brilliant idea was wondering whether a plug had cracked after a few hours at motorway speed, getting gradually worse as we drove. I knew that neither plugs nor leads were in their first flush of youth; I'd considered renewing them before the trip but decided that it was running well enough and I didn't want to disturb the Lag's underbonnet ecosystem by swapping parts needlessly and throwing everything else off-kilter. Plus, I knew from servicing my other Laguna that it's a pain in the arse getting the right plugs for this engine - the HBOL, Renault and motor factors cannot agree what will fit and what won't, and after several sets of the wrong plugs making my silver Lag run lumpy, I'd just put the old ones back in and left it. (Incidentally, HBOL specifies Bosch WR8D+ plugs with a 0.8mm gap for the 1.8 8v lump - and specifically points out that in this engine, the exact gap is crucial - while a factory sticker on the rocker cover says 0.9mm, while ECP/Halfrauds/local indie claim anything from a 0.7 to a 1.1mm gap in their 'fits your car' online parts searches). But anyway. Up went the bonnet; here's Renault's F3P-670 unit in all its grimy glory:




First off, I popped my set of HT lead testers on and fired her up. This showed all four leads sparking away normally at the plug. Which appears to indicate that the coil packs, HT leads and related electrical connectors are, at least, functioning alright. I'd tried to buy some HT leads at Halfords the previous evening, thinking it would do no harm to throw on a new set, only it rapidly became clear that no-one there actually knew what HT leads were, let alone whether they had any in stock to fit a Laguna. So I left it. The metal connectors on all the leads are clean and bright anyway, with no corrosion or gunk.

Next up, I pulled out the existing plugs. These were Champion N7YCX items, in fairly horrible nick. The No.4 plug in particular looked quite badly oiled up. I measured the electrode gap with my feelers and it showed over 1.1mm, so they seem to have burned down a fair bit (the rocker cover sticker on my other 1.8 Laguna - single point injection with distributor - recommends N7YCX plugs, but indicates they should have a 0.9mm gap). Well, this was good in a way - maybe it was indeed a duff plug causing the grief.




I rootled around in the shed and found a set of almost-new Bosch WR7DC+ plugs with a 0.8mm gap, allegedly the right ones for my other (single point injection) Laguna - but which had made it run lumpy and got pulled out again after only five miles or so. Reasoning that it would at least prove one way or another whether a plug was at fault, in they went.

On starting, I fancied that the engine sounded a bit smoother - but only a little. I drove it round the block a few times; still some hesitancy, still some judder on acceleration, though not as bad. The HT lead testers were still flashing away, indicating that current was at least getting to all the plugs, though crucially, when I disconnected the lead from the No.4 plug to attach the tester, it made absolutely no difference, nor when I reconnected it again. So it appeared that this was the seat of the problem. Cylinder No.4 isn't firing.

My next thought was - oh right, so if it's not the plug then maybe it's the injector that's failed. I took the No.4 plug out, only to find it already quite blackened - but also soaking wet with petrol. Compared to the other three, this plug was also barely warm - the others were nearly too hot to handle. A strong smell of fuel came out from the bore. Here's the plug in question after a tootle round the block, compared to the No.1 cylinder plug: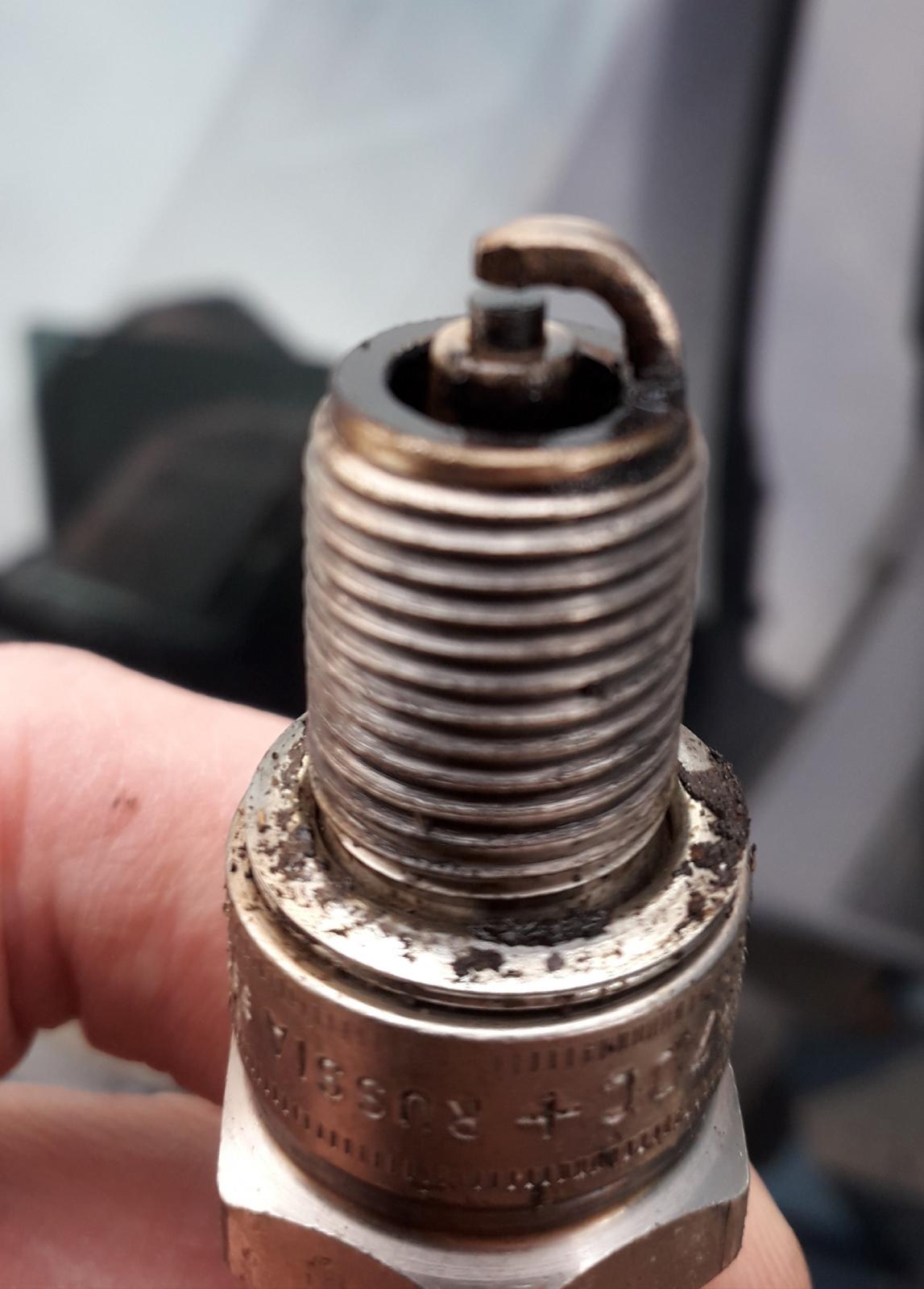 Just in case the Bosch plugs were doing something funny (you laugh, but it wouldn't be the first time a faulty new part has sent me off on a fruitless fault-finding odyssey) I swapped over the NGK BPR6E plugs from my other Laguna (not that new, but gapped at 9mm as spec'd on the rocker cover sticker). Still a spark, but no firing yet at cylinder no.4. None of these plugs I've tried appear to be cross-compatible, incidentally.

And so, dear reader, I'm now rather stuck. Maybe you've been ploughing through this thinking, "well it's obviously the ****, you dolt" - and if so, I'd be grateful if you could let me know. My confusion lies thusly:
Current is getting to all four plugs, according to the HT lead testers. I understand this Lag has twin coil packs, using the lost spark system. Is it possible for one of these to break down in such a way that it's sending the current through at the wrong time, or just not enough current to spark? They're about £40 a pop, so I don't fancy buying a new pair just to see if it makes a difference. I do have a cheapo Argos multimeter, however.
It seems to me that there's nothing happening at the business end of the spark plug at cylinder No.4 - based on the car running equally lumpy whether or not the HT lead is attached (it's not WORSE when attached, which might hint that it's firing at the wrong time) and the plug's still fairly cold after a few minutes of driving, compared to the other three. Why then has it blackened (seemingly with soot) if there's no ignition happening in the No.4 cylinder? Is something badly wrong with the piston rings here, maybe? Or is the gap crucial here and I'm just using the wrong plugs? The silver Laguna's plugs also showed the No.4 cylinder plug to be significantly sootier than the others, though not actively oily like the one from the green Lag.
There appears to be fuel getting into the cylinder alright (as the end of the plug's soaked in it) yet there's no evidence of ignition. If there's fuel, and there's spark, then is the problem overfuelling, or underfuelling, through that particular injector on the multipoint fuel rail? As you can guess, while I'm familiar enough with carbs, I know bugger-all about fuel injection. I'd guess that as the problem first showed itself and then got progressively worse over a period of 100 miles, it's more likely to be a mechanical issue than an ECU issue (?). One snag is that ECP don't even list an injector for this model ("Any part for any car" - that's right, lads), while other online shops say they're about £90 each new - and if you renew one, you should renew them all. A second-hand fuel rail with injectors is about £80 from a breaker - but there seems to be no end of variants and, typically, none of those listed apparently fit my specific model (plus there's 90HP and 94HP versions of the 1783cc unit - and I can't work out how to identify which version mine is).
I still haven't seen any of the fabled Laguna 'Christmas tree' warning lights on the dash. I don't have a fault code reader, though I could probably procure one - but is there any point if the car hasn't twigged that there's a fault? Or is it possible that the fault detection sensors themselves are faulty, thereby creating a fault where none otherwise exists? That once occurred on a Toyota Corona of mine, and certainly entertained the mechanics over a period of days...
It's fair to say that although a big fan of shite - Jalopy magazine and James Ruppert's Bangernomics hooked me at an early age - I'm no great shakes mechanically (basic stuff only) and, after a disastrous and expensive foray into post-millennial Alfa Romeo ownership, I self-imposed a rule of 'pre-'96 cars only' - as I've found that I can generally diagnose and fix cars built before this date, but not after. I broke this rule for the green Laguna, reasoning that it was basically the same car as the silver one - but it ain't.

I have a basic toolkit, a HBOL, no garage, and very little common sense. I throw myself upon the mercy of fellow Shiters.

And I'd sooner the answer wasn't "Just fucking scrap it", as I really do like the car very much otherwise and S1 Lags are getting scarce these days. It'd be a pity to weigh it in if there's a simple fix - though my pockets aren't that deep, there are no shite-friendly garages nearby and I do need reliable transport...

Finally - cheers for reading this.