Right time to put this up for a roffle
53 plate Vel satis.
It is effectively a 5 seater espace.
2.0 Turbo engine
6 speed gearbox - manual
250,300 miles on clock and rising.
MOT is mid November I think
Comes with electric everything including handbrake (which works well). Huge stack of history including owners manual.
So heated electric seats, Cruise, Speed limiter, 6 disc CD changer, electric windows all round (see below).
Sexiest clock this side of Xtriples barge.
If you were a mouse then it is the best place to have a game of hide and seek as has many many cubby holes to hide in.
Star of Hubnut TV and the beardy bloke gave it a 2.5 stars out of 5 review -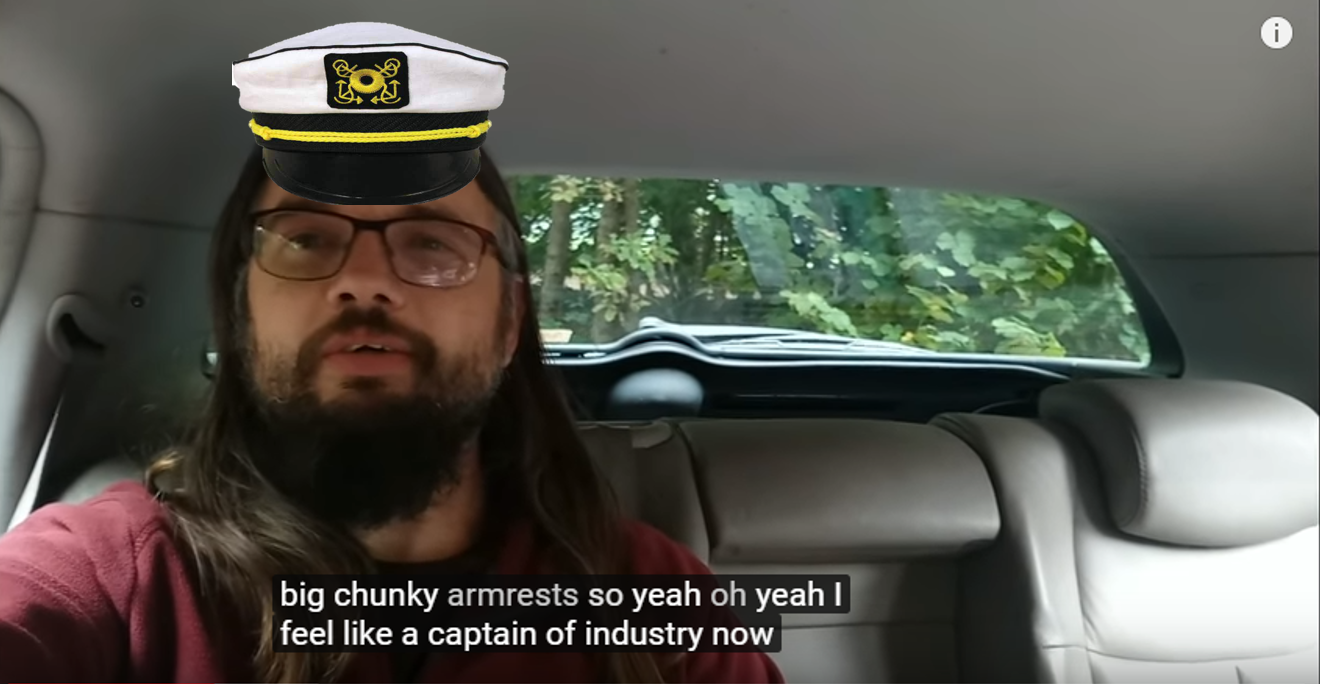 Challenging bits
Passenger side window goes down in stages. This is just the cable that needs replacing. Happy to help someone change it as not that hard
Rear Drivers window doesnt work - Dont know why
No ac - tried a regas and got told that it probably had a leak
Slightly misfire although ignored it
Front brakes sometimes make a bit of a noise. Weather that would have Noah reaching for his waterproofs has meant I havent looked at this.
Plastics are a bit sticky (not down to Dogging ... I think .. .maybe previous owners can confirm)
Flashes up warning for low washer fluid (It is a liar ... the washer are wetter than an otters pocket)
I literally have just been driving this since March putting fuel in and some oil once in a while. A totally rare beast that will have Renault lickers stopping you at petrol stations (they are mostly friendly)
Located in Accrington but probably can do a delivery for train tickets home if you live in civilization (yes that might include Chester)
1. -Drum (Winning Ticket)
2. - Cheggers
3. - Rob T
4. -Tickman
5. –Wack
6. -Bucketeer
7. - Tul66
8. - Ultra Womble
9. – Wack
10. - Fraser.innes
11. -Barefoot
12. -Drum
13. -Cavcraft
14. – WilsonWilson
15. - Barefoot
16. – Jonthan_Dyane
17. - Tul66
18. - Sporty Shite
19. - SOC
20. – Bucketeer
21. -Barefoot
22. -Dean 36014
23. -Drum
24. - Cheezey
25. – 95 quid Peugeot
26. - Tul66
27. - Taxi Paul
28. - Gadget Pricey
29. – Flat4Alfa
30. - 95 quid Peugeot
31. -Norfolknweigh
32. - SOC
33. - Taxi Paul
34. -Drum (non winning ticket)
35. – NJGLeeds
36. - Gdaget Pricey
37. - Ultra Womble
38. – Barefoot
39. -Bucketeer
40. -Cavcraft
41. - Wilson Wilson
42. -Rob T
43. - Pandamonium
44. –Cavcraft
45. - Gadget Pricey
46. -flat4alfa
47. – NJG Leeds
48. – Bucketeer
49. – Puddlethumper
50. -Cheggers
51. - RobT
52. - Wuvuum
53. – RobT
54. -stephen01
55. - Sporty Shite
56. -Dean 36014
57. -Norfolknweigh
58. – Puddlethumper
59. - Flat4Alfa