As everyone seems to enjoy a good collection caper, here's mine from last night:
Quick background. Mrs. Talbot used to have a Berlingo Multispace that she really liked. It was one of the remarkably rare later 2.0HDi models that had a full length webasto roof fitted (these were popular on early models, but the facelift models all seem to have the "modular" sunrooves). This lasted a fair while, but unfortunately met a rather nasty end when she parked it backwards in a ditch.
In need of another car, I went and bought another Berlingo Multispace. This one had the Modular roof, and was definitely not a great one. Needed it quick, so just bought it, and remarkably it's lasted nearly three years. However. it's now very tired, so time for another one.
Keeping an eye on the bay of snot, and a Berlingo pops up, same colour as the old one that got crashed, and remarkably is the right engine, (2.0HDi 90) and has the full length roof. Bonus!! The advert is appalingly badly written, and there's 3 out-of-focus photos of the outside of the car that basically told you it nothing. Best photo was this, clearly taken on a 0.1 megapixel potato, with added vaseline on the lens:
And the description basically said "spares or repair. 2 days MOT left. Can't be bothered to put it through another", which usually means "it's fucked, and I don't want to waste £40 on a test, knowing it's going to get a fail sheet a mile long"
So, of course I bid on it, and won it for £260. Bollocks. It's 100 miles away, and now out of MOT. And probably knackered. shitty shit.
Getting the train up and driving back to a pre-booked was going to cost an absolute fortune.. When did train tickets get so expensive? Stuff that. I have a towing dolly I made many years ago, I'll use that. So after my employer had sorted out their massive cock-up with my moneh, I filled the leaky Mercedes of doom up with a somewhat eye-watering mix of cheap SVO from Tesco and a dash of diesel, and headed around the M25 and up the A1(M), filled with dread as to what I was going to find and fully prepared to just walk away, keep my £260 and bollocks to the feedback.
Get there, and I could not have been more wrong. Car turns out to be one-owner-from-new, has just one significant dent in the tailgate (surprisingly common on these) a full stash of history, clean and tidy inside, runs like a sewing machine, has had a recent belt and water pump, and a relatively recent clutch and cable. Not only that, but looking in the engine bay I notice small-bore aluminium pipes and a connection block on the bulkhead. Look inside, and yes, it's only got bloody AC as well!! Possibly the two rarest items on a Berlingo multispace. I have *never* seen one with both the roof and AC together.
Selling family could not have been more lovely too. Genuinely sad to see it go, their children grew up with it, but now that they've both moved out, they no longer needed a family car, and have somewhat less practical vehicles now.
I could not get the £260 out of my wallet fast enough. Sold.
So now I just have to get it home. As my car transporter flatbed is somewhat out of action at the moment, it was time to deploy the A-frame. I made this A-frame myself about 15 years ago, and it has the added cheeky bonus of an over-run braking system... a bowden cable runs into the car and connects to a pedal pusher strapped to the driver's seat, which presses the brake pedal of the car to give you over-run brakes. It works surprisingly well. Hooked that all up, much to the amazement of the seller, and then shoved a lighting board on the back, for which I had no number plate. I am then handed a sharpie by the seller to write a number plate on the lighting board! Ta!
So it's just 100 miles back again. Easy peasy right? Wrong. Darkness falls, and the roads are absolutely filthy. Had to stop three times to splash neat screenwash solution on the screen and clean the grease off it, and clean the wiper blade too. Dirtiest journey I have done in ages. But: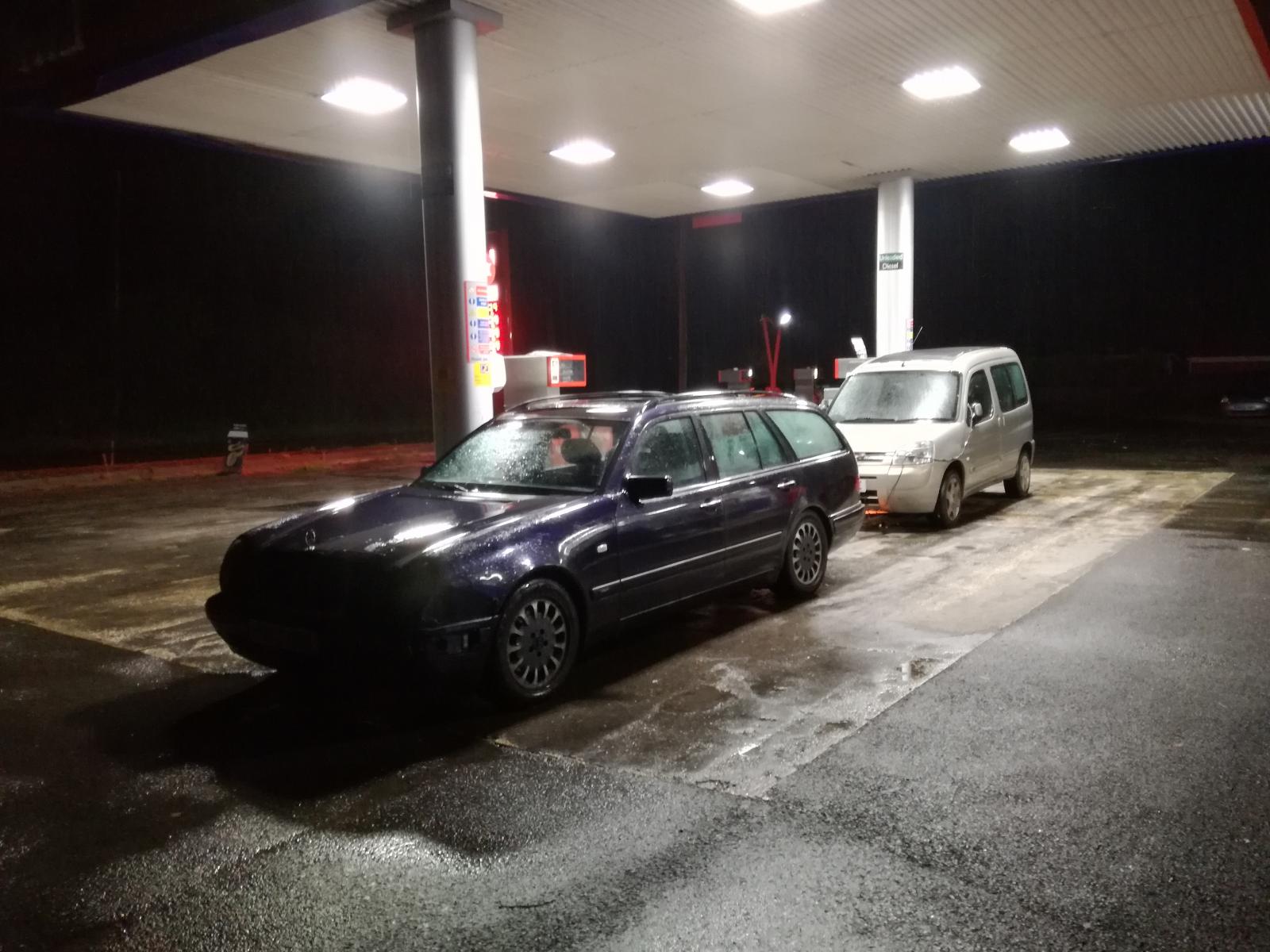 Obligatory Petrol station shot! Not that I was getting fuel for either car.. I just needed to see where the hell I was going!!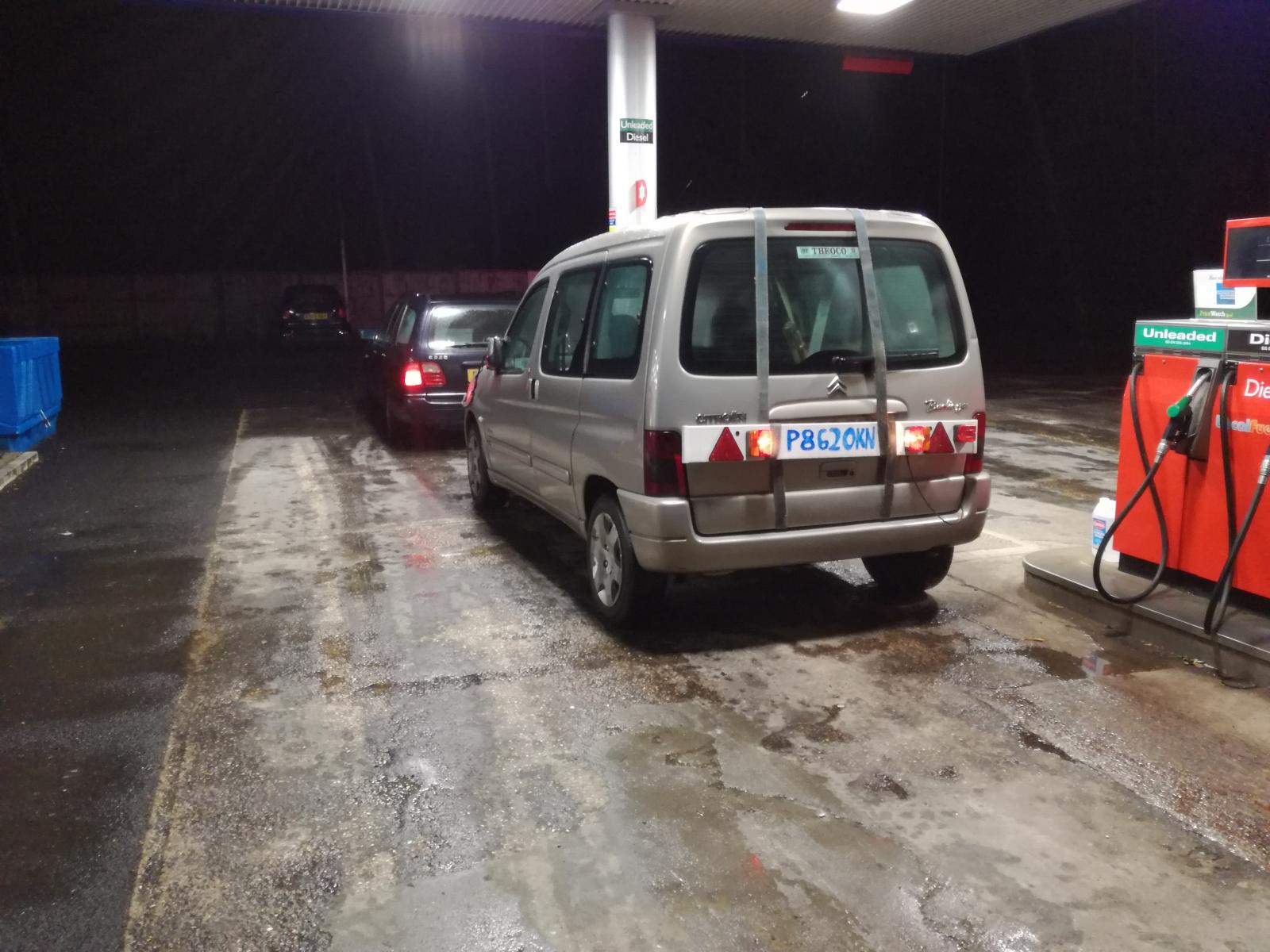 Pikey number plate FTW!
This is the A-frame. It collapses down to be carried in the back of the car when not in use. I have towed so many different cars with this now.. it's so amazingly useful. Despite the less-than-four-feet between the tow car and the towed car, some utter cunt in an Audi still tried to force his way in between the two cars. I could barely see what was going on, but I hope he shit his pants when he looked over and saw no driver in the Berlingo!
I got back home at about 9pm and just abandoned it all in the road. Pissing down with rain, tired, hungry. Bollocks to it.
Next morning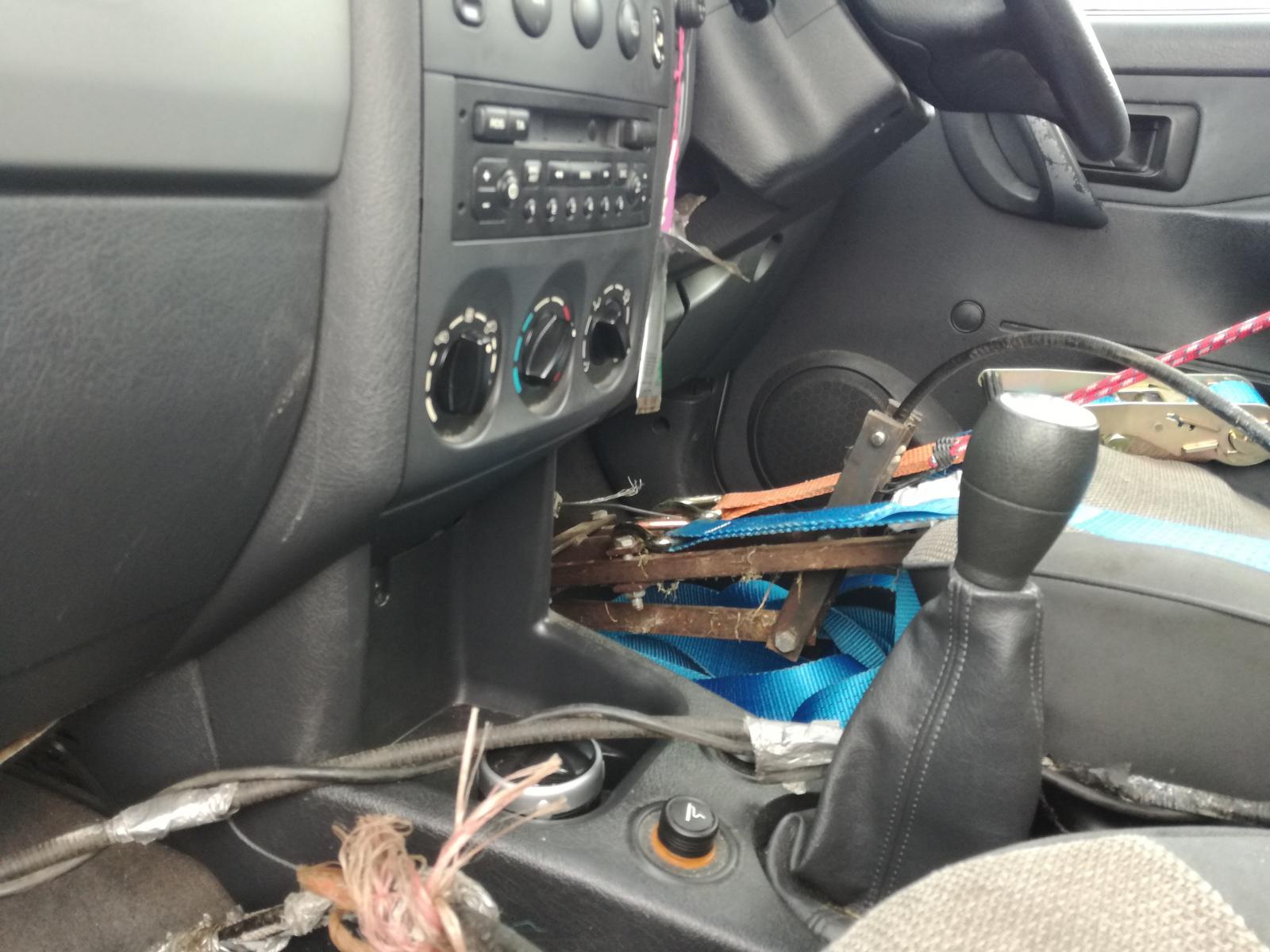 This is the pedal pusher that straps on to the drivers seat. Not a brilliant photo of how it works, but you get the idea I'm sure.
Car disconnected from the A-frame. You can see here how it unbolts. The "fingers" at the ends rest on top of the lower wishbones/track control arms of the car being pulled, and then ratchet straps go around to hold it all together.
OH seems quite happy to have a nicer Berlingo back! Just need to blat it through an MOT now and it will be pressed into service. That rather obvious dent in the tailgate is the worst (by far) damage on the whole vehicle, and is (apparently) only 3 months old. Might see if I can get it pulled out.
On a completely unrelated matter, does anyone want to buy a Red 2004 NI-registration Berlingo 2.0HDi with modular roof, littered with battle-scars, weak synchro on 3rd, tired clutch and a bolloxed Nearside sliding door? Can deliver!