£125 (same price as cartakeback) Renault Prima Trafic T900 2.1D SWB
Has fine selection of dents bigest on rear sliding door,
Looks like it has not required welding (yet).
Will be going to scrappy next week.
Starts and runs but diff is noisy so spare gearbox/diff supplied but not fitted but seems straight forward as van bits respond well to big hammers.
I am recovering from buggered shoulder so unable to wield big hammers.
Moar fotos laters.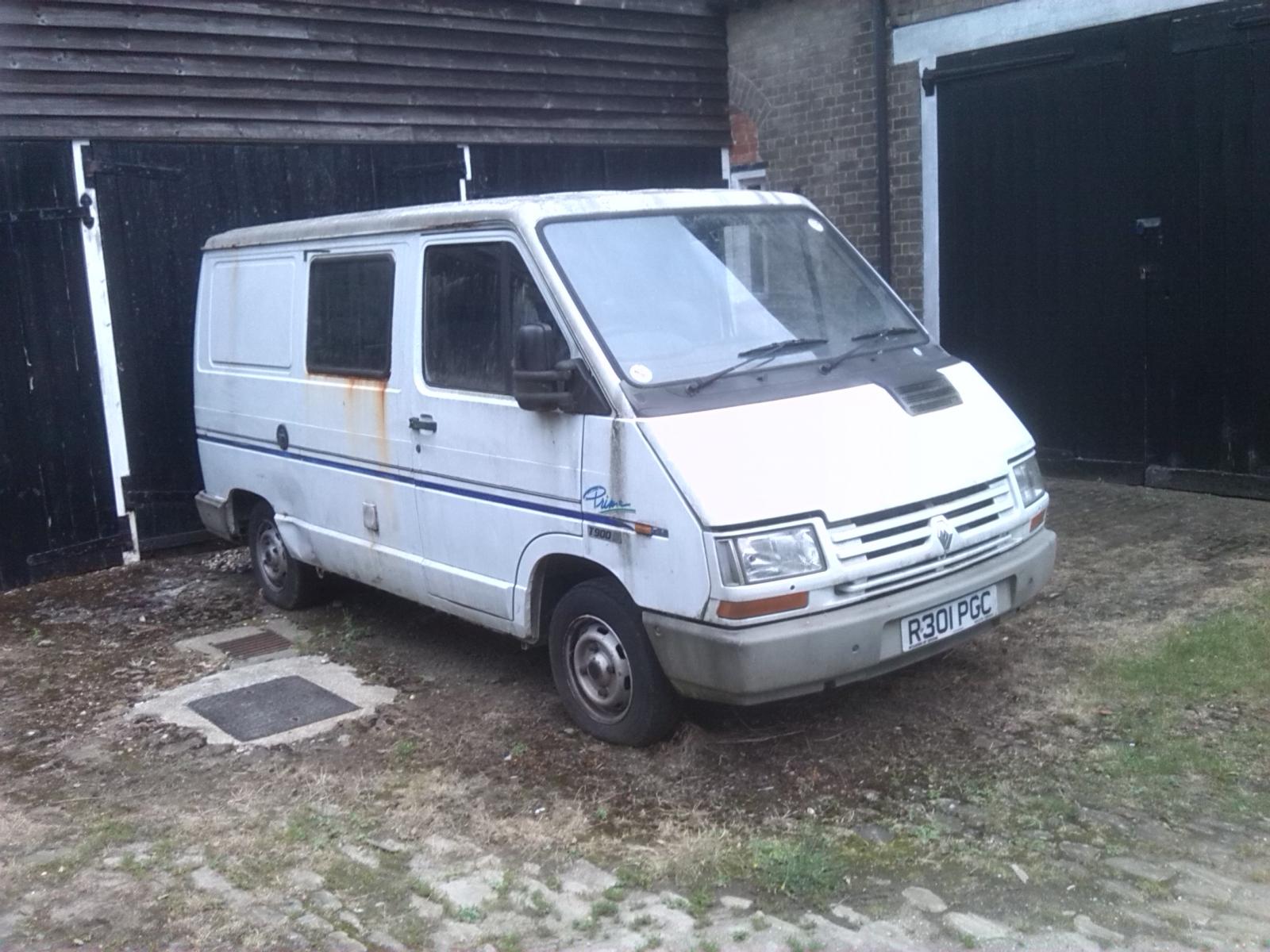 RENAULT TRAFIC
MOT valid until 12 August 2015
Date registered 28 November 1997
Date tested 13 August 2014
Pass
MOT test number 4899 1512 4203
Expiry date 12 August 2015
Advisory notice item(s)
Windscreen has damage to an area less than a 40mm circle outside zone 'A' (8.3.1d)

Nearside Rear Vehicle structure has slight corrosion (6.1.B.2)

Offside Rear Vehicle structure has slight corrosion (6.1.B.2)

Nearside Front Anti-roll bar linkage rubber bush deteriorated but not resulting in excessive movement (2.4.G.2)

Offside Front Anti-roll bar linkage rubber bush deteriorated but not resulting in excessive movement (2.4.G.2)

Front brake disc worn, pitted or scored, but not seriously weakened (3.5.1i)

Rear Brakes imbalanced requirements only just met. It would appear that the braking system requires adjustment or repair. (3.7.B.5b)

Non obligatory mirror damaged

Oil leak

NSF indicator unit is damaged

OSF tyre perished

NSR wing outer skin is corroded
Date tested 10 June 2014
Fail
MOT test number 1598 4186 4192
Reason(s) for failure
Offside Rear Headlamp insecure (1.7.3)

Nearside Rear passenger door cannot be opened from outside the vehicle (6.2.B.1c)

Nearside Front Tyre has a cut in excess of the requirements deep enough to reach the ply or cords (4.1.D.1a)
Advisory notice item(s)
Windscreen has damage to an area less than a 40mm circle outside zone 'A' (8.3.1d)

Nearside Rear Vehicle structure has slight corrosion (6.1.B.2)

Offside Rear Vehicle structure has slight corrosion (6.1.B.2)

Nearside Front Anti-roll bar linkage rubber bush deteriorated but not resulting in excessive movement (2.4.G.2)

Offside Front Anti-roll bar linkage rubber bush deteriorated but not resulting in excessive movement (2.4.G.2)

Front brake disc worn, pitted or scored, but not seriously weakened (3.5.1i)

Non obligatory mirror damaged

Oil leak

NSF indicator unit is damaged

OSR light unit is damaged

OSF tyre is heavily perished and starting to crack

NSR wing outer skin is corroded