Updates!
So, shortly this will be off to a new home...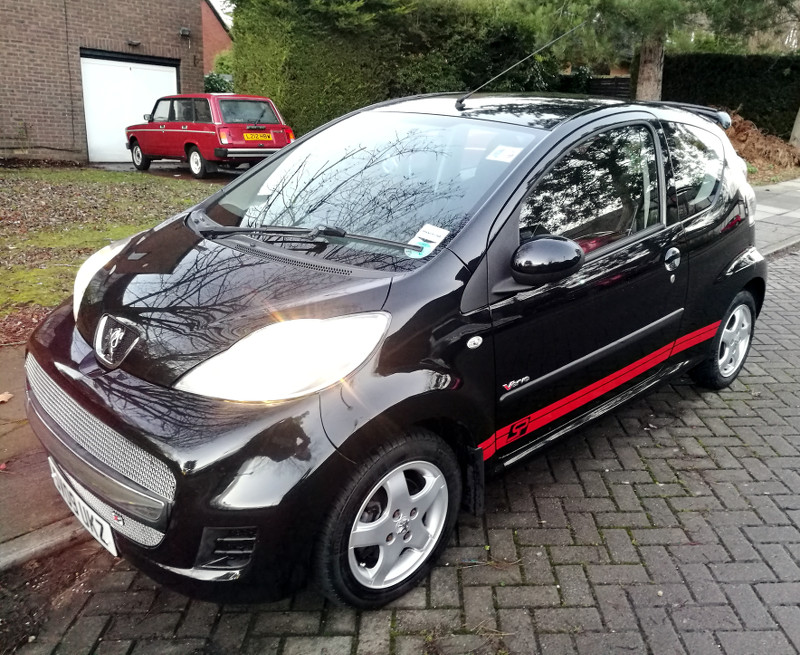 ...having been in my ownership since brand new. She's been an absolutely cracking little car and I'll be really sorry to see her go. Cue the next three months of my mind going "did I do the right thing?" which always happens. However last time the car moved prior to yesterday when I went to get it cleaned was about eight weeks ago. Prior to that was about a month before that...it's just not been getting used.
If I was sensible, I'd just have sold it on the open market. However I'm not sensible - and I despise the faffing around with timewasters that always seems to come from selling cars other than through forums like this - let's not even speak about eBay or Gumtree...So instead I wound up agreeing to do a trade for a project car. While one that needs quite a lot of work done, it's one that's hopefully in the gaining value slowly over time bracket by now - and more importantly - will actually fit in my awkwardly narrow garage while still allowing you to get past it to get to the chest freezer that lives at the back.
So what's the project?
This is!
Yep...It's an Invacar. Well..technically it's not...it's an AC Model 70. Or at least it used to be before it was hacked about to turn it into a tug that was used on a caravan park. Hence the rear panel having been hacked about to accommodate a tow hitch (removed since the photo was taken), and the entire rear wheel tubs and arches having been sawed off to allow the comically oversized (Daimler!) wheels to be fitted. Of course you can't fail to notice that the entire bloody nose is missing too...We've no idea. Best guess is that it got damaged and they decided just to hack it off to make accessing the front wheel etc easier rather than repair it. Oh...and the wiring loom has been royally butchered in quite a few places as well...so that will need repair.
The floor also has taken on the appearance and structural integrity of a soggy teabag. This of course made me seriously doubt that the underside was going to be anything like intact, which would have immediately written the project off in my eyes. However having a closer look...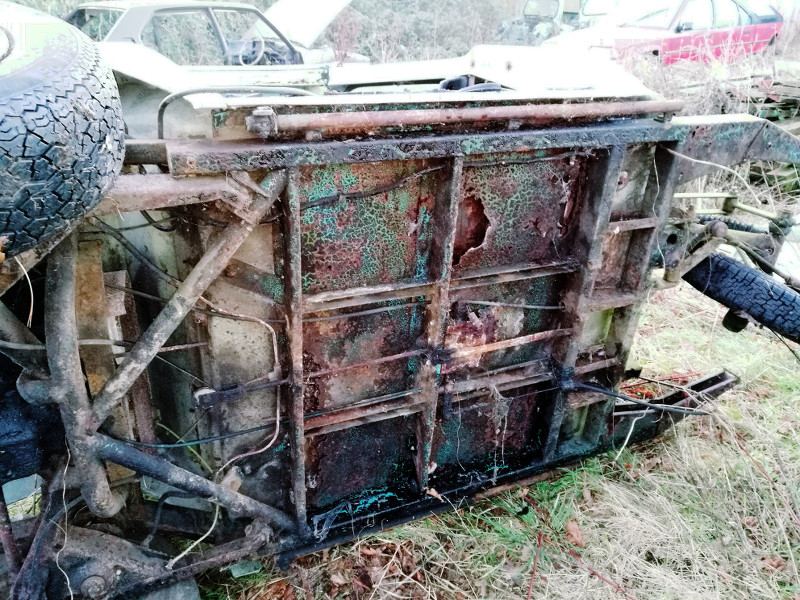 ...showed that much to my astonishment that the chassis is sound as a pound. Nothing that even looks vaguely suspicious and you think might make that sickening "scrunch" sound if poked...just solid. There's a tiny section of one of the front outriggers (which I assume are just crash structure) which has a teeny tiny hole in, but poking it with a screwdriver (well...key) failed to make it any bigger, and even so it's an easy repair even with my limited welding skills.
The engine was apparently last running in late 2016, and the vehicle was driving then (albeit without any brakes). So hopefully it shouldn't be too hard to get running.
Importantly, aside from the obvious bits of bodywork, it's complete. There are quite a few things missing in the photos obviously, but the seller has them safely stashed away, and they will come with the vehicle. Even more importantly, it already has a V5C with it, so I shouldn't have to go through the faffing about with the DVLA. There will apparently be quite a few spares thrown in as well.
My rough plan at this point is as follows:
[] Get it running...I know this is probably a silly place to start...but let's face it, we've all done it. We want to hear the engine go first. It's also useful to know that bit does work when you're stuck at some impasse later on and want to set fire to it.
[] Remove body from chassis.
[] Repair floorpan and any bits of the chassis that look in any way suspect.
[] Rustproof the snot out of it.
[] Rebuild braking system. I figure this will be easier to do with the body separated as access will be a bit easier.
[] Reassemble.
[] Repair damage to rear body and wheel arches.
[] ...Hope that by then I've formulated a proper plan to deal with the front!
Current theoretical plan is hopefully to be able to team up with someone who's got a Model 70 with good bodywork and take some moulds from that to allow me to recreate it (probably in several parts). This could also prove handy for other owners who might have smashed corners etc. Either that or find another scruffy front body section somewhere that's repairable and available for me to graft on. The rear wheel tubs I'm currently thinking will wind up being adapted from Reliant bits most likely unless I'm lucky enough to come across a donor for bits of bodywork - which seems unlikely given that it seems that there are already more rolling chassis around than bodies to go on them.
We all know what they say about plans though - they never survive first contact with the enemy.
Whatever route I take to getting it done, it should definitely be interesting!
A big shout out to Dollywobbler for bringing these little cars to my attention. Until his thread on the duo he's got hold of I'd never heard of them. I decided on sight of that that I really wanted one, so started poking around a bit, expecting to maybe find one in a year or two...stumbling over a viable project less than an hour from home this quickly was at the very least unexpected. There was no wish to seem like a copy cat or to steal any of his thunder - this just happened to work out in a way where things fell into place rather more effectively than I'd expected.
Expect a shedload more photos when it's delivered, hopefully at some point this week or next.
Now off to resume frantically trying to clear space for it in the garage. I know I've got enough actual square footage there now - just need to play Tetris with the remaining content so I can actually fit the vehicle in it!