Thought I'd start a thread to document the vehicles I own, and my general appalling neglect of them- and to try and rectify some of my egregious failings. My problem is that I have no idea how to do most jobs on cars- I'm actually reasonably OK at wielding the spanners once I figure out what's needed, I just rarely get to that point. I have quite a reasonable collection of tools and no objection to buying more, if the job requires it.
Anyway, first up a quick update on the ex-WW Pug 106 (as collected here: http://autoshite.com...lection-thread/ ). A picture tells a thousand words, in this case:
They showed me the ripped boot, and the big gap between the pipe and backbox, while it was up on the ramp. I googled changing the CV boot while they finished the rest of the test and it looked like a pig of a job, so I was quite surprised when they quoted me 50 quid to do it. I was therefore not particularly put out when they called me later to say that in fact they needed to replace the whole driveshaft at a cost for the part of 50 quid; by the time they'd dismantled the old one I'd have been paying that in labour, I reckon, so might as well go with the new one. They managed to bodge the exhaust up with a bit of welding and some paste apparently. So, including the test the car now stands me at 365 quid; it's somehow even nicer to drive now it doesn't sound like a barrymobile. It seems to be doing about 60mpg in mixed driving, and I absolutely love tooling around in it, so I'm pretty delighted all round. If he's got them and they work, KruJoe is going to be sending me some rear seat belts so I can reinstate the back seats, but it's ever so useful as a tiny two seat van in the meantime. All I really need to do to it now is do something about the nasty looking patch of rust at the back of the boot, and think about treating the various little blebs (the worst of which is on the bootlid). I ought to try and fix the wobbly gearstick too I suppose, but it shifts fine so that's not at all urgent.
Anyway, on to the big car, my Mondeo, as previously interfered with here: http://autoshite.com...nator-arseache/
It's been OK since I fixed the alternator and I'd done a couple of thousand miles in it up until yesterday, but it has started knocking when going over bumps and potholes. It only knocks when one front wheel moves independently of the other, which leads me to think that it's something to do with the ARB. The droplinks are still fine, despite having been undone a couple of times when I did the alternator, so I reckon it might well be the central bushes. I got the garage to stick it up on the ramp when I went to collect the Pug from its MOT, and they poked all the suspension with a pry bar and couldn't find anything obviously wrong. I asked them to do the ARB bushes anyway, they got them in, then claimed that they'd need to start dropping the subframe, so I just bought the rubbers off them and took the car away. They had also removed a loose bit of heat shielding from above the exhaust, which improved the rattling a great deal, though I now presumably need to remember to put my ice cream on the right side of the boot on hot days. I decided to ignore the grinding noise from the brakes as both the fronts appeared to have plenty of pad material left.
So on to Saturday; despite the aforementioned issues it was the only car available capable of taking me and my four large friends to Metz for the day to see the Palace friendly, so the ferry was booked, insurance and breakdown cover sorted etc. I left home at 1.25 AM and returned at 2.25am Sunday morning, having reset the trip counter and MPG meter before setting off: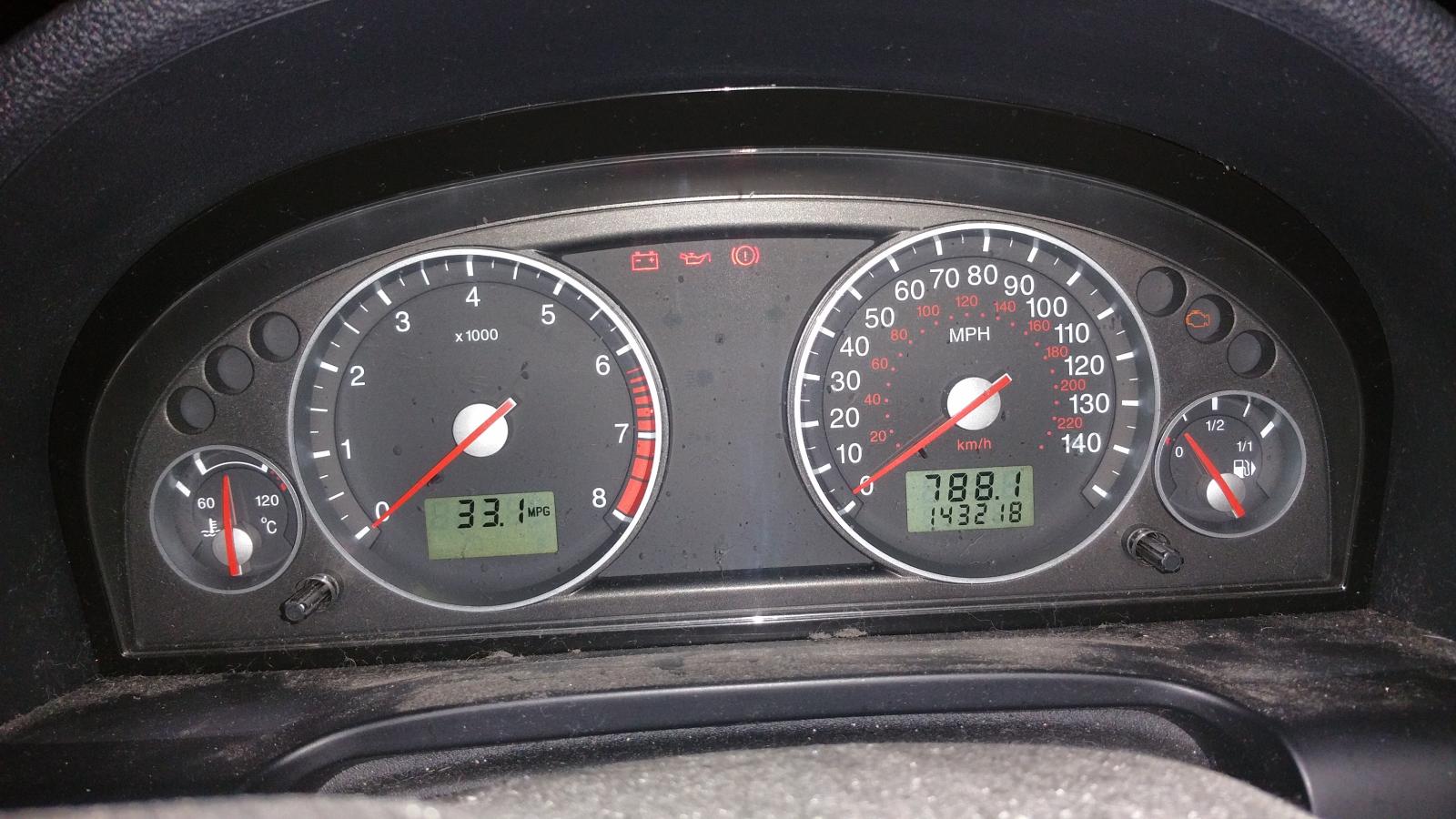 Despite general chaos at Dover on one of P&O's busiest days of the year we made it to the game in good time, and then the 300 miles back to Dover in time to catch the last ferry of the day, which would have been expensive to miss. I didn't particularly enjoy the drive back, however, as I'd been sitting in the back for the stint there, and realized that the grinding was actually coming from the NSR wheel. Sure enough, when I looked at it when we parked up in Metz, there was a dirty great gouge in the disc!

It didn't seize up or fall to bits though, so happy days. I was pretty pleased with 33mpg from a fully loaded 3.0 V6, we weren't hanging about.
Anyway for obvious reasons the car now isn't going anywhere until the rear brakes are restored to full operation, which will require at the very least new discs and pads. So, the first few questions of what I assume will be many in this thread:
Is it worth paying the extra for Pagid pads and/or discs at ECP? Two Eicher discs and a set of pads come in at £49.65 with their usual 30% discount, or whatever it is this week. Pagid come in at £64.16. I can easily afford the extra £15, just wondering if it's worthwhile? I could split the difference with Eicher discs and Pagid pads too, of course (or vice versa).

And- how hard a job is it likely to be? Will I need to buy a wind back tool of some description? Can I refurbish the calipers to any extent without having to remove the brake lines? From reading other people on here saying that Mondeo rear calipers are notoriously shite, I reckon I've already done well to get 4 1/2 years out of them with no maintenance. Would be good to clean and grease them, if that's possible.
Thanks in advance for any replies. I'll post up pics of the job when I attempt it!