EDIT: Bumping this rather than starting a new thread as the car seems to have died, see new post below
Morning all,
For sale, my Father-In-Law's 1.6 Megane. He bought it about 6 years ago from his older brother and since then he's used it for little more than his weekly shop at Sainsburys. I've probably put about half the 8000-odd miles it's done on it in that time, taking them out for day trips to Hastings, and borrowing it when my own shite's been off the road for various reasons. They've now decided, IMO sensibly enough, that £600-odd a year for tax, insurance, servicing and MOT is more than can really be justified for a shopping trolley, so I've been tasked with moving it on.
It claims to be something called an Alize, which in practice seems to mean reasonably plush velour seats, A/C (which I couldn't call "ice cold" under the Trade Decsriptions Act, but which does knock a few degrees off ambient), a sunroof, leccy front windows, and steering wheel controls for the tape/radio (which isn't all that great for my favoured soundtrack of local house music pirate radio, but works as intended). Oh, and a trip computer, which I discovered for the first time a couple of months ago while waiting for them to load the shopping in the boot.
The 1.6 16V engine keeps up with traffic effortlessly, without ever feeling quick. Not the most relaxed motorway cruiser, 3000RPM's about 62 mph. It is frugal though, 35mpg round town and 50 on a gentle run 4-up. Handling wise it goes round corners absolutely fine without ever feeling sporty- the ride is comfortably bouncy in that typical French-Car-Before-They-Got-Shit way. The four noname tyres fitted have plenty of tread left, and I've never caused them to lose traction, albeit that I've not tried too hard.
FIL isn't ancient (70 this year) but this is basically a giffer car; despite (or more likely because of) his knowledge of my own shite credentials he insisted on his local mechanic servicing it every year or two before its MOT so it's had a couple of oil changes in the time he's had it, and had any problems with it fixed...not that that was a lot, off the top of my head I think it's only needed a crank sensor and a new boot lock mechanism, apart from the usual bulbs etc., and a calcium battery a few years ago. So, basically, everything works as it should, apart from the boot lock which is still a bit temperamental; be gentle with it and it's fine; clumsily jab it and it can get stuck in and refuse to open the boot; it pops itself back out after a few jolts from being driven around. The suspension creaks and pops a bit over bumps, but it just sounds like it needs greasing or something, there's no play that I know of or untoward effects on the handling or steering. I tried adjusting the N/S mirror yesterday and nothing seemed to happen. I'm 5'11 and it was just a smidge too low for me. Talking of which, you wouldn't want to be much taller than 6' I'd say, the sunroof takes some headroom out.
The bodywork is basically straight apart from some lacquer peel on the NSF wing and various scuffs down the offside. I actually have a little pot of touch up paint here which I was going to have a go with, but never got round to- will include that, obviously. Sadly, the original trimz are fucked, largely because of my terrible parallel parking

. Apparently these are prone to the sills rusting up at the back where a drain hole gets blocked- I'm pretty sure this one's completely solid, but if anyone wants to come and see it I'll pop round and poke them beforehand, just to be sure.
So...for an honest car with 102k, MOT till October 23rd, and no reason I know of why it won't sail through another, £300? Being a 1.6 it gets clobbered with tax at the full rate, unfortunately. 3 ton seems reasonable to be, but I'm just waving my finger in the air, so I won't be insulted if you've got a sensibly argued lower offer. The plan is that I'll buy something smaller, cheaper to tax and hopefully even more frugal with the proceeds, so a swap for a serviceable mk4/5 1.25 Fiesta, any flavour of 1.4 or smaller Saxo/106, a K11 Micra or something similar would be good too. I'm currently self employed* so I could even deliver it were sufficient incentives like pies/ tea/ coach ticket home on offer. There's a quarter of a tank in it, and the insurance runs out on Wednesday, so any test drives need to be done before then. Would be nice if we could bang it in for the tax refund before the end of the month too, obviously. It's in Catford, SE London.
Took these pics down at MIL's sister's house in Kent yesterday before it delivered us home again in relaxed style.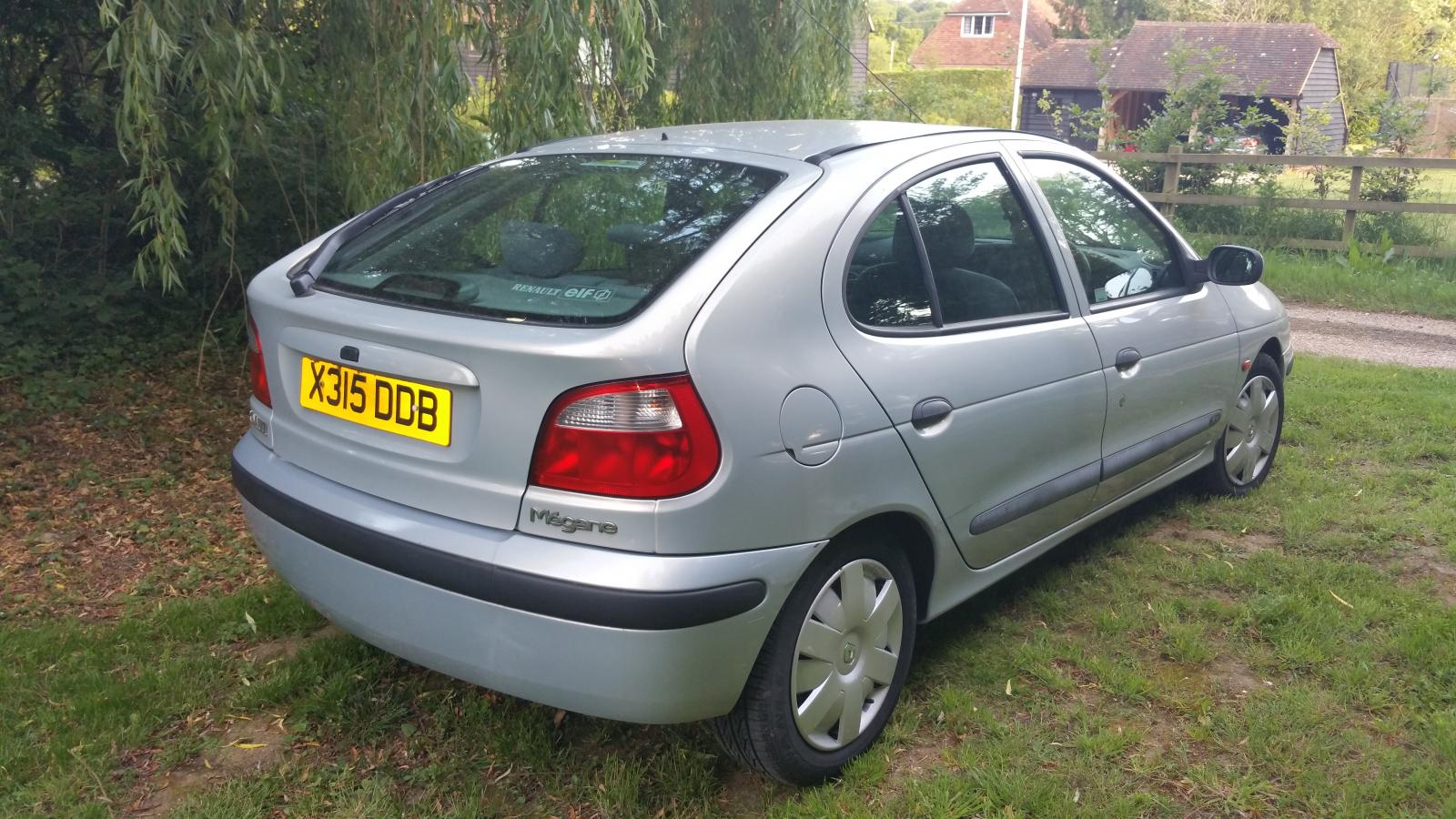 TL/DR? Megane, £300, MOT till October 23rd, TAXED 2 GET U HOME M8