Welcome to Autoshite Welcome to Autoshite, like most online communities you must register to view or post in our community, but don't worry this is a simple free process that requires minimal information for you to signup. Be apart of Autoshite by signing in or creating an account.
Start new topics and reply to others
Subscribe to topics and forums to get automatic updates
Get your own profile and make new friends
Customize your experience here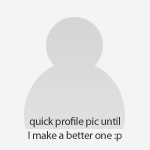 #61
ONLINE
Posted 18 July 2017 - 10:19 PM
Current fleet
75 CDT Auto Tourer
ZT-T Diesel Manual
LPG 4.0 Jeep Grand Cherokee WJ
Saab 9-3 Convertible
Saab 9-5 Aero
Focus 1.6 Auto
---
#62
OFFLINE
Posted 22 July 2017 - 11:56 PM
Erm... I might need it, my wife just projectile vomited 3 times in the black beetle we bought from you, it could be one of them cars where you can never get rid of the smell!

---
#63
OFFLINE
Posted 23 July 2017 - 12:15 AM
Hyundai i10 auto - white goods shite
Rover 75 1.8 auto - wafty kettle
Ford Galaxy - big red shite with added space
Triumph Toledo - 2.0 for added sleeper shite
Triumph Dolomite 1850 auto - crusty shite
---
---
Also tagged with one or more of these keywords: For Sale
0 user(s) are reading this topic
0 members, 0 guests, 0 anonymous users