Welcome to Autoshite Welcome to Autoshite, like most online communities you must register to view or post in our community, but don't worry this is a simple free process that requires minimal information for you to signup. Be apart of Autoshite by signing in or creating an account.
Start new topics and reply to others
Subscribe to topics and forums to get automatic updates
Get your own profile and make new friends
Customize your experience here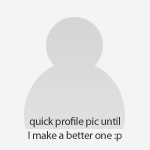 #61
OFFLINE
Posted 06 July 2017 - 09:29 PM
Is the Alfa still for sale? Any photos?

---
#62
OFFLINE
Posted 07 July 2017 - 10:11 AM
Self bump

---
#63
OFFLINE
Posted 18 July 2017 - 10:19 PM
Current fleet
'02 Saab 9-5 Aero (mega mega miles),
99 Xantia Hdi Exclusive Estate,
LPG Rover of doom 214sli,
Rover 214 Sei
75 CDT Auto Tourer
75 CDT Auto Saloon
ZT-T Diesel Manual
LPG 4.0 Jeep Grand Cherokee WJ
Saab 9-3 Convertible
Focus 1.6 Auto
---
#64
OFFLINE
Posted 22 July 2017 - 09:48 PM
I have the opportunity to purchase a rather nice Golf GTi,however, the main issue is space.
The Beetle is therefore the car that has to go. Sadly.
1.6SR Beetle in dark grey with beige vinyl on the doors and side and the boot lid. 2001 car IIRC.
Drives and runs fine but might need a lambda sensor as light is on, was also a Cat D I think.
Scratches here and there, rust bleb on one of the doors. Needs a passenger window regulator, not expensive on eBay.
Hell,it still has MOT to the 23rd August!!!!!!
£285 275 for a reasonably tidy Bug
This really does have to go now folks,by now I mean pretty quickly. Like couple of weeks quickly if possible.
---
#65
OFFLINE
Posted 22 July 2017 - 09:51 PM
The Beetle has to go and go very soon, so come on, you know you want a Beetle in your life.
Location:a barn near Chelmsford.
275 quid FFS. Is cheap!!!!!
---
#66
OFFLINE
Posted 22 July 2017 - 11:56 PM
Erm... I might need it, my wife just projectile vomited 3 times in the black beetle we bought from you, it could be one of them cars where you can never get rid of the smell!

---
#67
OFFLINE
Posted 23 July 2017 - 12:15 AM
---
---
Also tagged with one or more of these keywords: For Sale
0 user(s) are reading this topic
0 members, 0 guests, 0 anonymous users