Any love on here for a Nomad?
If this is your mental image, no, not that sort of nomad, this one's considerably less good looking
Yes, it's a kit car, a Foers Nomad and it's Faw Sayle.
It is based upon a Riley Elf (a Mini to all intents and purposes) but also apparently utilising Landy door handles. To date, I have not found a method of locking said doors. Also, to add to the utilitarian appeal, the doors come off (by design) as they can be lifted off the hinges.
The load cover reveals a useful cargo area. (/marketing drivel)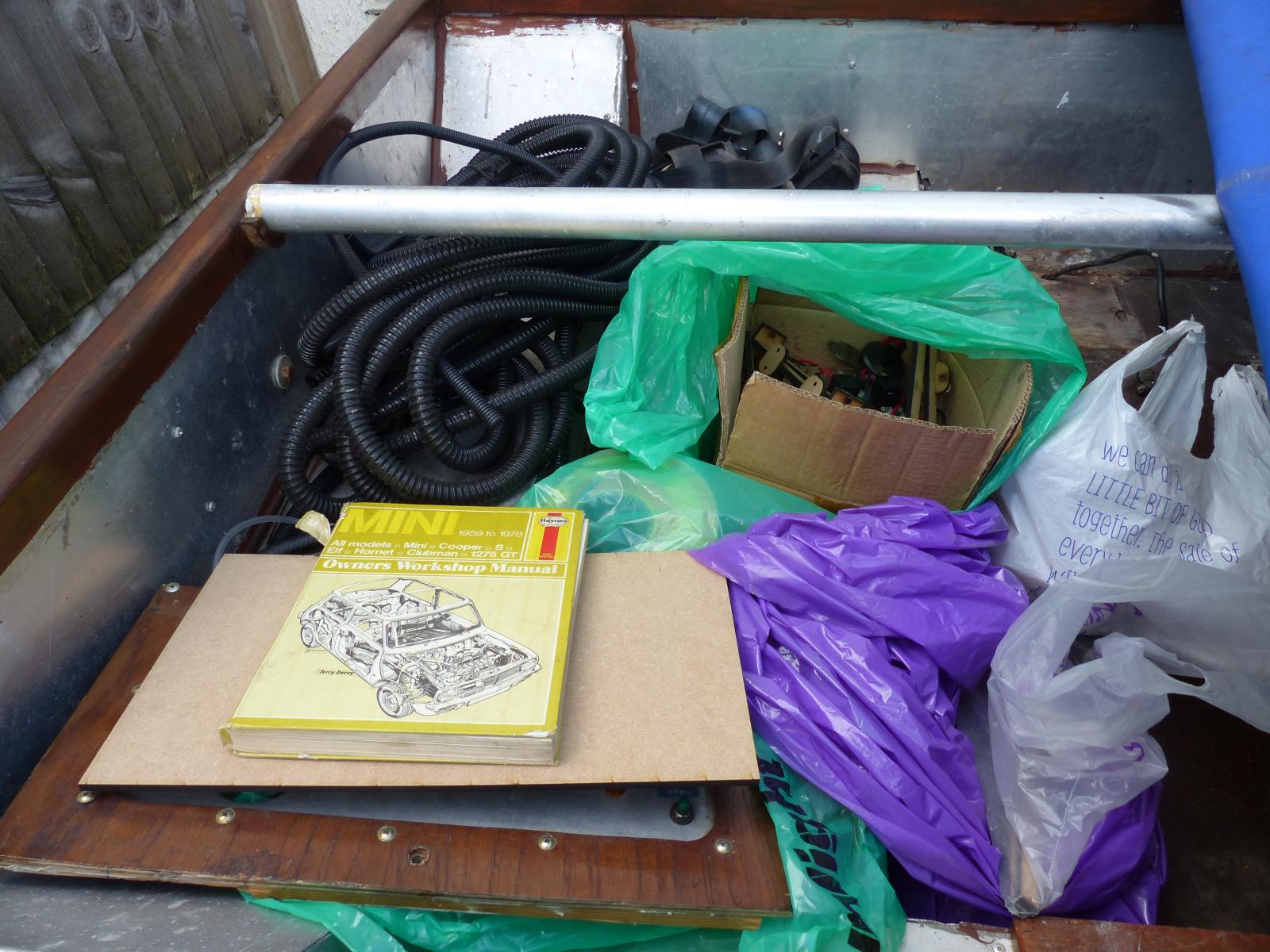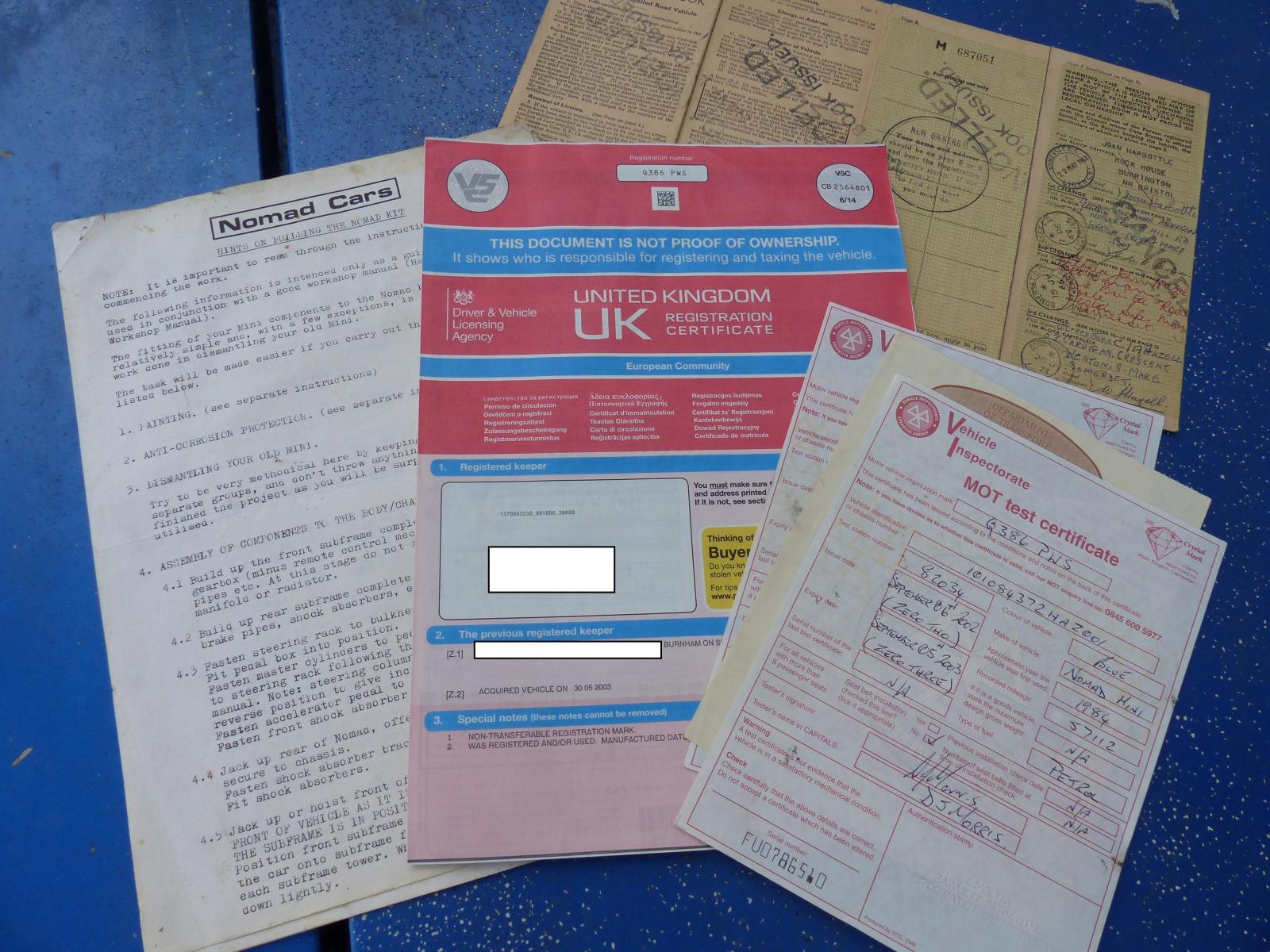 Curiously, the V5 shows its body type to be 'Light 4x4 utility'.
I can confirm that there is no drive to the rear wheels, nor is there provision for such - it's not 4WD, it is front wheel drive.
I have a document detailing a suggested method of completing the Nomad. How rigorously this method was followed when the kit was built is anyone's guess. But as the document runs to just 7 pages including two pages of diagrams, the builder would have had to be quite switched on to complete it anyway.
Said vehicle is currently not in possession of an MOT. Or indeed a dashboard. There is a floor mat of sorts for the cab, though it is just a flat piece of plywood with rubber matting glued to one side and a gaitor for the gearstick. I CBA to refit it when taking the pics. Soz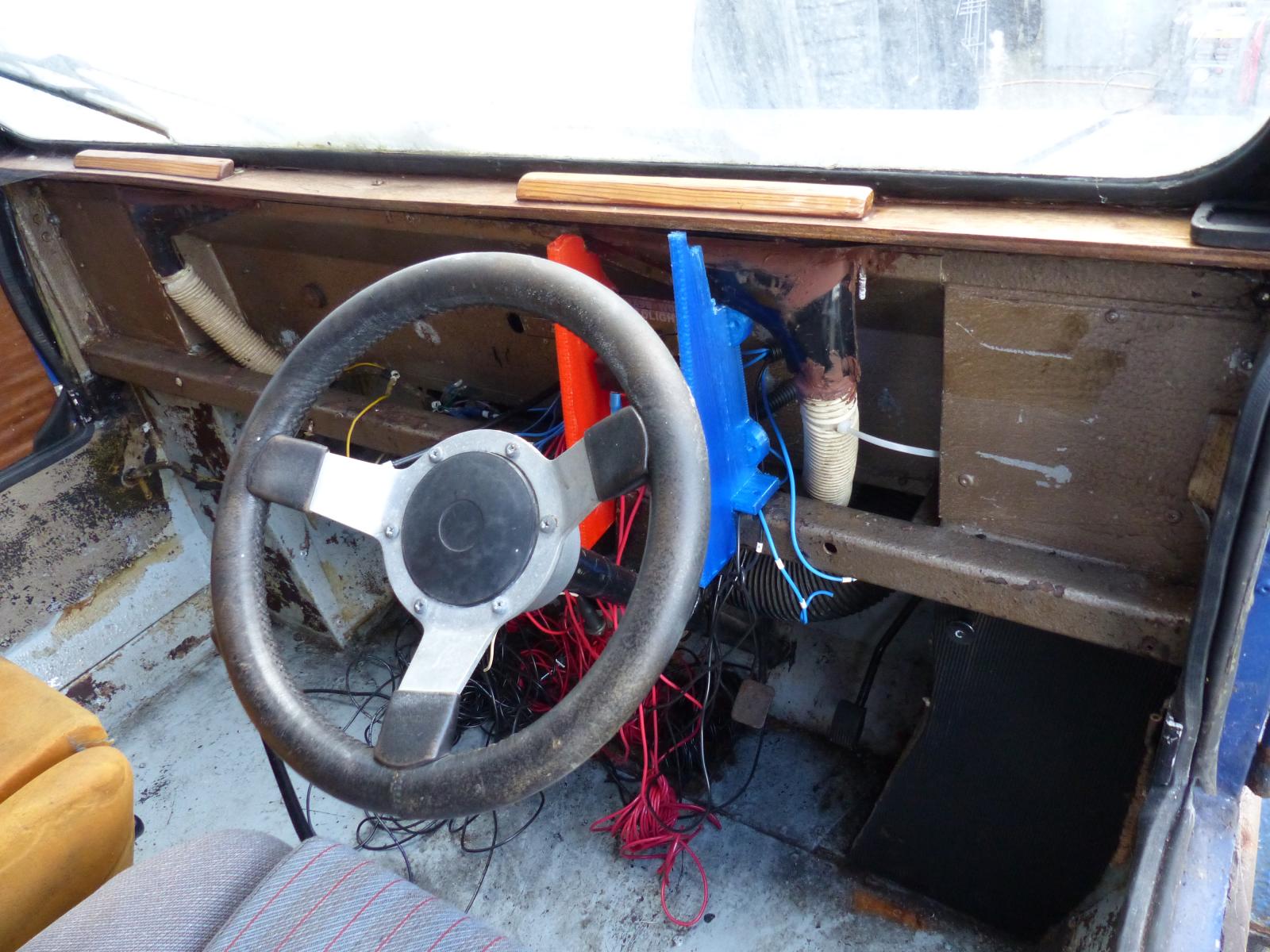 It's not an unfinished build - it has been on the road in the past, possibly from 1984 till 2003 – it had been a project vehicle at a college before my niece purchased it. She took it off the road to replace the dashboard and wiring but this was never completed.
The Riley Elf donor vehicle was originally registered in 1963 and had four owners up to 1976, according to the log book preceding the V5. The V5 shows date of first registration of the Nomad at 1st October 1984, presumably when the kit was completed and received its Q plate, and four former keepers since that date, with the previous owner purchasing it in 2003, and my niece getting her sticky mitts on it in 2010.
My niece is still the owner/registered keeper of this vehicle, though it has resided for the last two years mostly in my garage and more recently under a tarpaulin beneath my kitchen window (fortunately OUTSIDE my kitchen window, but this fact is barely a consolation to Mrs CW who would prefer it not to be on our property at all). The lack of space available to my niece that forced the car's relocation to Chez Chod, is now an issue at Chez Chod too, so the car is upfersail.
It is mostly painted in blue hammerite. Alas the V5 records it as black/white. The RF60 shows the donor vehicle to have been blue/yellow and to have at first had an 848cc engine, but this has been overwritten with a capacity of 997cc. What is under the bonnet, again, is anyone's guess. I can't recognise one capacity A series from another.
The cabin maintains a strong connection with its mini roots – it's small.
Two seats are provided, origin unknown, one with fabric, one without. Both seats are not bolted to the floor and bolts for these may not be found in the vehicle. They may yet turn up when niece moves house in a few weeks. What will not turn up: the bolts that hold the air filter to the carb.
I am not privvy to the details of its construction, other than it (uncharacteristically for a kit car) does not involve any GRP or fibreglass. It seems to be mostly of steel and is suffering only from surface* rust in some* places.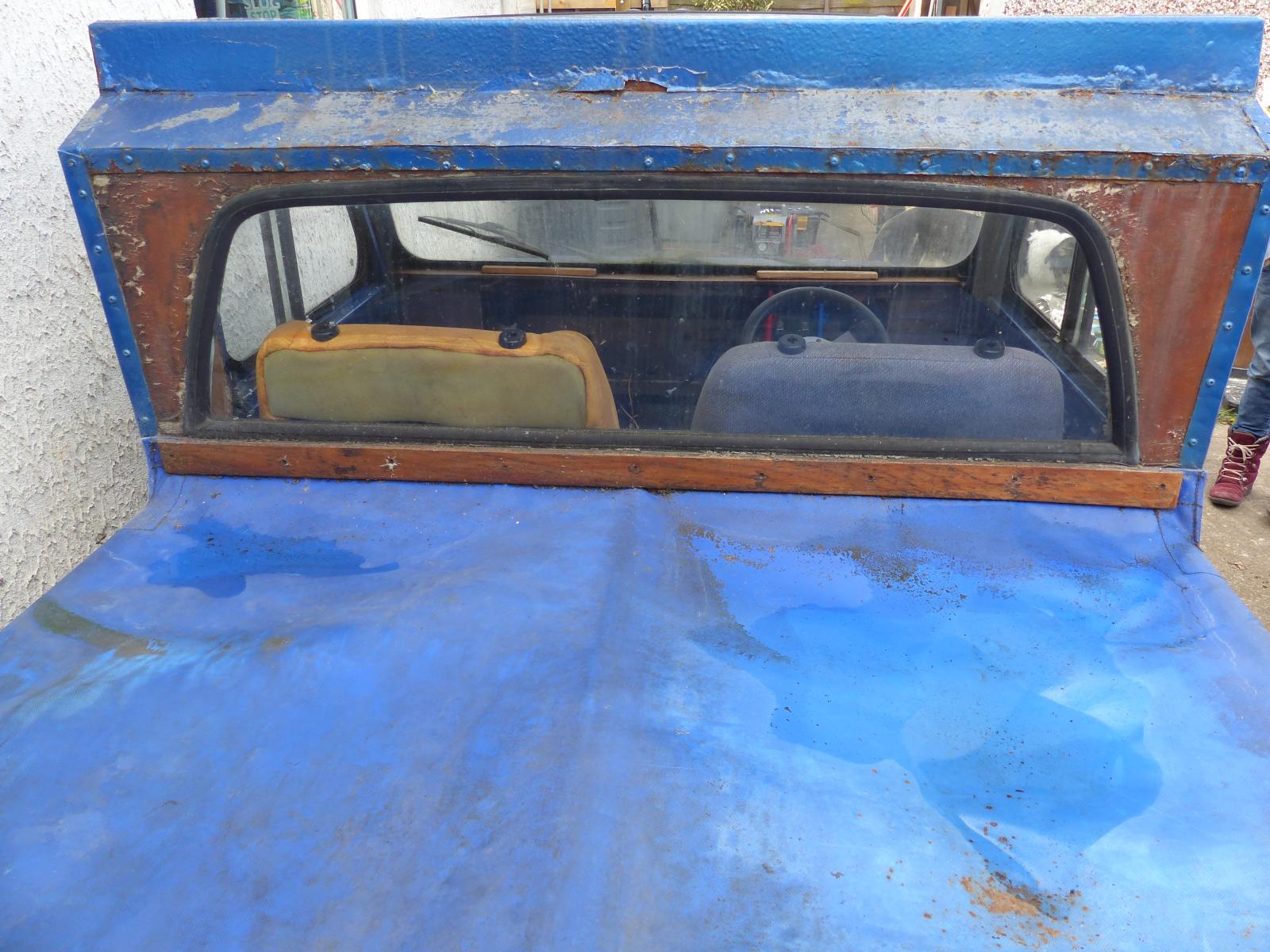 There is also use of wood in its construction, both inside the cab and where running boards would be.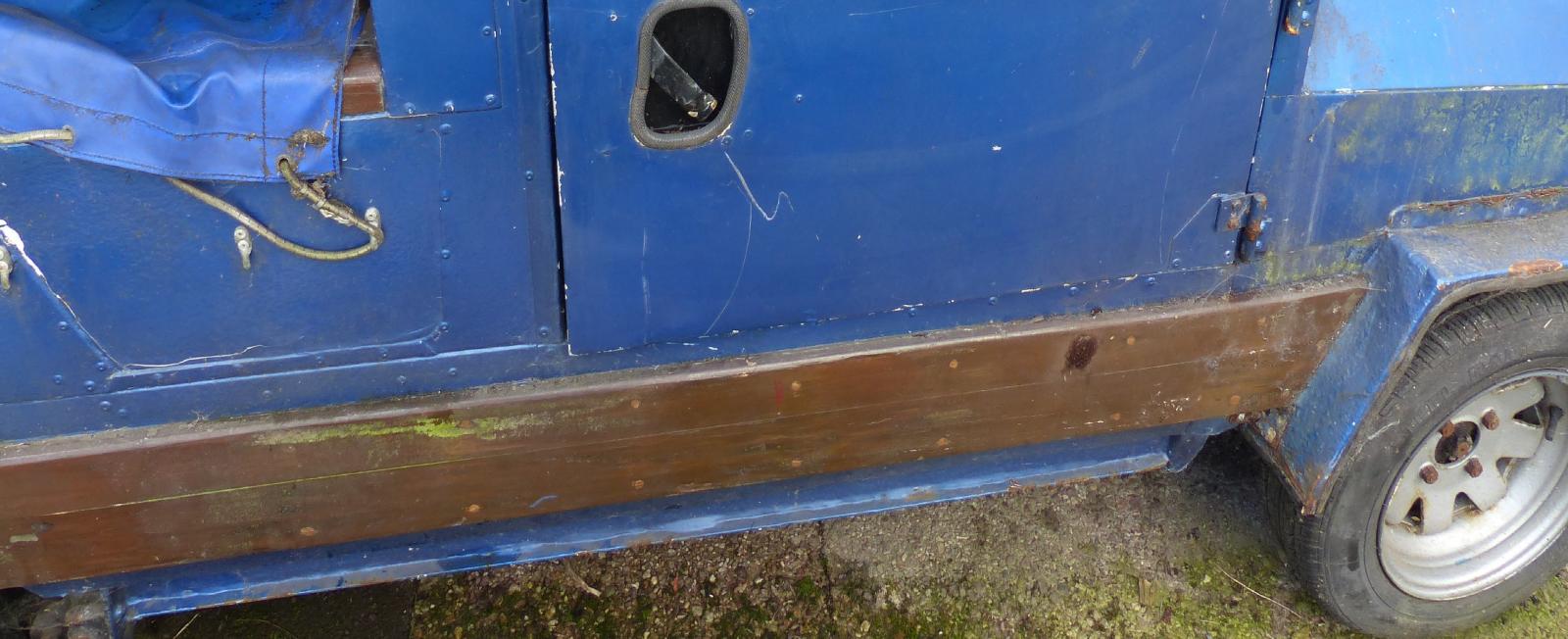 I do know it to have a manual gearbox, an engine which is not seized, containing oil I'm not ashamed of, but little or no coolant and a Unipart battery in good health.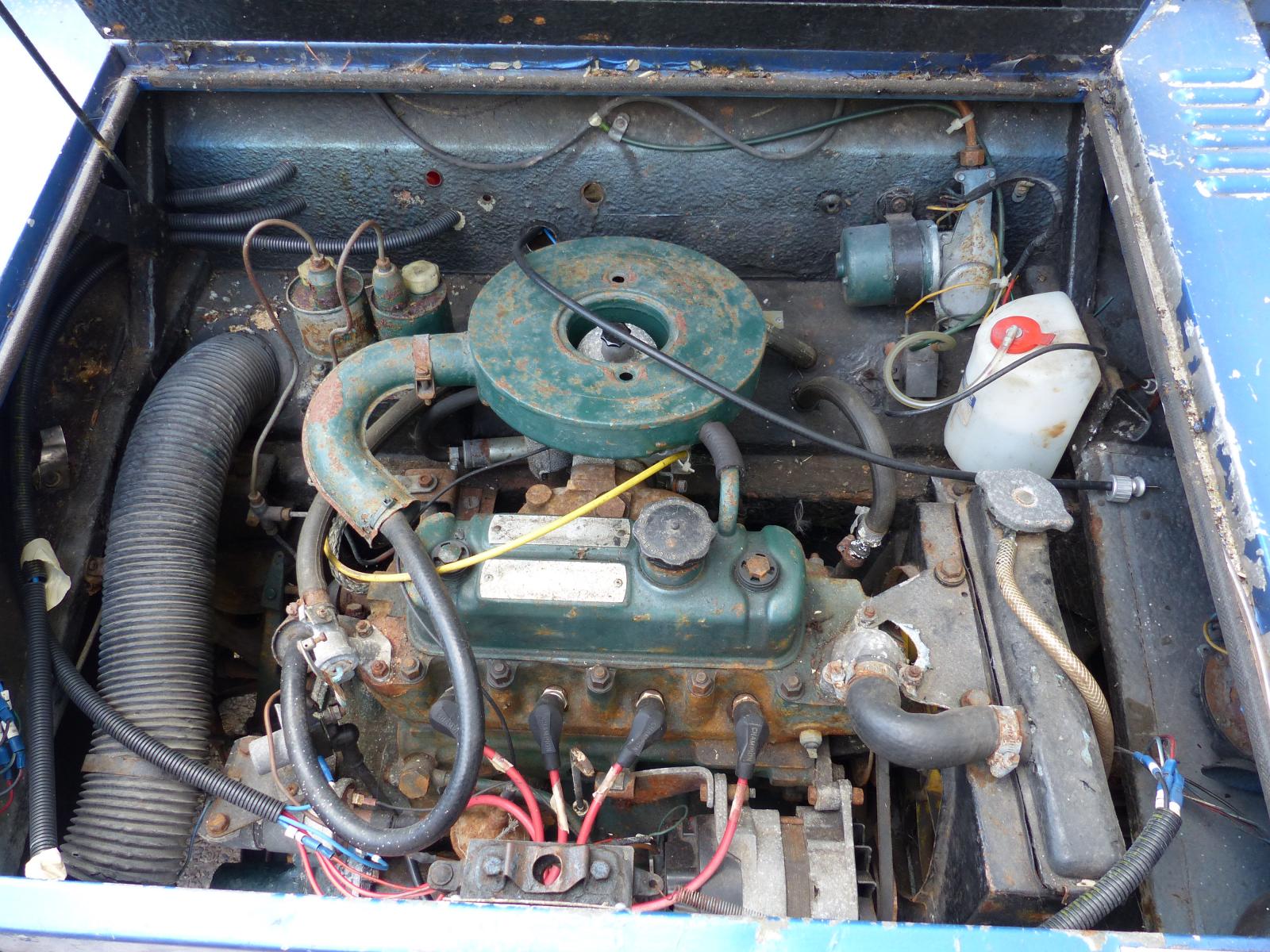 The sum of these items does not however contribute sufficiently to achieve motive power. The engine turns but does not start.
The tank does not smell bad, but the fuel in it must be years rather than months old, so you should draw your own conclusions.
The tyres are most likely not going to pass an MOT, due to age and perishing. None are bald though iirc. I can confirm that none of the brakes are stuck on, having pushed it back and forth prior to taking these pics.
No dashboard is fitted due to niece's intention to fashion a new dashboard of her own design, utilising the (presumably) original Riley clocks and switchgear. This intention has been realised only insofar as some MDF and Perspex has been cut to some shapes, which have not been fixed together. Holes for switchgear have been made, very neatly it has to be said, with switches now occupying these holes. Some None of the concomitant wiring between this switchgear has been made. The previous dashboard is, I'm told, in the load area.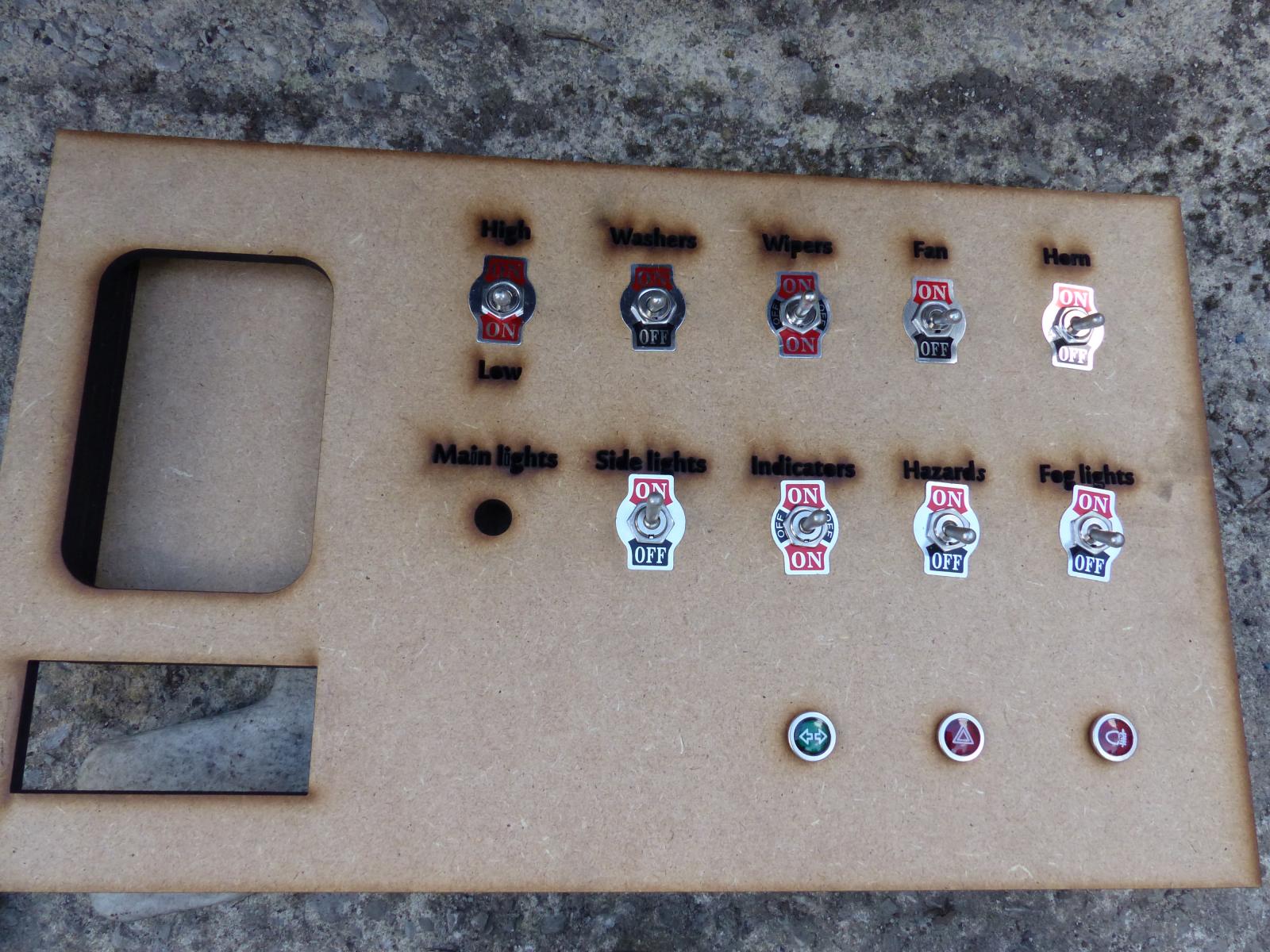 A detailed wiring diagram is not available. Some notes on a jotter pad however, are. As is a Haynes BOL, though I'd quite like to keep that if it's not required by the next owner.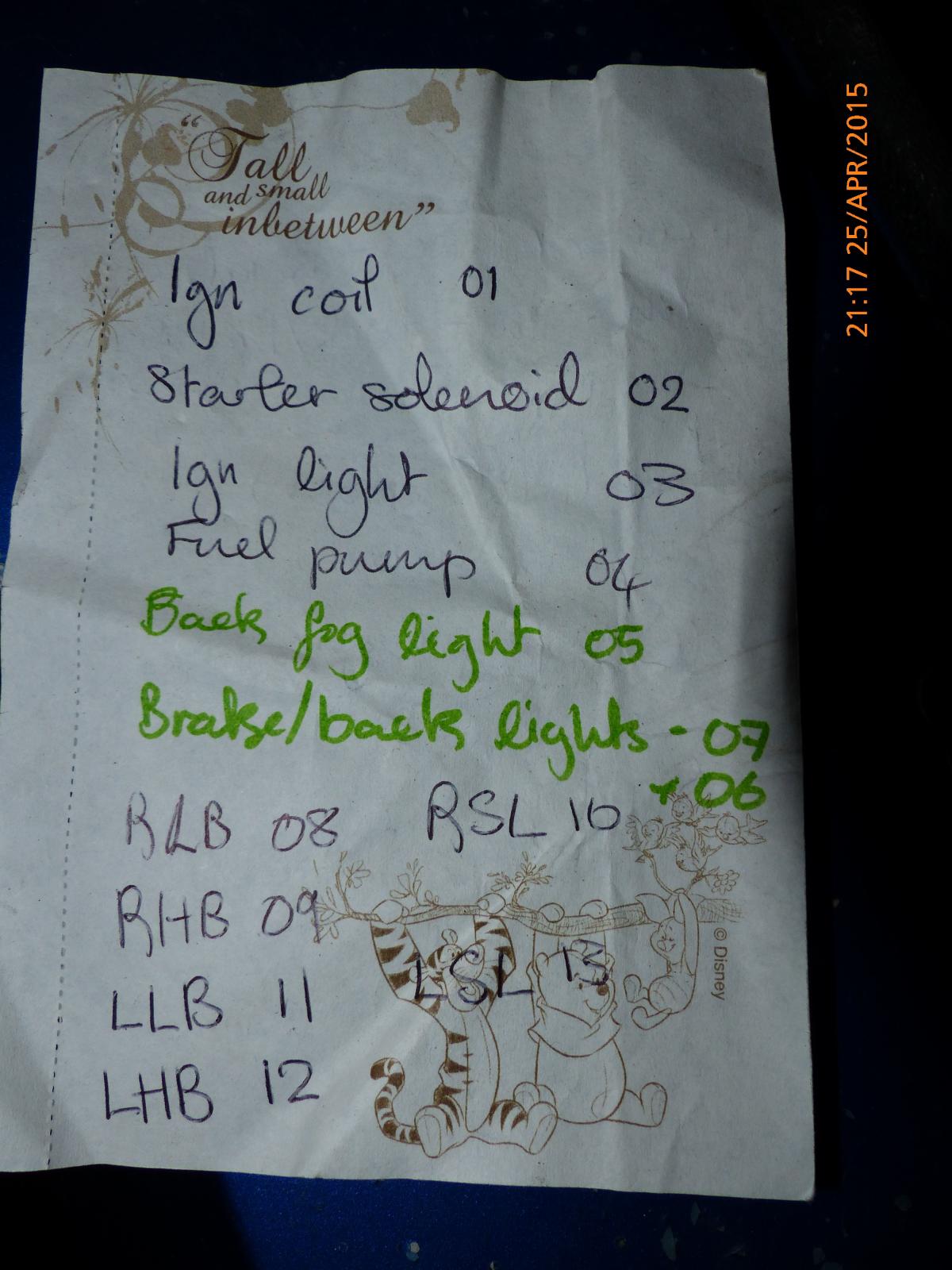 Some generous coils of wire are hanging from the bulkhead in a hopeful fashion. Some of these are labelled in accordance with the notes shown above. There is also the alternative of refitting the original dashboard, though again the wiring on this is not complete, which is what prompted its removal by niece.
Jury rigging has resulted in much jubilation at a starter motor that turns the engine over, and powering of an ignition system, but as stated above, this has not resulted in a running engine.
TL:DR: To paraphrase Keymaster's pointed if somewhat caustic assessment of the vehicle: Smoll car. Partly wood. Kind of mini. Bit pick up-y. No electrickery, enjoy making your own loom.
I've got quite used to having its odd shape gracing my yard and I think I may miss it. I certainly regret not having got it on the road, though I was only charged with storing it until niece had the time to sort it out. Neither of us have done more than two days' work on it in two years and I have other vehicles crying out for attention that have a much higher priority than this one, so I'm offering it up. With the history behind it that I've just discovered going over its log book and V5, I think it would be a shame to scrap it or have it re-raped for its engine. It's certainly different, not entirely impractical and probably cheap to run once back on the road. I make no promises as to its chances of passing an mot or indeed to the state of its underside, though i have other vehicles with current mots that are dropping iron oxide on the drive at an alarming rate, where this has shed nothing in two years. It will undoubtedly require a lot of work to recommission it and will need to be trailered away. On the other hand, there is not a curve anywhere on the car, so if any welding is required it will not involve forming complicated repair panels.
Niece is looking for about £500 for it. Shiter's discount is available. Please feel free to contact me with questions which I will answer to the best of my ability, or for more pics, or just to arrange a visit to marvel at the concept of a mini based landrover pick up kit car/commiserate/laugh at my predicament - all shiters are welcome to come and indulge in tea and biscuits.