I figure this little car has earned a thread of its own.

The Twingo joined the shed of shame in a different time. It was a simpler time, when I was just starting the shift from camera to car mags and the occasional bit of photography and car-buffoonery with Keith was fun, and somehow I had relationships and things around life that made sense rather than the relentless shower of shit it all became.

It arrived, as you would expect. on the back of a trailer. Keith had acquired it from somewhere, and it had a misfire. Nevertheless, I hooked up a battery booster to it and it started, and chuntered into the garage. "We'll have that fixed in no time!".




It sat. And sat. Somewhere in the timeline cars and money and storage and stuff changed hands, and the Twingo became mine. It gets wheeled around occasionally, and cleaned seasonally, but overall it is just in stasis.

Work started early last year and I stripped a load of bits around the engine before the folded-over inlet manifold confused me and I got concerned that this D7F was going to be more faff than the OHV engine I thought it had. Nevertheless, the time has come to deal with it.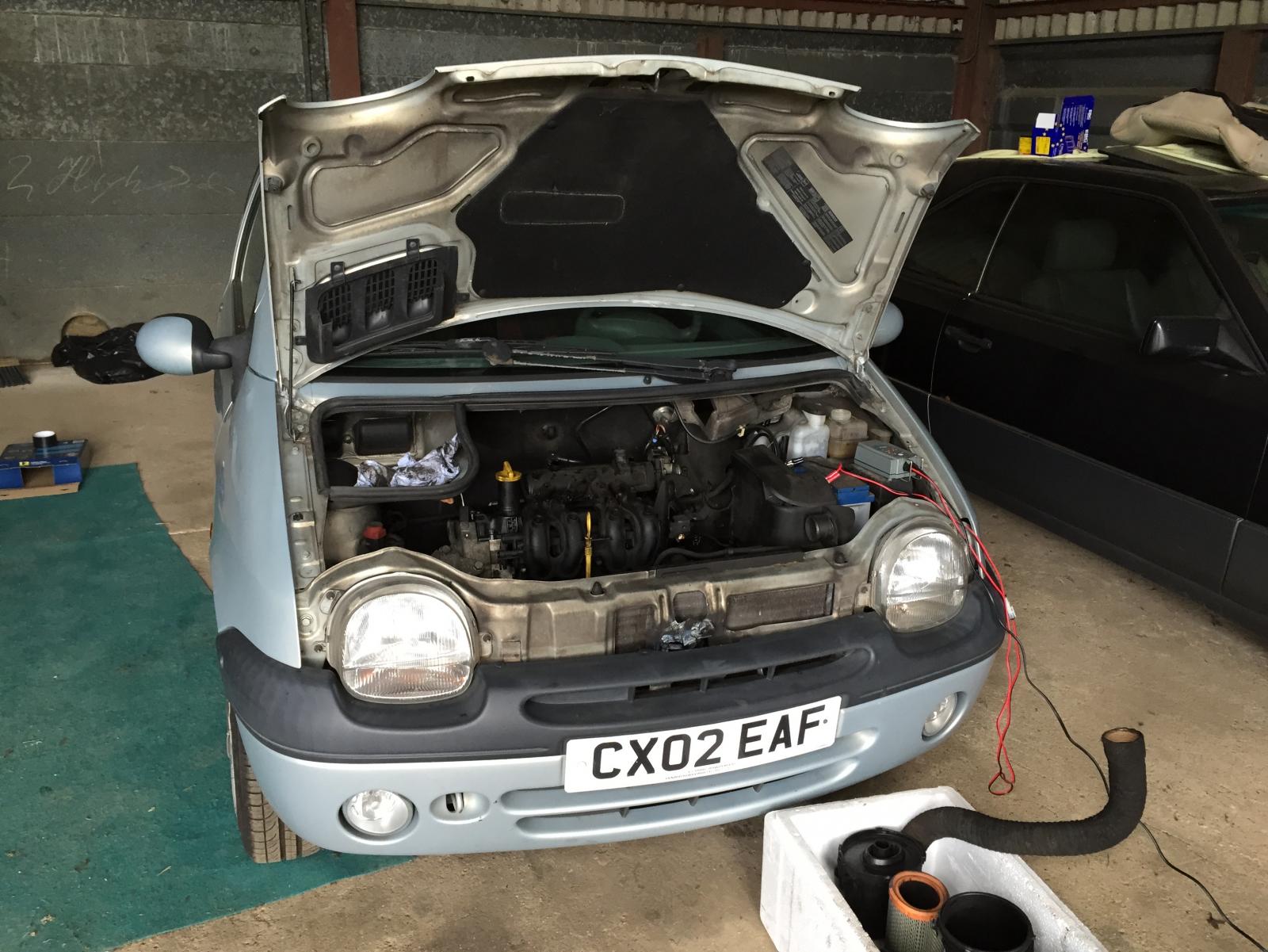 I think I'm going to keep on stripping this one down to the point where I have the head removed. Then make a decision on buying a secondhand engine or doing these repairs. It has 127,000km on it and started easily enough, just had a gasket blown between 2 & 3, verified by shoving a borescope down the plug'oles.

Some minor detail items also need to be fixed. The top corner of the LHS door has lost paint, one headlight (RHD lights, they were produced for these - shame they didn't do matching RHD rears) has a small crack, the rear foglight has lost the red film covering it so will be replaced (will probably put a Celica one in if it fills the aperture), also the bumper has a crack above the exhaust pipe, and the interior light lens is missing (found it - broken clip so it had been done with blutack) - found a replacement one on eBay easily enough. The glovebox catch handle is also broken - that may prove harder to source, this being a fairly late Twingo, but I will try as surprisingly it's one of the few bits broken, most things are good. It needs four new wheeltrims to look smart, though I've been offered a set of Ronal Teddies which are kinda tempting. Finally, the radio LCD has failed, and I am inclined to fix it but similarly, as it has a conventional rather than remote display it seems just as sensible to put a modern head unit in with adaptor lead for the remote.

It has a full-length glass sunroof, which is why I want to save it probably.