Might aswell start a new thread for this fine piece of Vauxhall goodness.

Yesterday was an early start, and most of London wasn't awake yet.




6.15am and second train achieved at Herne Hill.

Fast forward to 8.30 and stripped fred kindly collected me from Leicester to go and collect the car from Ashby. The big reveal...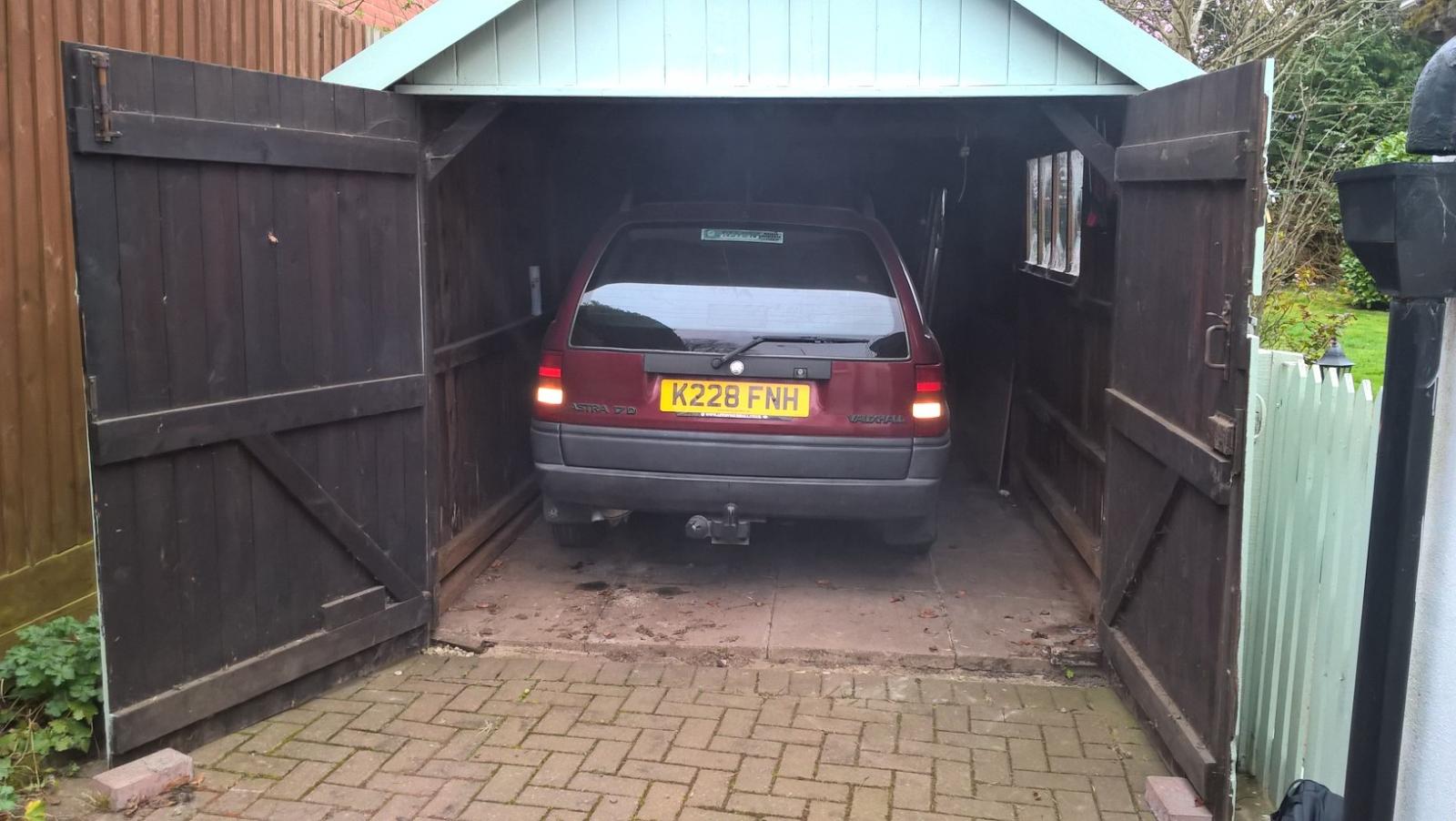 Double length garage with room to move around in. Me want!

I then drove to back to Leicester where another shiter, Al Bundy, set about fixing the MoT fails (welding and rear brake flexis). I stood around like a spare part whilst Al did the business.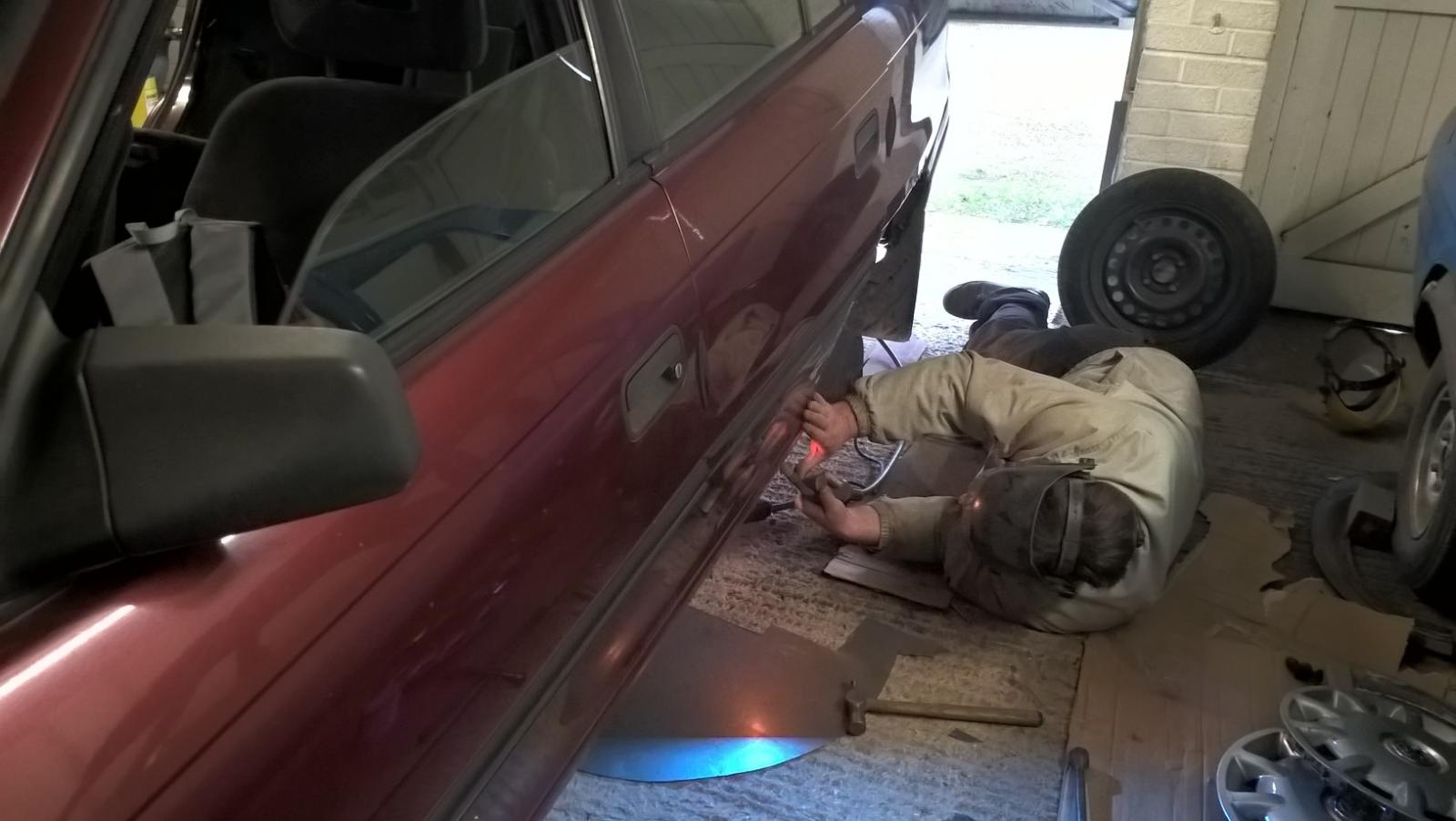 The flexis looked fine to us, so Al cleaned them up and greased them, so hopefully they'll be OK on the retest.

At this point I deviated from the plan of getting an MoT done locally, and opted to stay overnight and drink beer instead in a pleasant pub/hotel in Kirby Muxloe. Online pre-booked MoT was sorted in London for the morning and I headed off at 6am today. I don't like the M1 particularly, so opted to head across the M69 etc down to the M40, which was shut at the Bicester junction so a little detour around Oxford was made. Must admit I was getting a bit twitchy on the M25 as the rozzers were about, but I made it home fine and decided to quit whilst ahead and cancelled the MoT. I apologised to the garage but they were fine (I bet others just don't bother calling) and I'll get my usual place to do it this week hopefully.

Anyway, the car. It's flippin' great! Easy to drive, engine pulls well and isn't that noisy for an old school dizzler, and sits at 70 on the motorway no bother. I did have to change down a cog when I hit the cut on the M40, so gearbox rowage is required on hills (I'm too used to autos doing that sort of thing for me). 205 miles since yesterday at close to 60mpg, assuming the fuel gauge reads correctly. And it came with plenty of dizzle in the tank already, cheers fred!

I've been looking forward to getting the two maroon K platers together (both on original dealer plates).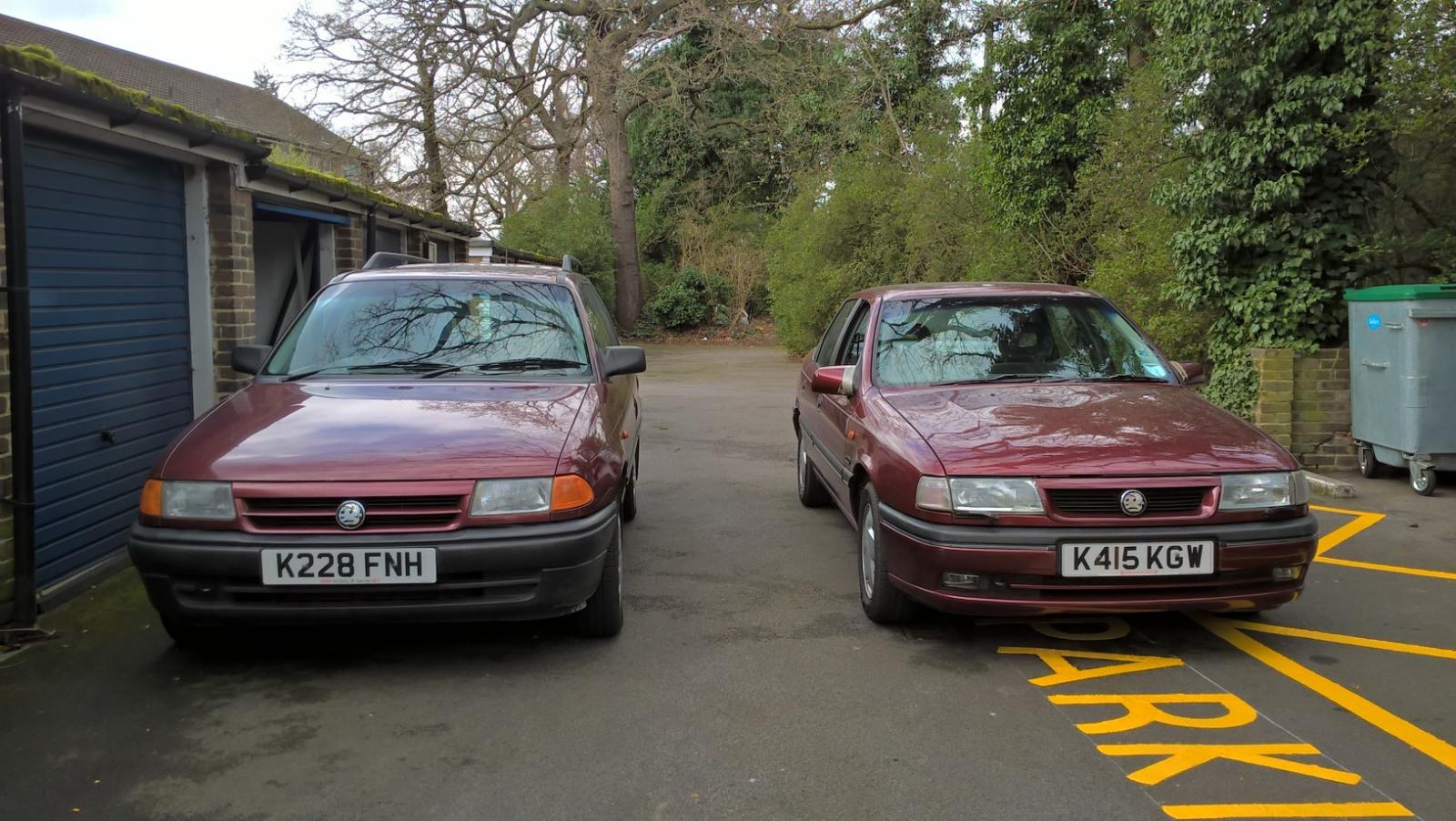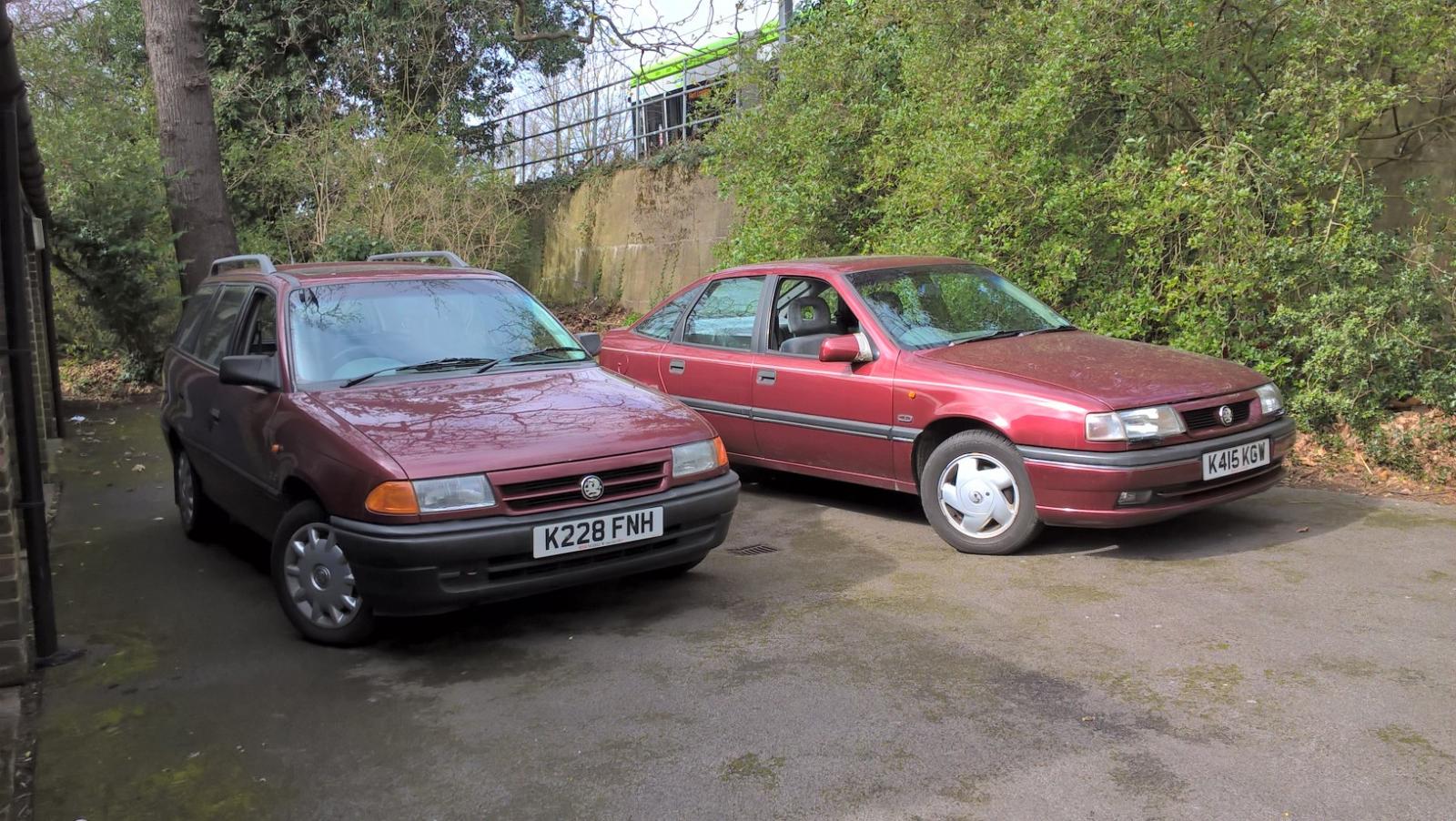 Almost complete fleet shot. I may have to turf the Safrane out of the garage, seeing as the Astra is without tax and test. Or just park it on the estate and hope no curtain twitcher makes a complaint or something. But it's SORN and on private land so they can swivel!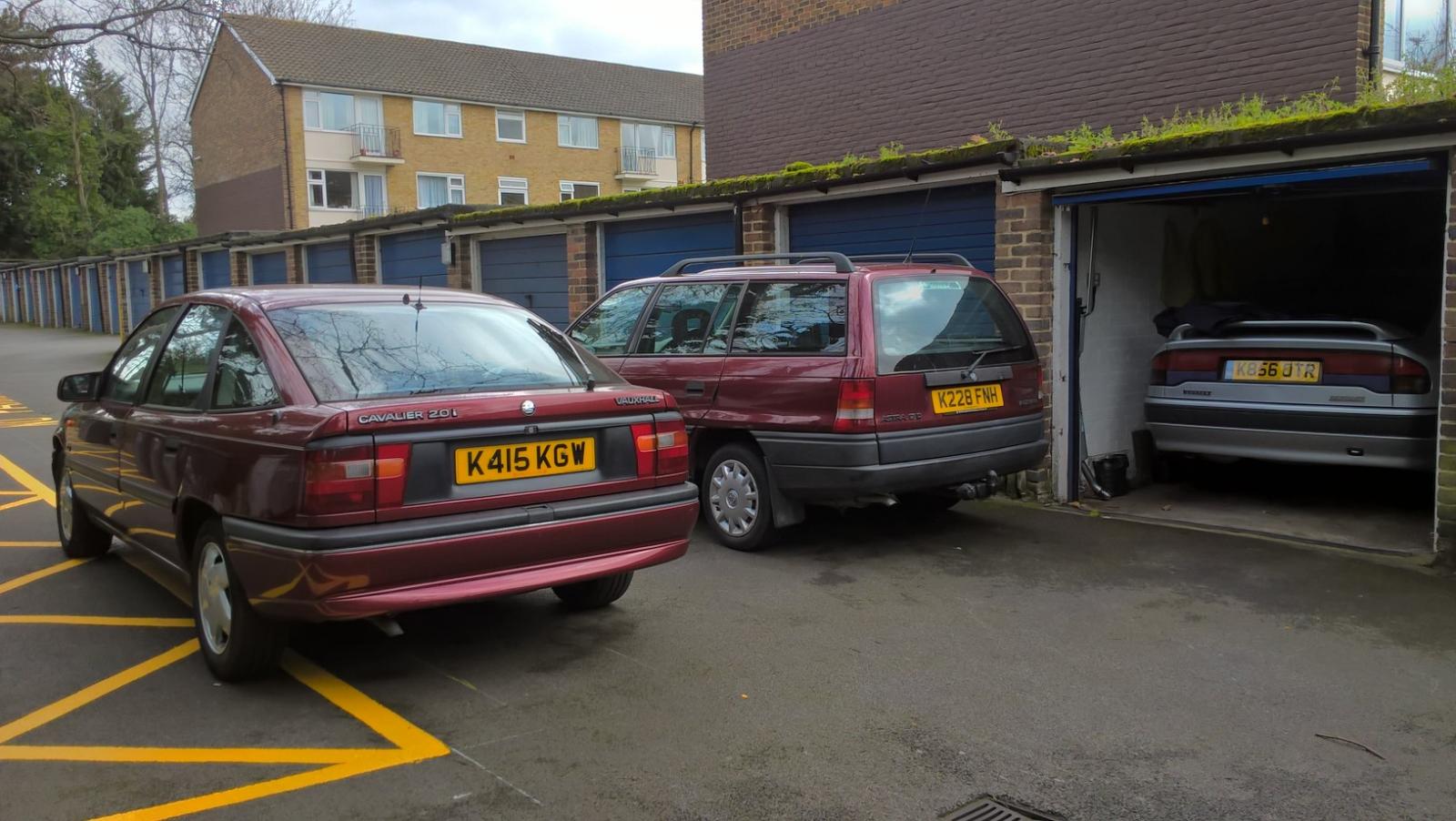 So next up is to give it a wash, sort the MoT, and figure out whether to keep it. The main thing was to save it and have a good collection caper, but I'll definitely get some use out of it for a few months. Be good if it could stay on here, so I won't advertise it to normal people...