I was flicking through eBay a couple of weeks back and saw a cheapy Mazda 323 3-door for sale, pretty bland, but not unattractive and reasonably rare I think: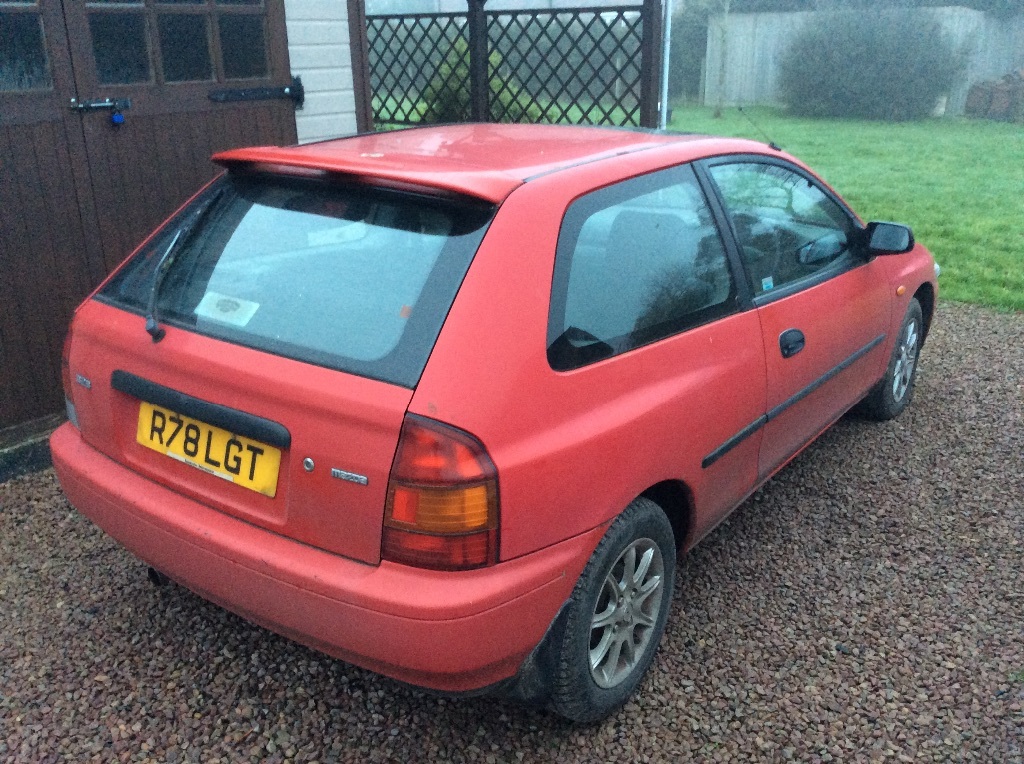 I absent-mindedly chucked in a bid of £80, you know the rest.
Here it is on my driveway:
Yeah, I won it for £78. It was in Wiltshire or Warwick or somewhere starting with W that's 100 miles from my house, I thought about A-framing it but then I got a cheap shiply quote so got it delivered, another £96 or something.
After bidding I looked up its MOT history and saw that its had an advisory for 'poor condition underneath' so I expected the worst, (should have looked at that before bidding really).
Its a fairly un-messed with old thing, one little bit of welding has been done on one sill, 78,000, no obvious signs of bodgery.
At the weekend I finally had time to have a proper looks so I gave it a wash and inspection. Took all the wheels off and washed about 5kg of mud out of each wheelarch and cleaned up the alloys inside and out.
To my surprise it actually is a very nice little thing really. the paint is very faded but I think its all original and I reckon will come up a treat with the mop. Don't be fooled by the artificial gloss of these 'wet' photos!
Engine is a 1.5 16v effort, looks a bit like an MX-5 engine? I don't know if it has owt in common with those engines though.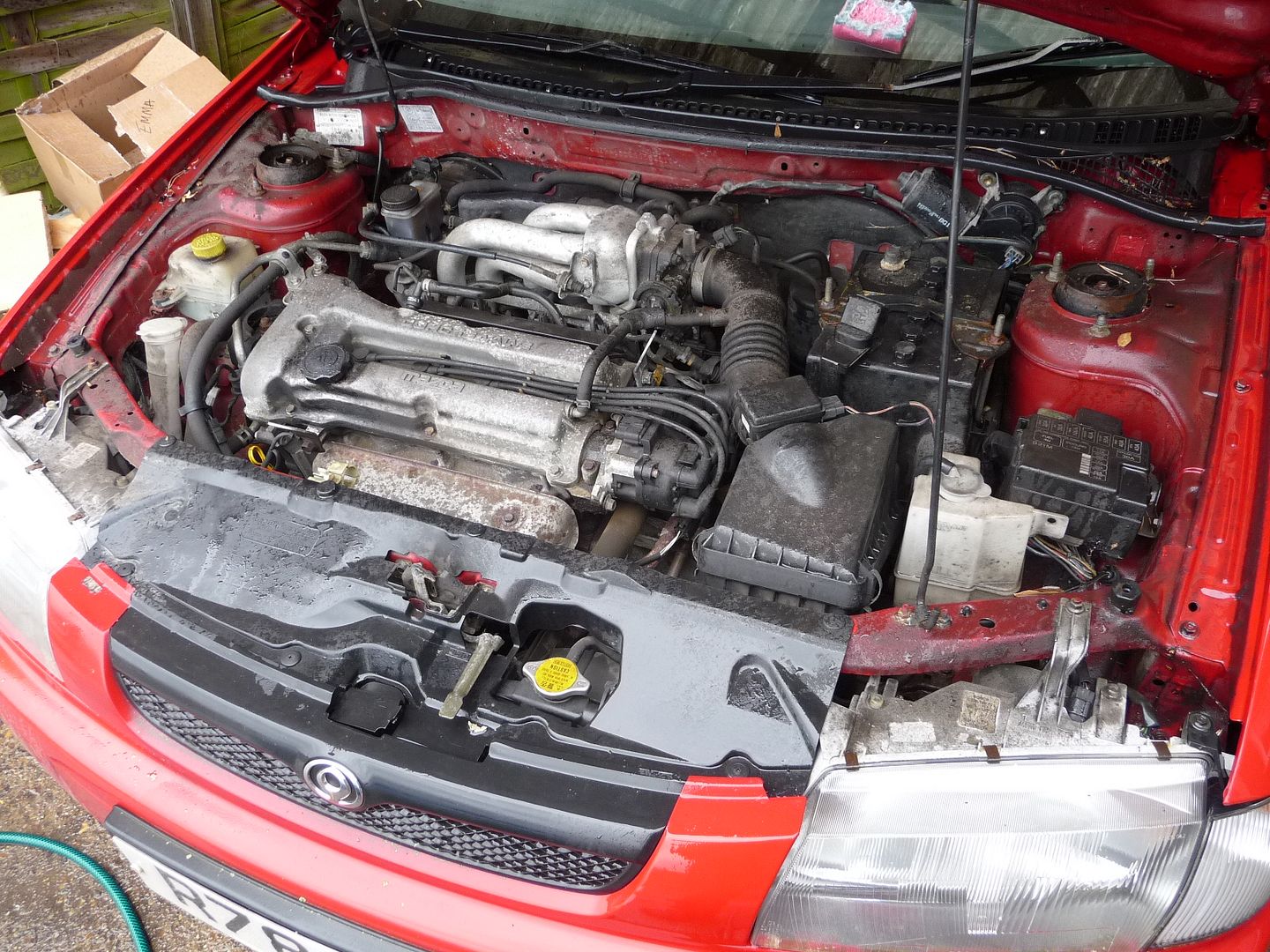 Also whats going on with this inlet manifold? Looks like someone went a bit overboard with their new pipe bender and tig welder.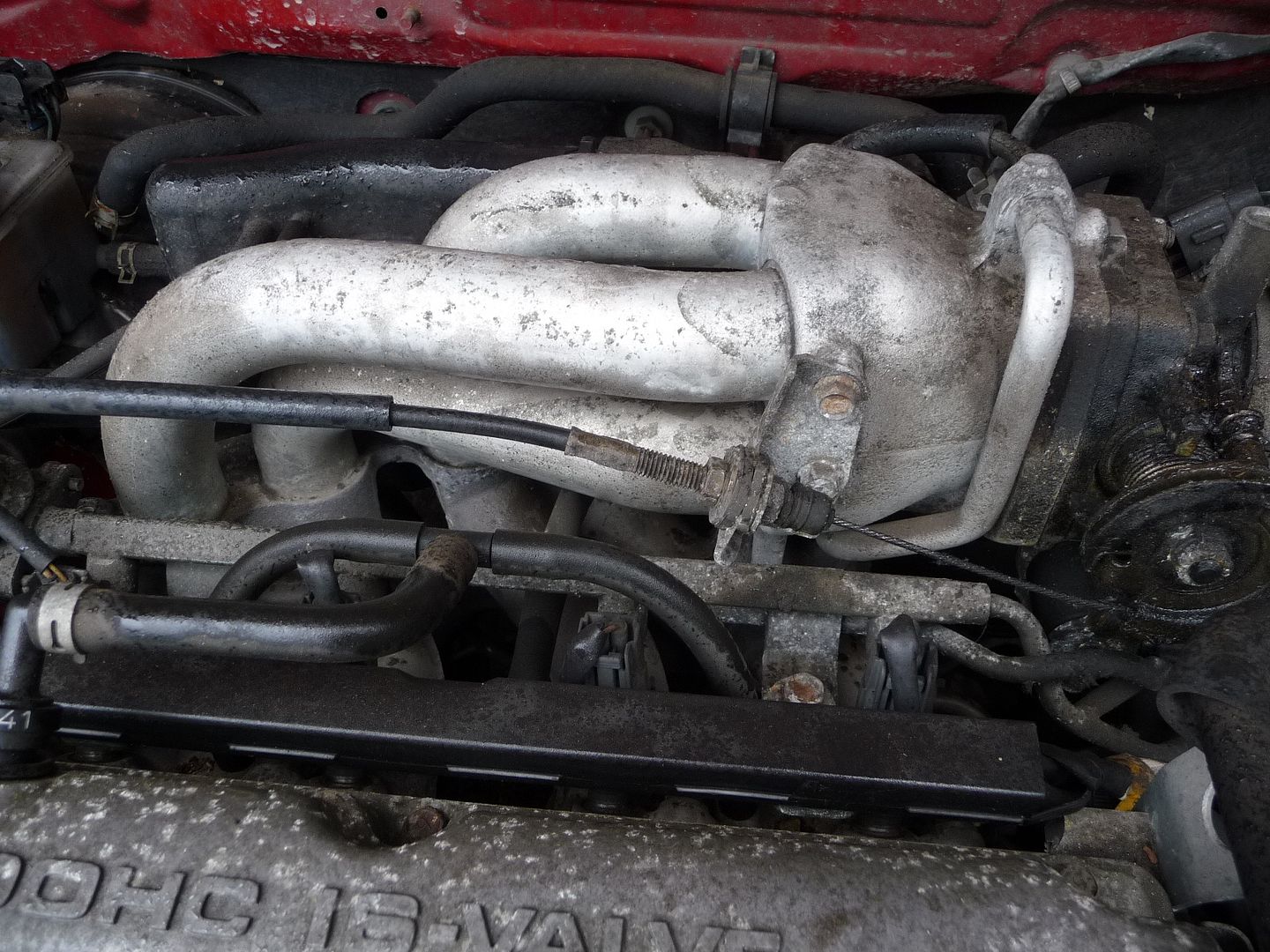 Interior is OK if a bit bland, its all there apart from the stereo faceplate though. Its got aircon and electric sunroof as well - LUXURY
Rust wise it doesn't seem bad at all. This bit needs a tickle on the LH sill but that seems to be about it. The RH has already had a patch in the same spot. Other problems I have found include dead gas struts on the tailgate, and horrible clattery wipers with about 2" of play in the mechanism, they do work but make an awful racket!!! I see it failed its MOT on a balljoint and a CV boot as well so those need sorting. But, all told its much better than I expected and I don't feel too bad about buying it as its quite a nice little thing, can't wait to get the paintwork sorted out as I reckon it will look ace.
THATS ALL FOLKS