When I got the V5 back for my new Xantia the other day, I totted up in my head what my car history was and was slightly disturbed when I realised it was number 15 in just over three years of driving. I know that's small fry compared to many on here, but for some reason it felt like a bit of a milestone, if only because I've never really thought that I've had lots of cars, but by 'normal' standards I think it's pretty clear I've got a problem.

To mark this momentous occasion, I've decided to take a rose-tinted look back at my various old heaps on here. It's probably of more interest to myself than anyone else, but I've never had photos of them all in the same place before and I can't see myself generating any other content in the near future, so there. I'm also in the slightly unusual situation that I was a member of this forum before I ever had a car, so most of you have seen this all before. Sorry.

Right, casting my mind back to the heady summer of 2012, I was unemployed and had recently moved back to my mum's house to save money (which was obviously a huge success) and frankly at a bit of a low point in my life. I also didn't have a driving license, having taken lessons when I was 18 but never the actual test, which was mainly due to girls, drugs, records and other fun things taking up all my limited attention.
Browsing ebay for stuff to put in the tat thread, I found a scruffy Bond Equipe GT4S at a reasonable BIN. Now, I know these are not great cars. They're probably not even good cars, but I have always loved the look of them. When I was nine, I bought a copy of Autocar from a car boot sale because it had a GT4S road test in, and I used to spend hours gazing at the super-clean press shots of the virgin white car. I figured I had nothing to lose taking on an 'easy project' to get a practical understanding of old cars, and what could be simpler than a GRP-bodied car that unbolts like a giant Meccano set? I actually sent BetaBoy (I think that was his user name?), host of the first Shitefest, to go and have a look at it for me. It was academic really because I'd already decided I was having it.
A few weeks later, it turned up on a beavertail and was dumped outside my house. I rolled it on to the drive and actually managed to get it going for a short period. And that's pretty much the end of the story. I started off with loads of enthusiasm and began to crack on with jobs I had absolutely no idea how to do. GarethJ came down for a day and we tried to sort the electrics out, Seth gave loads of remote advice on the Herald bits, but really it was a doomed project.
It hung around until February 2015, by which time I had acquired a near-complete second car that I dismantled and stored with the slightly optimistic idea of making one good one out of two bad apples. The chap who bought it had never had an old car before, but had restored a few old boats and was obviously skilled enough to take it on. Last I heard from him, the chassis and running gear had been totally restored and he was about to crack on with the body. Good luck!
I still need to scratch my Equipe itch, and one day I'll get a better one. Probably.





Car two arrived in May, 2013. By this stage I had somehow managed to wrangle a job at a respected old-car magazine (still no license! I forgot to mention that in my interview) and was busy re-learning how to drive. There was no question of me buying a Fiesta or a Polo or whatever as my first actual wheels, and for some reason I got fixated on Standard Tens. Prices seem to have risen a little since then, but in the crazy, hazy early 'teens Standards were decidedly unloved and prices were at rock bottom. I saw a succession of nice Tens sell for under £1000 and figured I should grab the first chance I could to get one. Fortuitously, RetroRides denizen Hardcore (Andy) let it slip that his dad was thinking of selling his 1955 Standard Eight. Great! Even better, Hardcore Senior lived just down the road in Worthing. Garycox drove me over one evening and we went round the block in it. I loved it! It was a local car, registered in Brighton as PUF666, but latterly bought by a reg plate dealer who stripped the plate (grr!) and sold it on. It had had a respray in the original colour, but otherwise was pretty much original. I agreed to buy it conditional on me passing my test, which I did a few weeks later.
On the way back home, full of enthusiasm to be behind the wheel of my own car for the very first time, everything seemed right with the world. Then I went over a pot hole and one of the rear leaf springs snapped clean in half. I think this pretty much sums up my relationship with old cars over the next three years.
When I eventually fixed it - in the street, with the help of a couple of mates - I immediately pressed it into daily use. I think it had been mollycoddled before, but I was doing 70 miles a day in it, and it was flippin' GREAT. I can't think of a better way to learn to drive properly, post-test, than a very slow car on crossply tyres. I learned about oversteer quite quickly and had a couple of dicey moments, but it was so forgiving I never managed to actually put it in a hedge.
Having driven lots of other 1950s cars since, I can safely say the Standard Eight is a bit shit, but I absolutely loved this car. The best bit was the heater controls, which are switches that move up and down a long thin slot. I soon discovered that this slot was exactly the right size for poking the end of a roll-up in, so I could have a ready supply of fags at my fingertips on any journey.
After a year of hard use, it was a bit worse for wear, The engine had developed a nasty oil leak and the brakes were well in need of renewal. Sadly, I needed to raise some cash quickly to buy car no4, and I sold it, too cheaply probably, to Torsten of this parish, who I think still has it tucked away somewhere. Let me know if you ever want to sell it, Vek.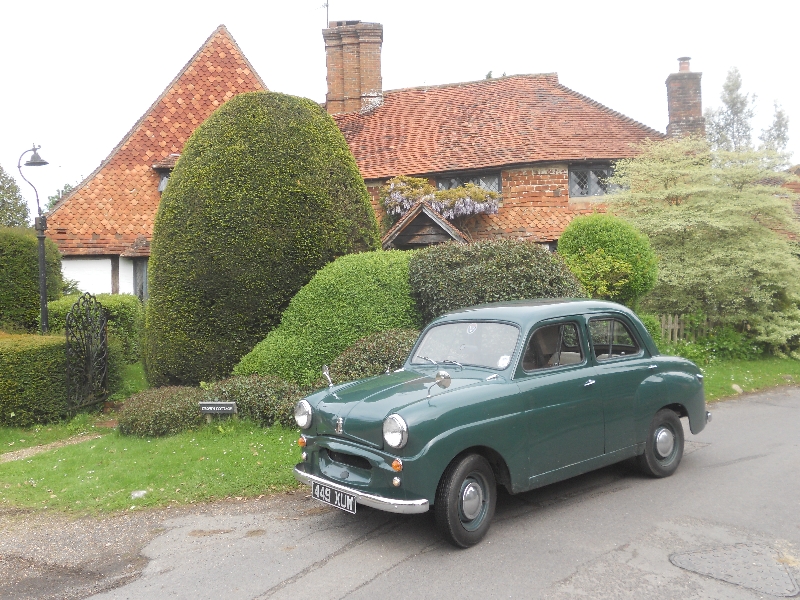 Excitement builds as car number three comes long next!