I've spent the last two weeks working on the Scimitar, ok I'll be specific: The red GTE (as I do own three of the sodding things.) I've been considering starting a thread about it for a while but I'm no longer sure it really qualifies as autoshite enough...?
After all Scimitars are sort of a bit desirable now... well ok, they are not as worthless as they used to be. I've never actually done a thread on the GTE as I had sort of thought it was mainstream and classic car like for the forum, Though it did make an appearance at shitefest 2015 and does feature occasionally in the news thread and has even made it into the calendar! So it is maybe at least a bit AS?
Anyway I'll let the forum decide, If no ones interested I'll stick to posting about Rebels and SS1's. I can promise though that this thread will feature the following key elements:
A Plastic Shooting brake form the early 70's.
Spending far in excess of the value of the car on fixing / modifying it.
A reckless disregard for the sensible use of money.
The worst paint job in history*
An engine tuned up by former Williams F1 engineer,
Complicated Electronics that I don't fully understand,
Fibreglass work and Welding,
A daily diver that only a total masochist would bother with,
An opportunity for it all to go spectacularly wrong...
I should probably take the opportunity at this point to fill in some background history on the car. I bought it in 2010 as a non running project. I'd never owned an old* car before instead I generally drove end of life modern bangers all of which I'd driven into the ground (some of them literally.) I'd admired the Scimitar since I saw one decaying in a yard where my dad went to get his cars serviced, They slipped from my mind until one day I was in an abandoned foundry in Ipswich and came across a discarded book on cars ( I think it was Clarksons top 100 cars or something like that,) In amongst all the exotica was a Scimitar and suddenly I was reminded of that car I'd seen years before. A few months later my mk4 Astra terminally shit its gearbox and fuel pump in the space of a month, Pissed off with the disposable nature of modern cars I got thinking about the Scimitar. Surely a fibreglass bodied car with a solid chassis and an over engineered British V6 should be the Ideal car? It won't rot, should be reliable and any problems should be fixable with a piece of chewing gum and a bit of string...
Naturally at this point I went on eBay and because I didnt know what I was doing (or looking at for that matter) I inevitably bought the worst Scimitar project available. The engine bay had been on fire and badly repaired with steel, the wiring loom was missing, The chassis needed a total overhaul, the suspension was fucked and the brakes only existed as parts in a bucket! Somehow with my mate Dave's assistance we managed to put it back together and against all the odds in 2011 It went back on the road and did become my everyday car.
The GTE in 2011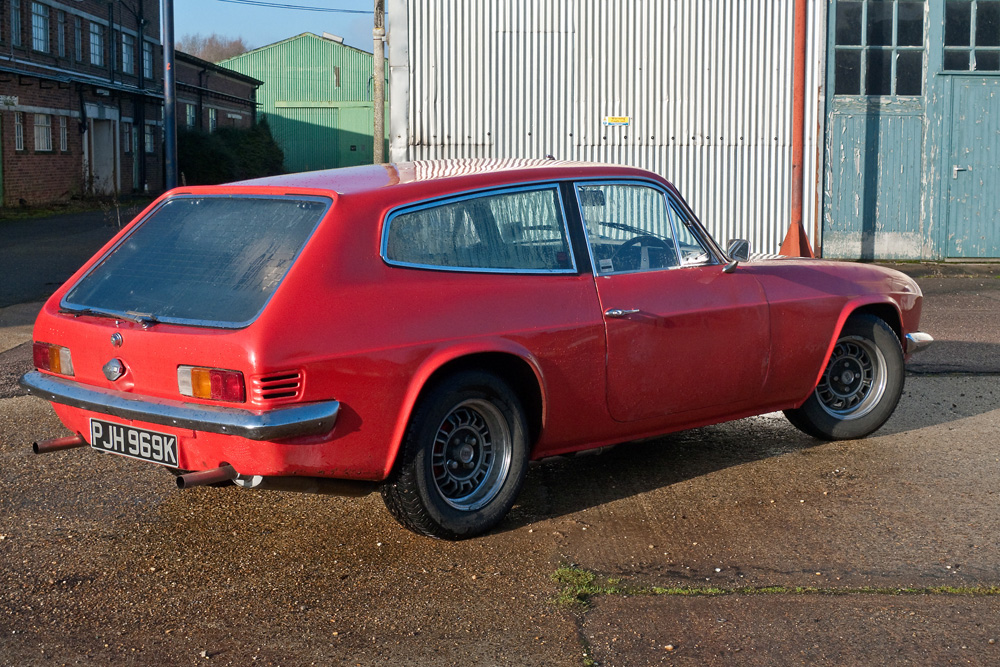 It benefitted from rolling improvements and as an when I had spare cash bits were steadily enhanced to improve reliability. Generally, it was pretty good and fail to proceed incidents were rare enough, certainly rare enough for me to keep my job in any case.
By Spring 2016 and suddenly there were a few clouds on the horizon the engine felt tired, it was down on power and had an unfortunate tendency to run hot. It was rough at Idle and Recently the oil pressure has seemed a bit low. In short I sort of suspected it was a bit fucked. (though it was still good enough to get me done for speeding on the M4 eariler in the year...)
Here's a recent-ish picture of the car: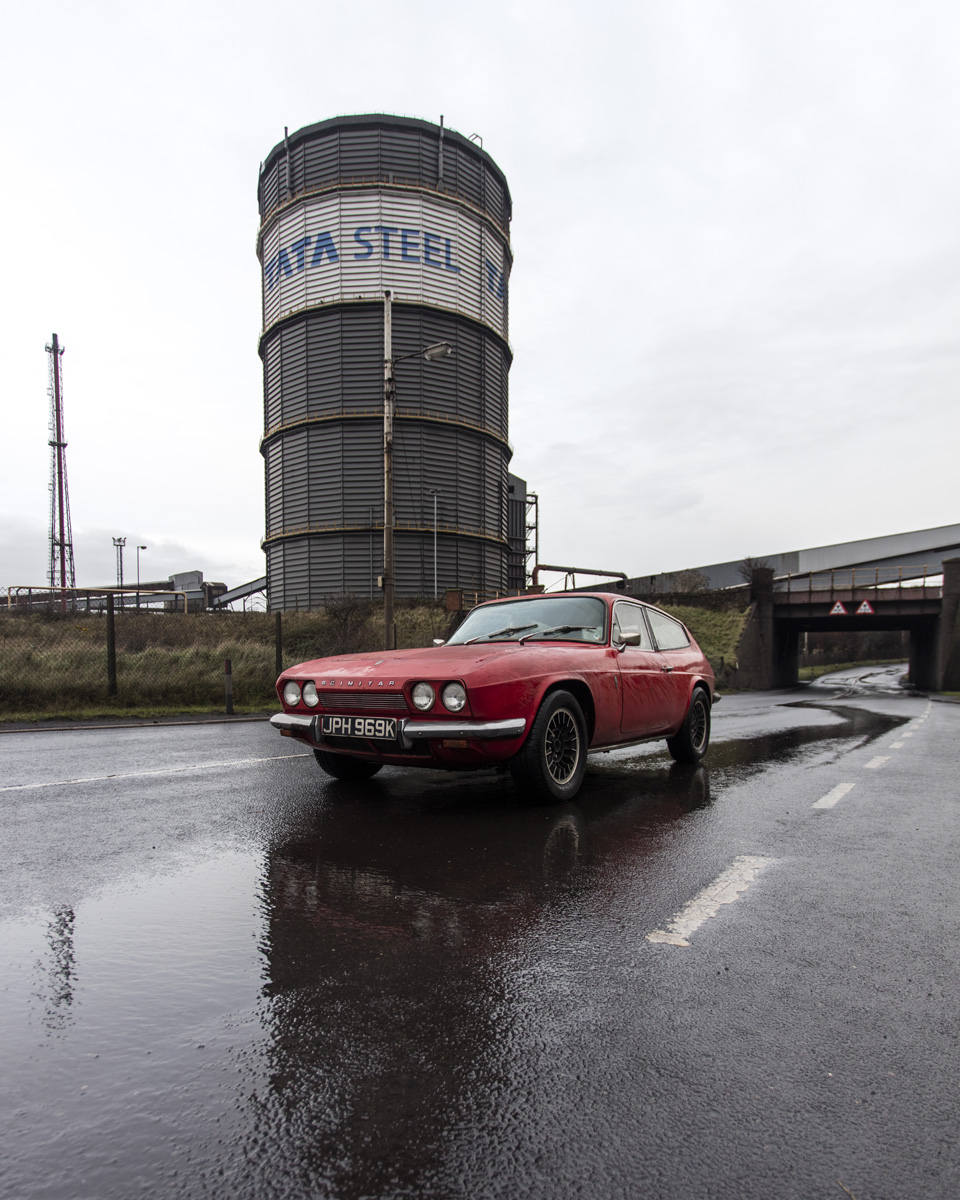 The engine was the one that came with car when I bought it 6 years ago. Its not original to the car and I haven't done a huge amount to it in that time, save for fitting a set of unleaded heads with roller rockers (as the push fit studs kept pulling out.) and fit a steel timing gear. Its done quite a few miles since then. hard to put a figure on it as the odometer is a bit erratic, certainly more than 60,000 though. Not too bad for a random second hand engine.
I'd always known the engine was going to need attention before long and I'd horded a decent amount of tuning bits, as well as 2 complete 3.1 Essex's. I had intended to put together a decent fast road oriented 3.1 but as a project it had more or less come to a halt at the parts acquisition stage.
As I started getting the parts together to build up a new engine I found my focus creeping towards trying to get a touch more power out of the Essex. the figure of 185ish ft lb of torque with around 200hp appealed. This is a reasonable enough figure but to get there your probably going to have to change to either a Holley carb or a triple weber setup. My GTE's an everyday car rather than a weekend / track car so the concept of mid teens on the MPG was enough to get me to think twice about going down that route. A few years back I became aware of the Samcor EFI Essex and that begged the question was it possible to squeeze extra performance out of the Essex with fuel injection, with the additional benefits of modern electric control and reliability....
I did consider going down the alternate engine route but ruled it out in the end. Mainly because an alterative engine would have meant having the car off the road for too long while it was fitted. I've noticed that scimitar engine conversions appear to rumble on for years and very few actually result in a car thats actually in regular use. There are exceptions to that but It was enough to put me off an engine swap. Added to that I actually quite like the Essex... controversial I know! in my opinion it suits the car, the torque and power are usefully delivered and the gearing is pretty good. With the engine a long way back the weight distribution is not bad either. Reliant came up with neat enough arrangement in the engine bay, even finding room for the spare wheel. This tidy packaging solution is something that is often compromised once you start swapping engines. Add to this I much prefer the idea of enhancing the original concept rather than binning it off.
So as well as acquiring spares for an engine rebuild I'd started planning an EFI conversion, I put out feelers to try and locate a Samcor EFI setup but, given how rare they are the chances of finding one of those seemed remote, so I'd decided to use a triple weber inlet manifold and triple Jenvy throttle bodies. These were to be fitted to a balanced 3.1 with a fast road cam. I even got as far as buying a megasquirt ECU and starting to think about trigger wheels when I came across an engine for sale which was very similar to the engine I was about to build.
The engine for sale was a 3.2L Stage 4 Essex, which had done less than 2,000 miles since it was rebuilt. The seller had bought it from Specialised engines and was about to have it installed in his Capri, when he realised it was difficult to turn over. He sent it to another specialist who then rebuilt it a second time This time round The top end was sent to John Hoad , former Chief Technician at Williams F1. He reworked the heads and inlet manifold before the whole engine was put together and fitted to a Capri. The engine was installed and went in to Northampton motorsport for tuning its Triple Carbs. They suggested to the owner that It would run better on fuel injection and so they Fitted triple Jenvy throttle bodies with pico injectors running of a Omex 710 ECU at the end of last year.
The entire setup was available complete which was important as on paper at least it should be a bolt on setup. Saving a vast amount of development time compared to building a new engine from scratch to a similar spec.
Hence I found myself talking to the seller and was able to put a deal together to by the engine. In the process recklessly blowing the entire respray budget (and a bit more) on engine, fuel pumps, ECU, Loom, coil packs etc....!
Here it is on the way home: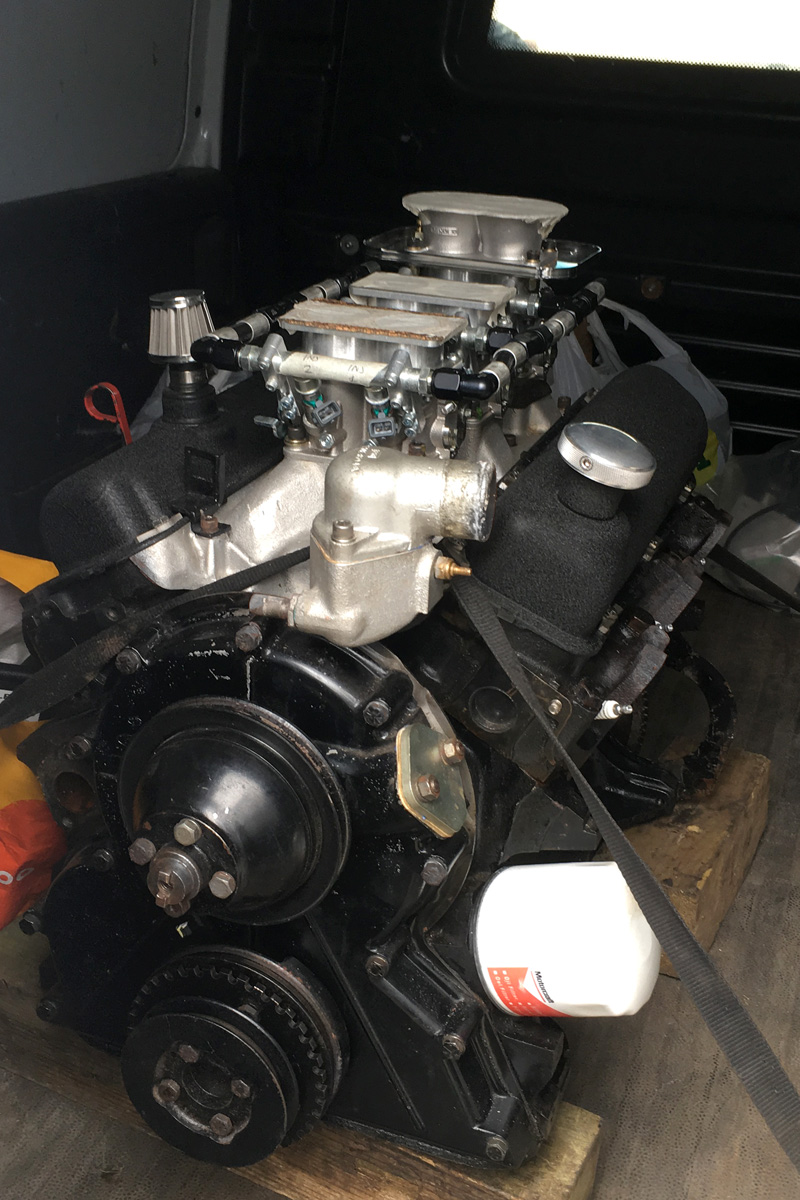 Heres a few pictures once it was home on the stand…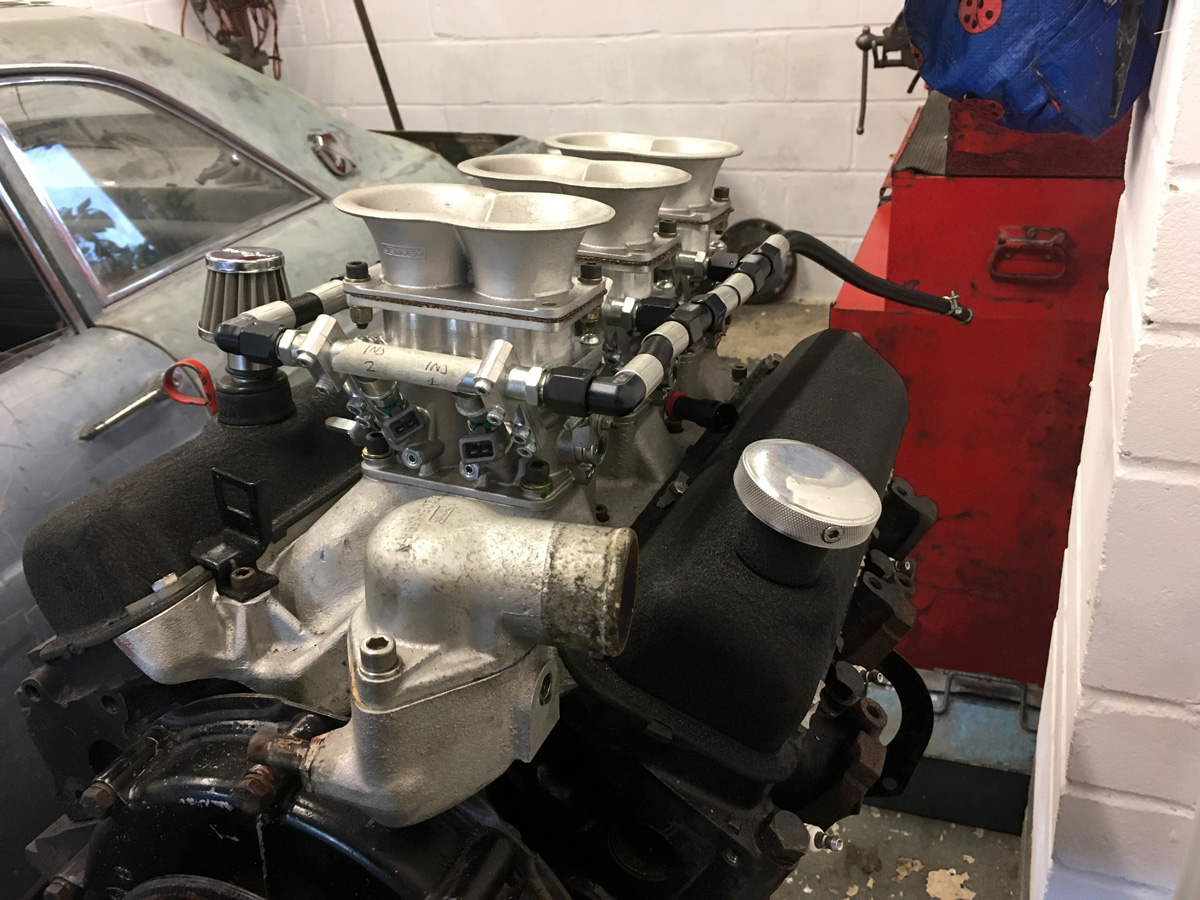 A rough outline of the work to fit this engine looks like this:
Fuel Tank modifications,
Fuel Pipe replacement,
Installation of Fuel Pumps & filtering,
Swap the engine to use a front bowl sump & timing gear,
Baffle a front bowl sump,
Fit the new engine,
Installation of a stand alone wiring loom to connect engine / ECU / Coil packs and injectors,
Find room in the engine bay for a fuel pressure regulator, coil packs, etc
Connect it up and get it working!