It's probably just pissycological, but since my '97 Volvo S40 turned 100,000 miles at Christmas, it seems to have gone downhill somewhat....I'm hearing lots of extra little knocks & bangs from the suspension, there seems to be a sort of "burning oil" smell coming into the cabin when the car is stationary with the engine running for more than a couple minutes (although it has
NEVER
required any oil between services since I've had it), and the front tyres have decided to start wearing on the inner edges too....Plus the dented N/S doors mean it doesn't even look nice anymore....

The Volvo has been our main family transport for about 18 months now....One of those dependable cars that (with routine servicing obviously) You just get in and
DRIVE
....No washing it every five minutes to try and ensure that it doesn't fall to bits with rust, no worrying about whether it gets to odd car park ding etc....A workhorse really....The fact that it's a good-looking, capable & comfortable is a bonus....I just think it's getting on a bit now, bless it!
When my R20 (eventually) arrives it's going to be my everyday driver....Plan was to pass the Volvo on to Frances, who in turn is going to pass the Clio on to my step-daughter Stephanie....I'm starting to think though, that maybe the Volvo needs replacing....Something dependable that's not going to leave my wife stranded in the middle of Norfolk-Nowhere on the way home from a singing engagement on a dark December night!
I have very good memories of the Hyundai Atoz that I bought for my partner in a previous life (and that she still runs....to my knowledge with no problems whatsoever) so was considering something like this....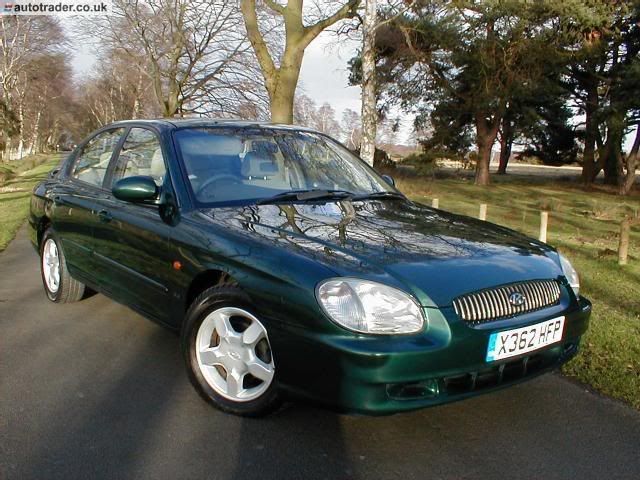 ....2000 Hyundai Sonata 2.0 GSi....This particular car is for sale in York at tha moment, it's covered only 37,000 miles (so I fugure it has
PLENTY
of life left in it yet), has a full main dealer service history, is plenty big enough for our needs, has all the bells & whistles except leather (which I'm not bothered about) and Auto (which I wouldn't have minded), and Hyundai reliability....All for a fiver under two grand....Plus it's guaranteed future Shite!

What do Y'all think....Good idea?