Welcome to Autoshite Welcome to Autoshite, like most online communities you must register to view or post in our community, but don't worry this is a simple free process that requires minimal information for you to signup. Be apart of Autoshite by signing in or creating an account.
Start new topics and reply to others
Subscribe to topics and forums to get automatic updates
Get your own profile and make new friends
Customize your experience here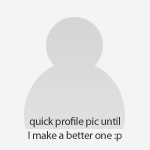 241 replies to this topic
Posted 31 May 2017 - 01:12 PM
The way I'm looking at it, it means at least it now has a spare..

---
Posted 02 June 2017 - 10:20 AM
wonder what happened to the alloys? its not a bad old raft this and will still have a decent chunk of MOT.

may have been the time of year but i found it a tricky bugger to sell. i think i took 300 for it on the end so he probably wont get 5. good luck to him if he does though.

Current Shite:
79 T Ford Cortina 2.0S
02 52 MG ZT 160 V6
---
---
Also tagged with one or more of these keywords: Roffle
0 user(s) are reading this topic
0 members, 0 guests, 0 anonymous users