As some of you may know, and fewer still may care, the gearbox on the Almera of many miles has been on its way out for some while. At the last MOT it flew through with but 2 advisories for negligible issues however the gearbox was rated officially 'SHIT' and not long for this world.
Rather than OMGLOL scrap the fucker, I decided to put out a mayday call to the AS massive and a gearbox was sourced from a fellow member who extremely kindly offered it, and various other bits to keep me motoring for just the cost of postage. To this lump of pure technological wonderment I added the finest clutch kit that Euro Crap Art could offer (at under £35) and 5 litres of liquid dinosaurs with which to fill the gearbox of much promise.
At this point, I filled the boot of the almost stricken Almera, which looked something like this
Due to other commitments, the work couldn't be fitted in for 3 weeks, during which time the Almera was given a strict diet of local, critical missions only, which mostly meant my wife driving it very slowly, in 5th gear to and from work 2 days a week.
But tonight, Matthew, I will be SUPER MECHANIC!
I knocked off work an hour early, and took the Nissan to my uncle-in-law's workshop, where he and I set to in the quest to change the gearbox. In an evening. Without ramps. And here is the story in all its detail.
To begin with. The scene looked like this:
The picture is blurry because I was excited. As you can see, its an engine bay. The gearbox sounded like a coffee grinder.
So we began to detach things. I worked at removing bits at the top, while uncle-in-law set to removing the driveshafts from the hubs. Behold a slightly 'underwater' shot of a driveshaft removed from a hub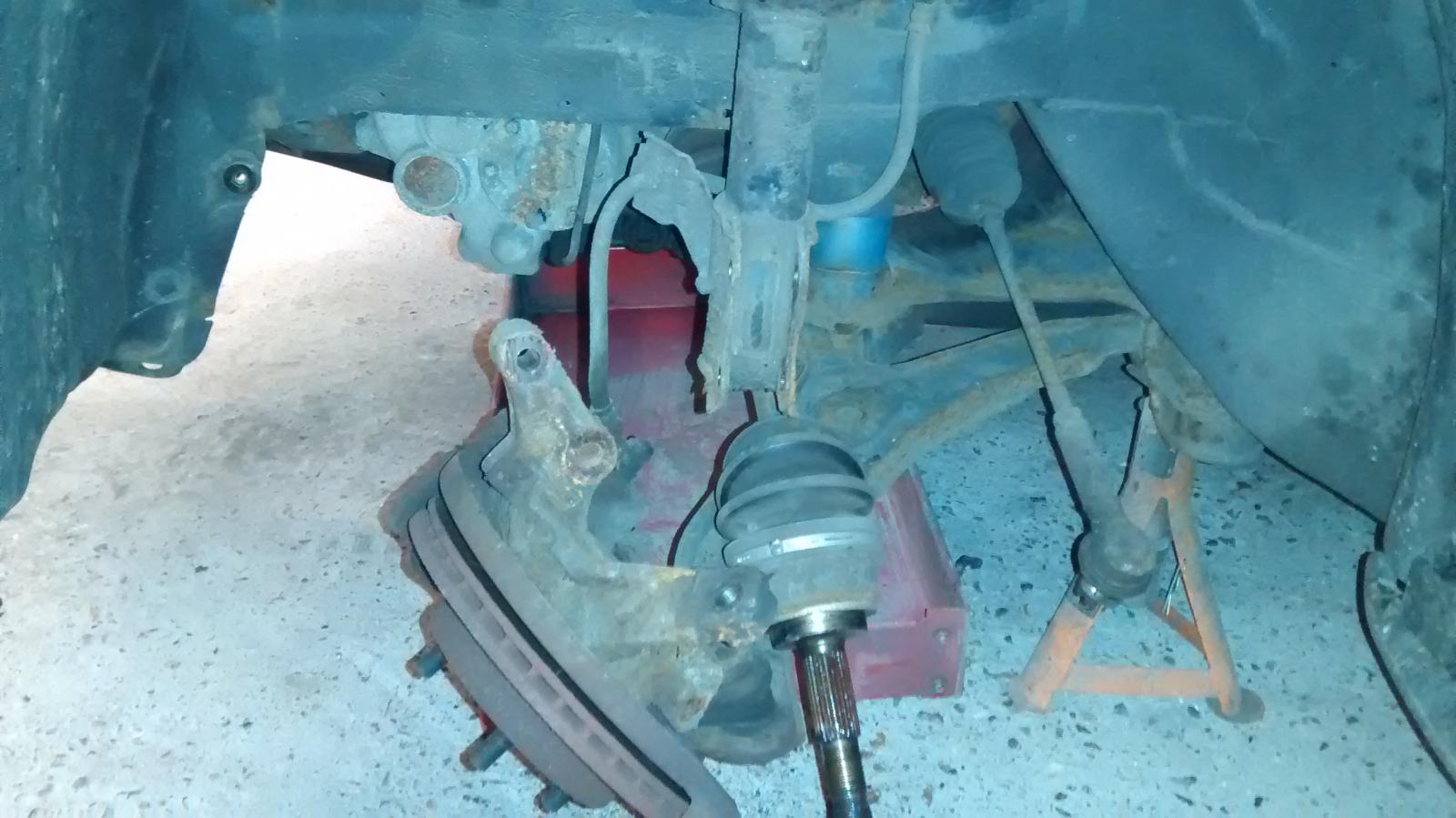 By this point I'd removed the intake gubbinz, battery, detached the clutch cable,battery tray, starter motor, and myriad brackets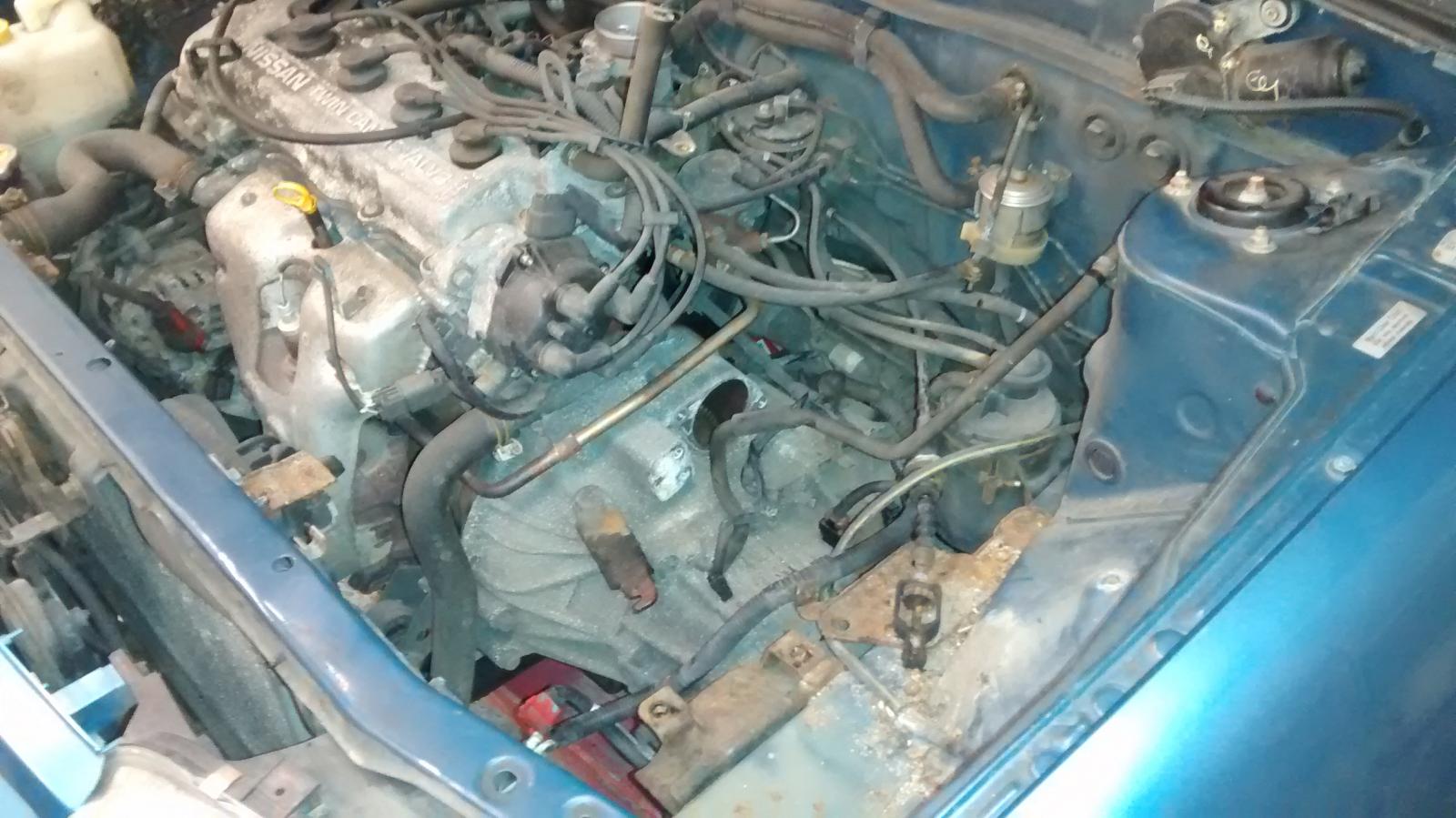 All of these were carefully put in a big pile in the corner for later. Here is a picture of a starter motor
With all this stuff removed, we had access to the box. At this point I stopped taking pictures for a little while because the gearboxes weigh about 40kg each and they are very hard to move about so we both had to actually do some work. The nearside driveshaft goes through a funny little sandwich plate with a hole in it, so you can't just drop the whole lot out. The nearside driveshaft has to be removed from the box, then you can drop it out the bottom with just the offside one connected. So thats what we did, but not before draining the oil out, and what a lot of black gear oil there was...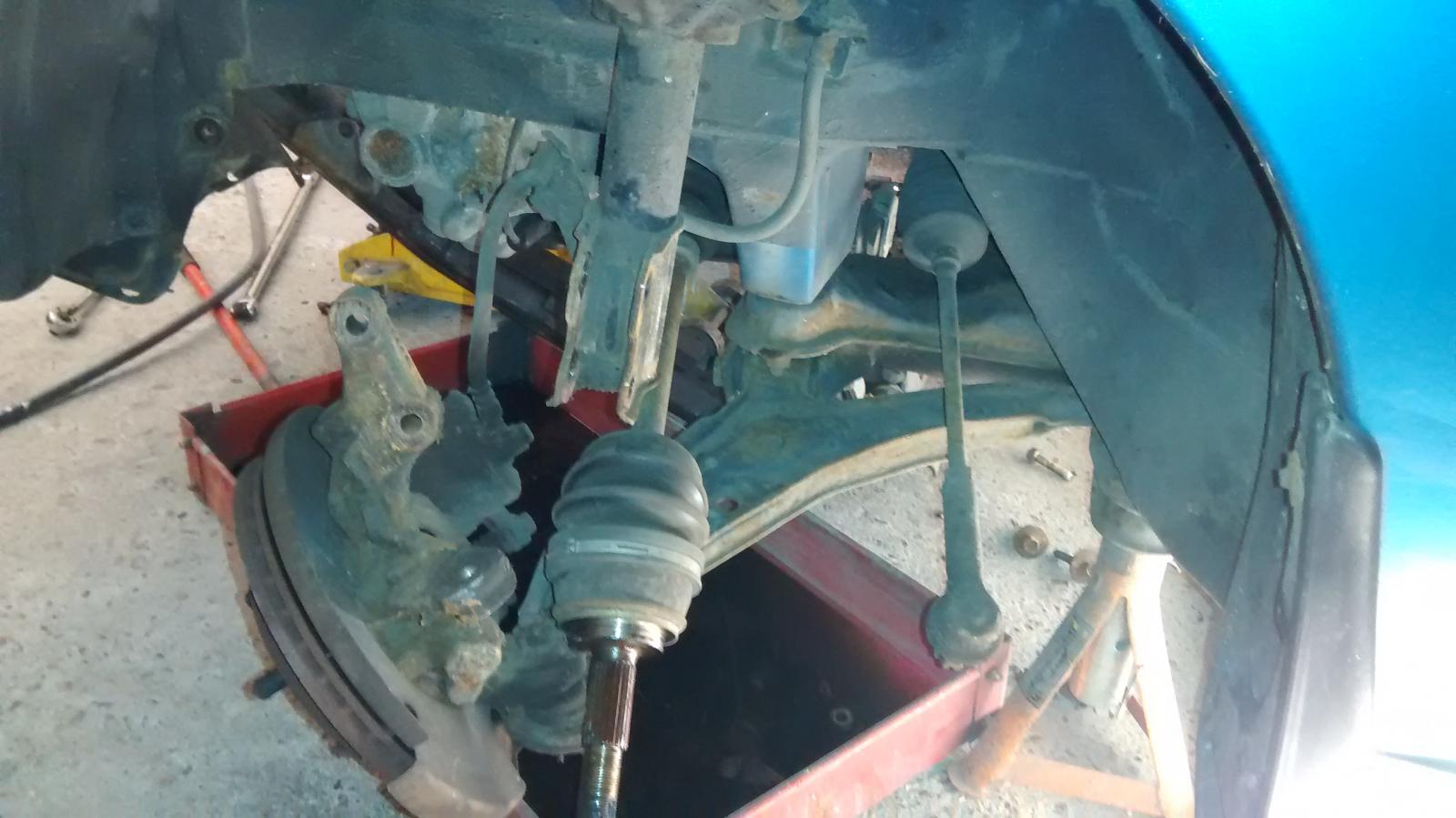 Then, the gearbox was separated from the engine
With the aid of a big breaker bar.
With the box on the floor, the other driveshaft could be removed, leaving just a sad box
Next, we had a good look at the drain plug. Which had taken on the festive spirit by decorating itself with all sort of sparkly bits of what is probably input shaft bearing, but really could be almost anything
And for those whose eyesight is less good
And that, children, is how chemical metal is made.
So, we now had a gearbox-less car. Next, the clutch. This appeared to be the original item, which after 19 years and 141,368 miles was in less than optimal shape.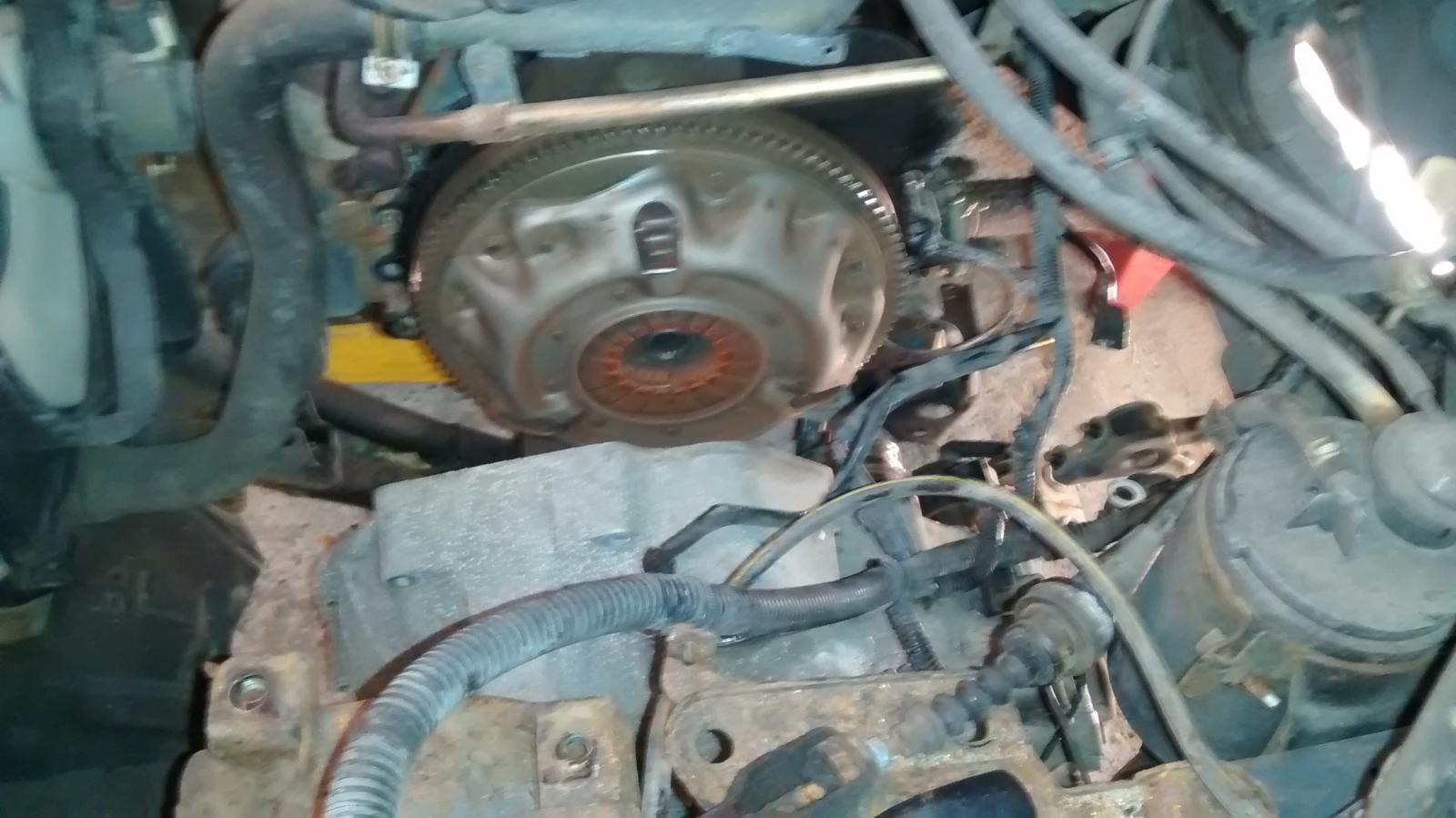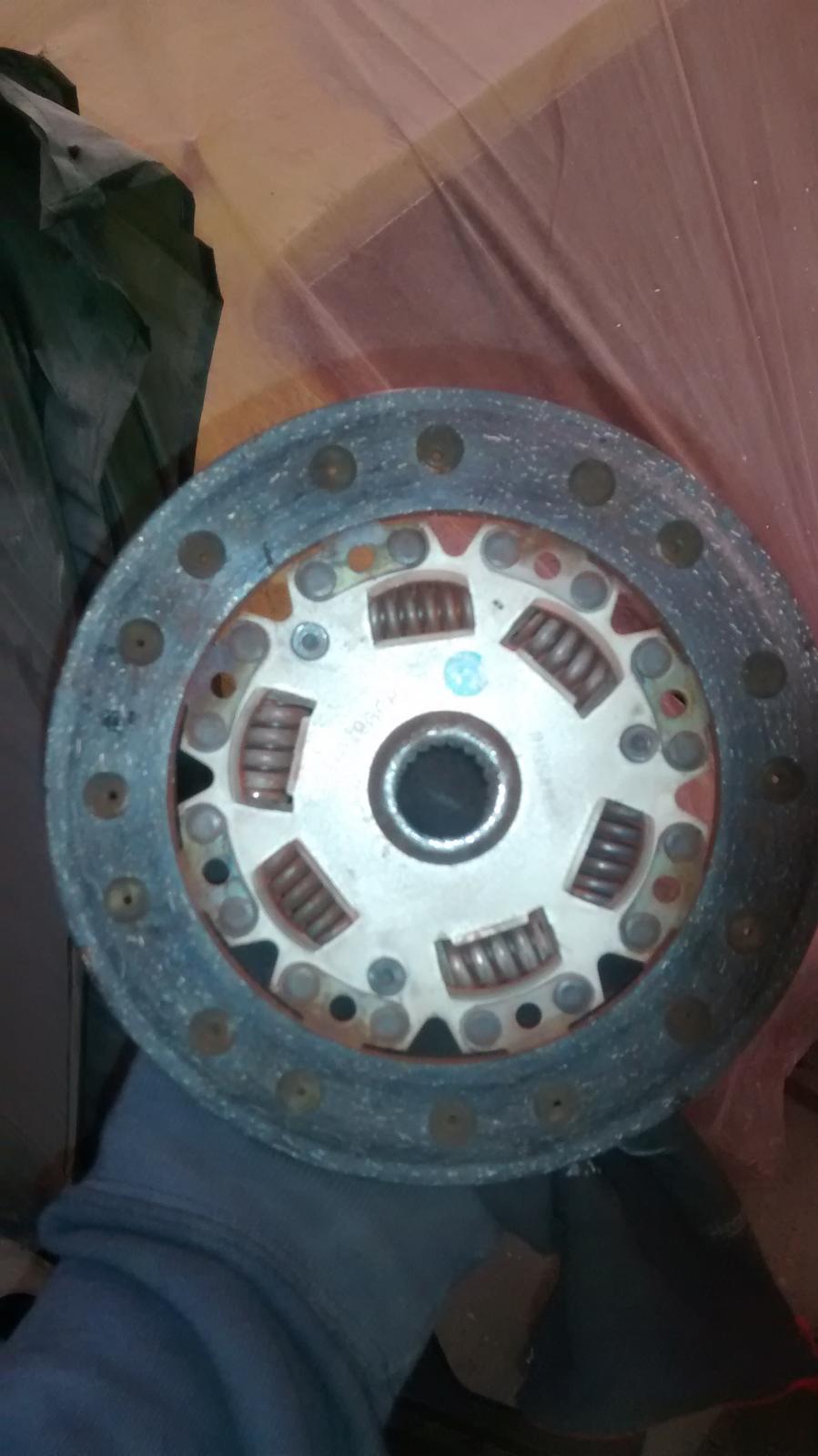 With these removed, it exposed the SOLID FLYWHEEL YO
which in this picture looks like it might be made of solid gold. It isn't. But it was on good shape with no scoring or other damage, other than slighly chewed teeth from the starter.
So, on with the new clutch kit. A nice LUK job was mine for just £34 from ECP which seemed a right bargain. It even fitted. A-Mazing.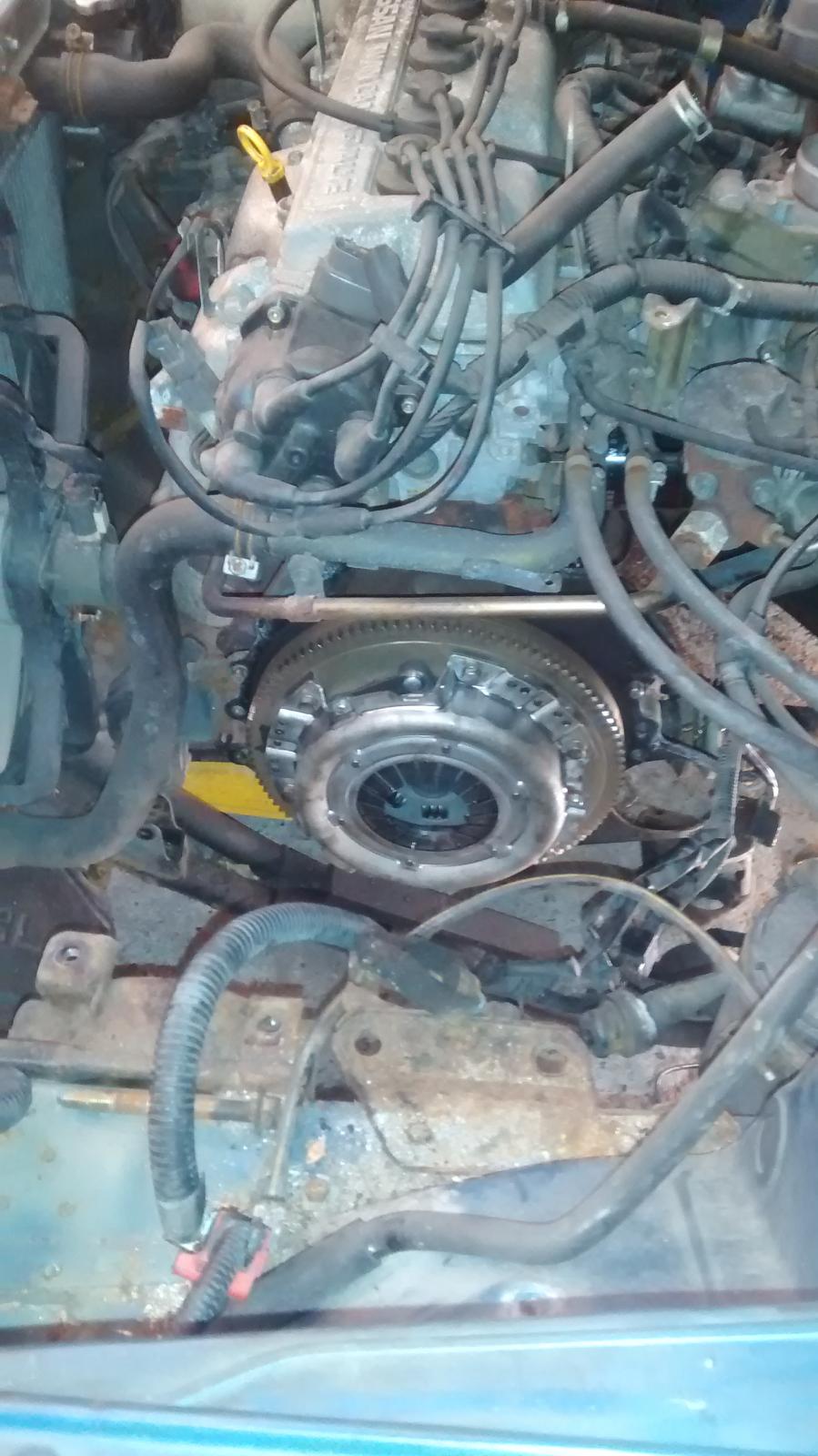 Next, we had to get the filler plug out of the new gearbox. This was less fun. The plug liked where it lived, and didn't want to come out. Someone had had a go at it some time in the past so it was a bit chewed up, heads were scratched, air tools were tried in vain and so I suggested we heat it up a bit. This worked brilliantly, I stood on the top of the gearbox to stop it escaping, uncle-in law stood on the 1/2" bar and CRACK! it let go. Much back slapping ensued and we all ageed how much better the world is with the invention of fire.
The plug was greased and put back in temporarily to allow the box to be re-fitted. This was even less easy than removal. Eventually we succeeded by me jacking the gearbox up from underneath very carefully while UIL guided it onto the dowels and losely did the bolts up. At this point it was beginning to look like the end was in sight.
The bolts were done up with the air gun, and I guided the box up to allow the end mount to be done up and made the whole arrangement a lot more secure. Then, UIL got back underneath and began to re-attach the crossmember we had removed earlier and locate the bolts in the front and rear mounts.
At this point it looked a bit like this
By this point I had begun to re-assemble the top of the engine bay. The starter was back in, some of the brackets were back in place and I had begun to re-attach the myriad plugs and things to their relevant sockets. There was some to-ing and fro-ing getting the crossmember back in place, which was eventually achieved with the use of precision jacking, and he then re-attached the driveshafts to the gearbox while I kept putting the topside back together.
Here is a re-attached driveshaft in the offside hub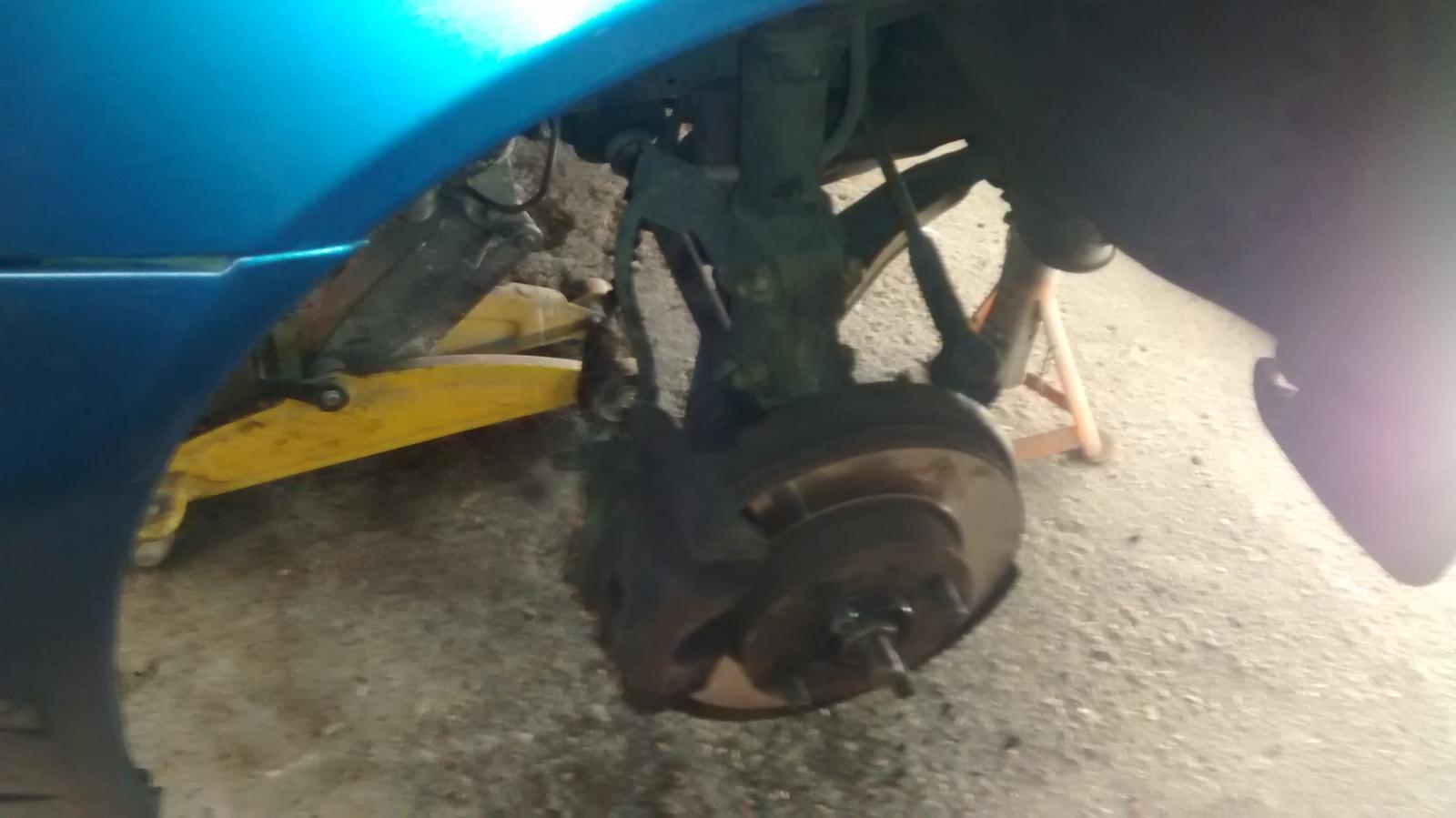 And the air intake stuff, and battery tray re-attached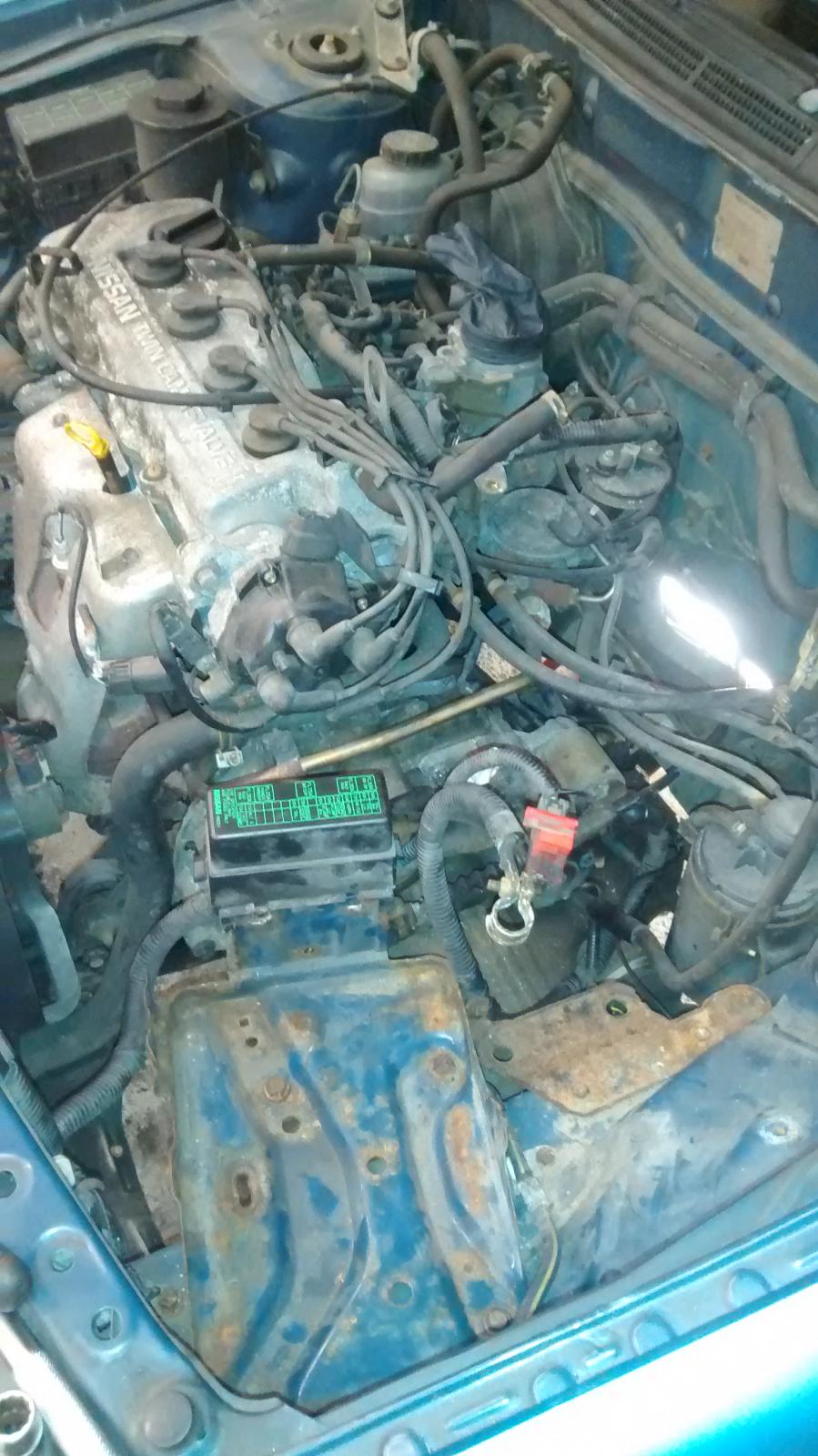 We then fed the new gearbox about 3 litres of 80w mineral gearbox oil which I reckon should be alright as the spec says 75w/90 so its in the middle and was cheaper than genuine Nissan stuff at £8 for 5 litres. It smells horrible and was green, so probably refined stegosaurus rather than t-rex, which everyone knows makes brown oil.
Then, it was taken back down off its axle stands, the hub nuts done up, wheelnuts done back up, battery re-fitted, clutch cable re-attached and the engine bay looked like this. Pretty similar to how it started
Much tension occurred as we started it up, hoping like fuck that the new gearbox wasn't borked, and we'd remembered to plug everything back in properly. I turned the key and it burst into life, and ticked over like a beauty. It no longer sounds like teeth chattering at idle and revs cleanly and near silently through to 3.5k which was as far as I dare take it on the drive home.
The whole job took two of us about 5 hours to complete end-to-end, which I think isn't bad considering I'd not done it before and we didn't have any ramps. The Nissan is actually quite nice to work on with plenty of space to get to stuff in the engine bay and care had gone into the assembly in 1996 as almost all the bolts came undone without shearing or being seized which made it quite a straightforward process.
This was a massive success and I'm hugely pleased with myself for undertaking this. It wouldn't have been possible without the kind offer of the gearbox from another member on here after my plea for assistance, and without my uncle-in-law to assist, but I definitely contributed to the work and have given the little nissan a new lease of life. Hopefully with these new bits bolted on it'll do another 140k miles and I'll know exactly what to do next time!
I hope you have enjoyed this little insight into my life and my vehicle of awesome mechanical resilience.