Welcome to Autoshite Welcome to Autoshite, like most online communities you must register to view or post in our community, but don't worry this is a simple free process that requires minimal information for you to signup. Be apart of Autoshite by signing in or creating an account.
Start new topics and reply to others
Subscribe to topics and forums to get automatic updates
Get your own profile and make new friends
Customize your experience here
Stanky's Mum's Octavia - Update p10
Started by
Nyphur
,
Sep 04 2015 07:32 PM
280 replies to this topic
Posted 15 February 2018 - 09:26 AM
Its had my patented 1 point ("yes, it is still a car") pre-MOT inspection so should be no issue...
RobT, Lacquer Peel, Stanky and 2 others like this
---
Posted 16 February 2018 - 09:50 AM
MOT booked in for Friday.

As above expecting an advisory for discs and likely rear tyres. Hopefully no major surprises.
VICTORY
RobT, Lacquer Peel, phil_lihp and 4 others like this
---
Posted 16 February 2018 - 09:58 AM
1999 Toyota Avensis SR. 229k| 1996 Toyota Granvia. 186k| 1989 Mercedes Benz 190 bASe. 96k| 1983 Ford Sierra bASe. 154k|
---
Posted 16 February 2018 - 11:27 AM
Good work Nyphur! was that the only advisory?
2003 Toyota Yaris
2004 SAAB 9-3
1998 Toyota Celica ST
1996 Nissan Almera GX (departed)
198? Jago Geep (Now resideing chez red5)

---
Posted 16 February 2018 - 11:33 AM
---
Posted 16 February 2018 - 08:09 PM
I sent the news to Mutha_Stanky via semaphore and she's well pleased.
Nyphur and Mrs6C like this
2003 Toyota Yaris
2004 SAAB 9-3
1998 Toyota Celica ST
1996 Nissan Almera GX (departed)
198? Jago Geep (Now resideing chez red5)

---
Posted 12 June 2018 - 02:03 PM
I've not been around these beige pages much of late, but thought I'd give a small update on the Octavia which continues to soldier on, though not without (minor) fault.
At the end of April I was on the M4 when the low coolant light came on, though the temperature remained stable on the gauge, so I nursed it to the next exit expecting a false alarm/failed sensor.
Popping the bonnet revealed it wasn't a false alarm; the expansion tank was empty and much of the engine bay was drenched in coolant. It was dark and pissing down, and I couldn't see where the leak was coming from by torchlight. I had a litre bottle of water in the boot so I dumped that in and it took the expansion tank to just below max, so I jumped back in and headed back off towards the services.
Just as I was taking the slip road to the services the light came on again, and once again I found the expansion tank empty. I called into the garage to buy some bottled water, but eyeing the astronomical Evian prices resolved instead to fill up a big blue plastic box I had in the boot with water from the air/water machine (air is 50p, but water is gratis) and use it as a makeshift water bowser to refill from at regular intervals as I switched from motorway to backroads. The following hour or so home was an entirely faithful reproduction of the scenes in Initial D where yer man is drifting his car about, trying not to spill the water in his cup holder: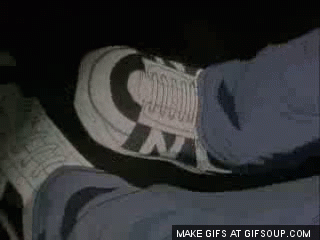 Except obviously really slowly so I didn't flood my car every time I braked, and with stops for refilling every 5 miles. Made it home without too much issue and the next morning located a split in one of the hoses towards the back of the engine which was firing the coolant out all over. Swapped that out replaced the water with coolant and we were back in business.
Next, a few weeks back I lost 4th gear and the stick stopped self centering. I changed the gearbox oil, which was pretty much at the correct level but absolutely stank and was very dark, and the 4th gear issue has gone away. I degreased and re-greased the linkages as best I could which has improved the self centering a little but not completely. It only seems to happen after a run on very hot days, so I'll live with it.
Lastly, I finally got round to cleaning out the throttle body to try and remedy the wobbly idle and trying to stall thing the car sometimes does from cold. I've definitely noticed an improvement (fewer revs required to pull away, and the acceleration from low revs seems smoother) but the trying to stall thing is very intermittent so unsure if that one is solved yet (I only cleaned the t/b last night).
So, we continue.....
The Moog, Six-cylinder, RobT and 6 others like this
---
Posted 12 June 2018 - 02:19 PM
Well done Nyphur, I used to go to school with a guy whos dad only drove his Saab 9000 in odd number gears. I don't know why, but witnessed it on many occasions as he drove us to various places.
RobT, Nyphur and cpjitservices like this
2003 Toyota Yaris
2004 SAAB 9-3
1998 Toyota Celica ST
1996 Nissan Almera GX (departed)
198? Jago Geep (Now resideing chez red5)

---
Posted 23 June 2018 - 12:24 AM
Having driven that car quite a lot....it's gearbox used to get upset on hot days stuck in traffic and gets agricultural. I can't remember if that one was solid linkage or not. If its solid linkage the bushings fail which could be the cause (I think they are also cheap to fix). if its cable then I don't know. I occasionally wondered why manufacturers of gearboxes with 'sealed for life' oil would sell you their own brand gear oil...
Trying to stall from low revs. This rings a bell. Does the temperature gauge (when its not pissing out its coolant) sit at 'North' all the time or does it shift about? It has a diabolic thermostat arrangement (replaced by myself at maybe 100k) whereby rather than just a normal thermostat and a sensor it has that combined into a rubbish plastic octopus which is north of £100 from VW and the only pattern alternative is £60 and trips the fault codes and doesn't work.
I seem to recall when this failed it did some odd things but never threw the CEL. A prime candidate for it is the radiator fan runs a lot. if its none of that it might just be the TB is thinking about being kaput, can't imagine they are big money on ebay these days but I think that one doesn't have a cable so doubtless needs to be assimilated by the ECU. From memory again they are simple to get at but the clips for the airbox spacetube stuff are feral.
I had a different Octy of the same engine and vintage and its gearbox blew up but its thermostat was sane.
'99 Skoda Octavia 1.6 'Petrol Blue' (green) £90
'98 Suzuki GS500E (red)
'93 Yamaha Diversion (red)
---
Posted 23 June 2018 - 09:50 PM
Are you BRUVA_STANKY then? To respond to your questions..... it's all solid linkages, temp gauge is at a constant north polarity, and the rad fan only runs when sat in shitty traffic for a while in warm weather (i.e. as expected).
I will continue to live with the minor foibles of the car - it starts every morning (even though it wobbles every now and then) and stops every evening when I get home. It is a car, what works in broad terms.
---
Posted 23 June 2018 - 11:06 PM
the very same!
If its solid linkage then i'd be fairly sure it needs new white plasticky bits in the linkage to sort out the slop, that was my understanding of the whole shitshow VW put on these (and those) days.
That said, i'd borrow that car when mine might have FTP, i dont think it let many people people if anyone.
'99 Skoda Octavia 1.6 'Petrol Blue' (green) £90
'98 Suzuki GS500E (red)
'93 Yamaha Diversion (red)
---
---
0 user(s) are reading this topic
0 members, 0 guests, 0 anonymous users