Cars I didn't need
There was also a 1976 Affetta 1.6 in red during this period that I can not find a picture of. Single round headlight and giffer owned with countless off shade touch ups.
I took in a beautiful 1984 Vauxhall Carlton at work and wanted to take it home with me so did. My boss even helped me get it home.
A friend asked me how much an MGB was worth! I asked questions about year, type and condition and over a few weeks we established it was a rubber bumper GT for restoration and needed moving immediately so I suggested he offer scrap value. My friend said would you buy it for that, I said yes and he repeated would YOU buy it for that, he had lost interest and I had a MGB GT that needed a quick uplift. The company recover truck was useful.
While it was a project all was not lost because it had a solid shell but was too much work for me so I advertised it. I had a call from Mrs6C at work asking what she should take for it as somebody was coming round. I called her back later and was told my price was too low and the man would not offer more. When I got home I asked for the buyers tel number, Mrs6C asked what do you want that for because I sold it for full asking price this afternoon to somebody else!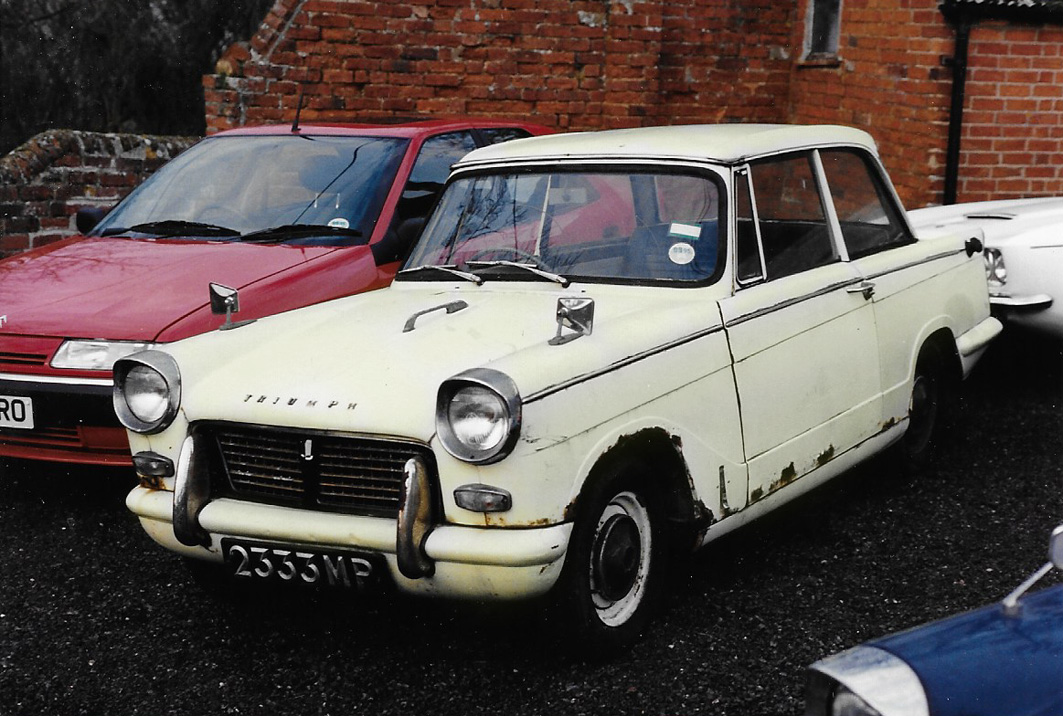 As noted Mrs6C and myself both like Heralds and when a worn out but MOTed 948cc came up for sale in the TSSC magazine it was irresistible, we bought it and went straight onto the M25 with our untested 34 bhp Herald to go to a south of England show.
Following turning up at my friends with the 1974 280CE a year later I got a call to say his bother-in-law's white 280CE was for sale did I want it? It was a non runner and had rusty front wings and other odd spots. As my plan was to leave the motor trade buying and preparing this car for when I handed back my company car made sense. The non runner was the fuel pump and I booked it in with the guy who sold me my E Type for a no hurry respray.
This drive shot was summer 1995 and the Herald love was still strongest, the one hidden is Mrs6C's 13/60 convertible.
I took a red 2CV Special in part exchange at work and as it was a good one wanted it, no problem as it fell outside the Citroen used car scheme I bought it. A friend from Scotland visited and found we had it and before long asked to buy it for his sister-in-law, she was a community projects leader all over UK including Northern Ireland and the car had years of adventures.
The same friend who alerted me to the white 280CE alerted me to his work landlord having a Rover 3500 P6 for sale and it was too good to miss. I knew it was juicy but I ran out of petrol 17 miles from home having been working on conservative 15mpg, then I found the leak!