My first car was Ford Cortina, which had been in the family for 7 years and had been held in pretty good shape as my dad was a painter and panel beater and was therefore able to weld it up and paint it at his leisure. Around about 1993 he bought a new car and gave me the Cortina. It passed the first years MOT with no advisories then went rapidly down hill from there once my Dad was no longer patching it up (he chucked the panel beating and gave away all his tools).
I knew it was letting in water by the black ice I'd often slip on on the carpet. I didn't know the extent of the issue until I was hit on the foot by a fairly large rock while driving at about 50mph. When I pulled the carpet I found a fair sized hole in the floor, which I fixed by smothering a sports sock in fibre glass and jamming it in the hole. The usual cortina rust traps on the inner wing was dealt with using expanding foam. Come MOT time it failed on the hole (obviously) but also failed on rotted out fuel tank mounting brackets. I took it to my trusty (read cheap and keen) mechanic who welded up the floor but couldn't find any decent metal on the inside so welded a bit of old trawler to the outside of the rear valance then bent it over. It didn't look great.
That was the last year it was on the road (after I fixed a stuck valve and put a new gearbox in it) I stuck it in a lockup and when I came back a year later I couldn't find one bit to jack it up on without going through the floor. It broke my heart to scrap it but it was too far gone.
It was Venetian red with red seats. This is the only other one I've seen (sold by the doctor for 8 million quid).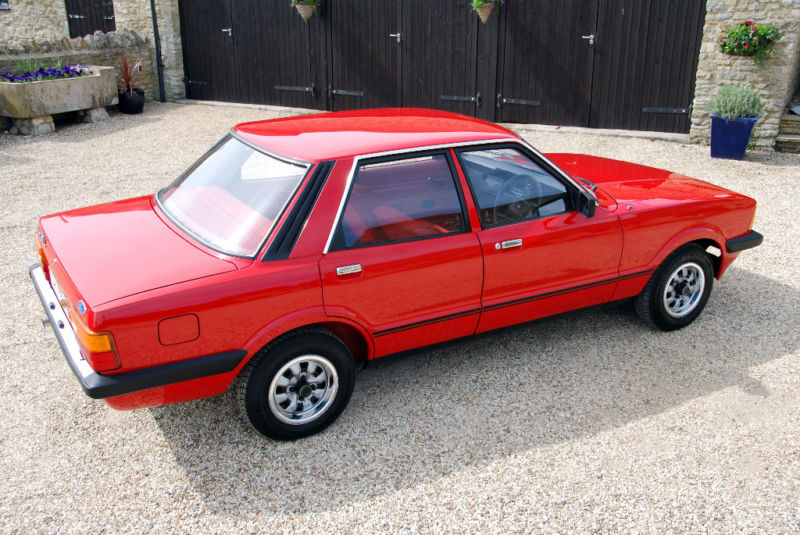 Around about the same time my Mate had a Subaru GLF that he'd had a for a few years. Everyone that got in it commented how soft the carpets where, which was because there wasn't any floors.
He bought toffee MOT from a pub in Edinburgh and ran it until he took it to a tyre place and they couldn't find one good bit to jack it on including the chassis rails.
The tyre guy suggested he had a about a 1 in 42,256 chance of surviving anything over a 5mph impact if he crashed it so he weighed it in.
Any tales of galloping rusty shite heaps?