Several years ago -long before this august Forum was even a twinkle in its designers eye- I put a Renault Caravelle in for some bodywork.
To cut a (very) long story short -the 'restorer' vanished ,along with the car.
I consoled myself that- knowing the car well -having rebuilt half of it -I would recgonise it when it eventually surfaced.
I did use the Feds to try and track it -but they were as much use as a chocolate teapot. Little interest or understanding at all.
So -imagine my suprise when Item 330184279816 appeared on Ebay- my Caravelle.
A lengthy chat with the new 'owner' -presentation of credentials, service history etc etc, and I 'bought' it back; collection next week when the cheque clears.
Nice man -sold to him with a V5c (how do you do that when the car is listed as stolen, has a crime number, and DVLA are made aware?) and receipt -I now intend to hunt the miscreant down & press charges- civil & criminal.
Seems I paid £1300 to 'alleged said miscreant' (-and a pair of near unique original sills) for a cheap lash over and pattern copy sills.presumbly sold mine -along with the Cosmic alloys that were on it.
Still,overall, very happy to have it back:-
http://i204.photobuc...9306_1_sbol.jpg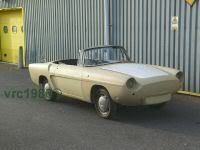 http://i204.photobuc...ault/9c81_2.jpg
It does seem to have been a strange week:-
Looks like I've bought a Taunus Transit in Germany (from OldBus on 'the 'other' forum)
Got a Fiat 850 and 1100d to collect, and, yesterday, was offered a splendid throw back by another esteemed member of this very site- which I accepted with alacrity.
Also sorting the 124 & Isuzu- still in Oz whilst the brakes are repaired.
Alas-SWMBO thinks we're contracting the fleet. Poor deluded soul!