This info added 30th May 2018.

Commission prices are updated and can be found here: https://twitter.com/...826457142865920 if the image doesn't appear below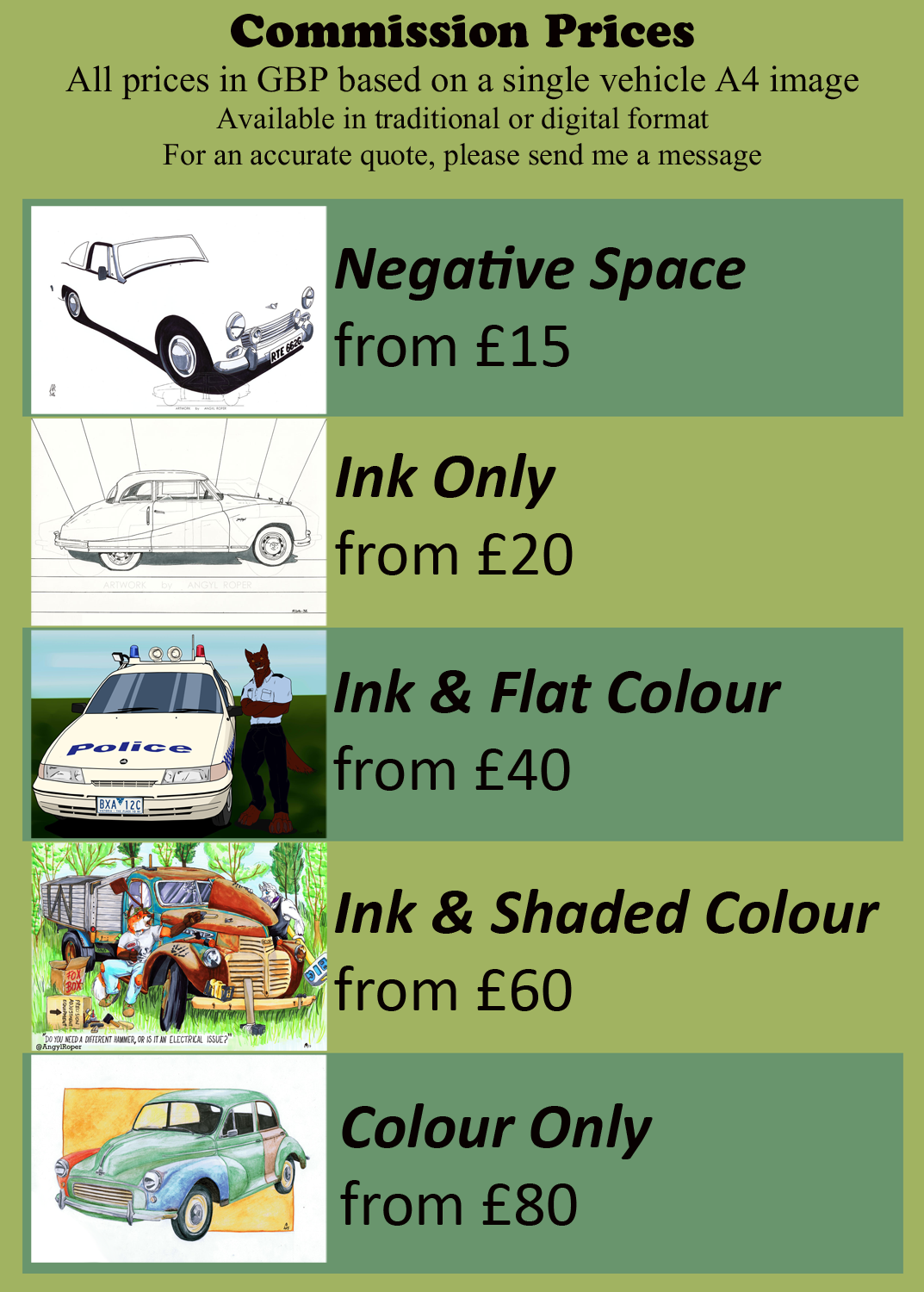 Important info next. It's lots of info, so apologies in advance for the text wall, but it is worth reading.

Reproduction/Printing - when you purchase a commission you do not purchase the rights to reproducing the artwork, just the artwork itself. That means you can't commission artwork and then upload it to print on tee-shirts you sell, for example. I am open to discussing selling the rights for reproduction, but usually a commission is a personal artwork so this isn't a discussion I have very often.

Postage - For traditional media, I like to post out the original artwork to the customer. Some customers don't want the original for reasons unknown. I can no longer absorb the cost of postage in the cost of the commission so please be aware that there is an extra fee for this. At the time of writing, uninsured postage is normally at the following prices for a single piece of artwork:

UK - £2-3
EU - £3-4
USA and Canada - £3-5
Australia and New Zealand - £8-10
India - £10-15
NOTE: For India, some areas cannot be posted to insured and some areas cannot be posted to at all. Please check before placing your order.

If you wish your item to be sent insured or by a special courier rather than Royal Mail, that does cost extra. Prices for this are on an individual basis. Normally insurance isn't necessary, but I will always advise you take it for added security since these are unique pieces of art that are not easily replicated.

Quotes - I am happy to offer quotes for free. HOWEVER, if for any reason you do not wish to continue to placing an order, please let me know. I do not need a reason, I just need to not be left hanging. You can change your mind back again if you decide you do want a commission after all, that's fine.

Size - A4 is the usual size I work at. A3 is the largest comfortable size I can work at. A2 is available in special circumstances.

Traditional Materials - All traditional media is completed on high quality Bristol Board, which is a type of paper. The watercolour, pencils, and inks I use are well suited to this. I do not currently offer oil or works on canvas.

Digital Artwork - I can only work up to A4 in digital. I work at a high enough resolution that you can scale this up to A3 when printing if required (for example, if you wanted a hard copy of the artwork to hang on your own wall. See notes on Reproduction above). You will receive a web-friendly JPG file with my watermark on which I'm happy for you to share online providing you do not strip my watermark off or alter the work in any way. You will also receive a print-ready PNG file at the original size which you can enjoy however you please, as long as it isn't for personal profit. There is no watermark on this version, but that's because that's for your personal use rather than for sharing.

Sharing - Please only share the version with the watermark online. This is how new customers find me, this is what pays the bills and allows me to continue producing work. By stripping out the watermark - there is no good excuse for doing this - you harm me financially so please do not do this. I'm happy for you to show people the bigger version as you would a traditional media image in your home, but social media is different. Please be conscientious when sharing images.

Problems - If you have a problem with the artwork or the process, do say something. I would far rather a customer actually talk to me so that we can resolve an issue than keep it to themselves and be unhappy. I want you to enjoy the creative process and the end product even more than I do.

RedBubble - There has been some confusion here so hopefully I can clarify. The artwork I upload to Redbubble from my personal portfolio is available as printed items through Redbubble. Some items can be customised for an additional fee, say you wanted a car in red rather than yellow. The fee covers the work taken to customise the original design and upload it to the site for sale. The fee does not cover the customisation of the original art AND the printed item, because of the way Redbubble works in this instance.

If you want an original artwork printed on a tee-shirt (just as an example), this is the cost of commissioning the original artwork and uploading it to the site PLUS the cost charged by Redbubble to produce that item. I do not offer commissions created in this way as exclusives either, so it will be publicly available to anyone visiting the Redbubble shop and wanting the item you commissioned. You will still get the copies of the artwork as you would have with a regular commission.

Commission Reproduction - When you commission artwork I do not normally reproduce it. I treat commissions as unique items. The only exception to this rule is if you specifically want it printed on something that is available through the Redbubble shop. Reproduction of commissions is OPT IN only, by default your commission is unique and is never reproduced. If you OPT IN by wanting it printed on other items, you are then allowing it to become available publicly.
Jaguar Land Rover - Due to copyright and trademark issues, I cannot offer any artwork depicting vehicles produced by Jaguar or Land Rover, past or present.
BMW - Due to copyright and trademark issues, I cannot offer any artwork depicting vehicles produced by BMW, past or present.


----

I'm building an automotive portfolio and it will contain all sorts of interesting stuff and I'm open to suggestions. Therefore it makes sense to me to make another thread instead of tacking onto the bottom of the Art of Classic Cars thread because I can edit the title so you know when there's been an update.

Barest minimum, I have to complete one car picture a month. Ideally I'm looking to complete one a week. All of the content in this thread will be available to purchase, unless otherwise specified, and I'm not going to post past work in here, just the new stuff.

To kick things off, here's a picture of a Panhard PL17 going omnomnom. I don't always keep tabs of how long a piece has taken, but this one took about 6 hours from blank page to completed image.