The following were in a single car park one Sunday in Chichester. In other words about half the cars in the car park were these interesting old ones, as there were only a handful of cars in there!
Old Merc 280SL Vs modern E Klasse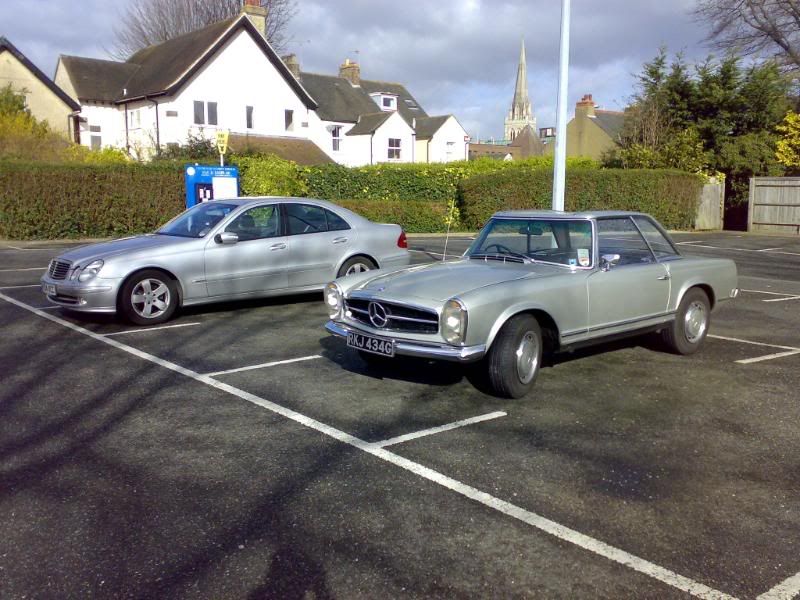 I spy my next spot, series II Land Rover SWB from virtually the same year as the 280SL (I'm getting the hang of these LRs now!) *
Then over the other side of the car park, this late-ish MkIII Carlton
*I'm confused. According to the site I looked at yesterday, the series IIa Land Rover (with the headlights moved away from the centre) should have come in at 1961, meaning this 1967 example should be a series IIa with the headlights moved out to the edges?
http://www.landrover..._land_rover.htm
The other thing I noticed is that I overlooked the dumped MkIII Cavalier in the car park which you can count as shite but I just forget to bother snapping them to be honest as only really early ones even catch my eye, they're still too common & therefore boring. To illustrate my point, whilst we were waiting for dad to return from the ticket machine, I noticed the navy blue M reg Cav which had a council notice on it. Then an identical L reg Cav pulled into the car park but didn't stay & drove out again. How depressing must it be to spot a car just like yours but newer which has been dumped!

Although their time must be coming shortly because look how rare MkII Sierras of all types have become, & they were from pretty much the same period, although their life ended about 3 years earlier. Sierras overlapped the lifespan of MkII & MkIII Cavaliers & I would say that Sierras have died out nearly as much as MkII Cavs now have, with MkIII Cavs having a bit of catching up to do.