For the last few months I've only been able to share with you a love of automotive cack from the last couple of decades of the previous century, especially anything BMC-BL-AR-MGR etc. But now I've got a fantastic Autoshite of my own, so I can bleat on about that endlessly and plan to do so, right here, right now.
I've been looking for a fun* car for a few years now, without really committing to anything. For about a gran i've previously got all hot and bothered about a Cincquecento sporting (before Inbetweeners ruined them), a Puma, a 205gti or cti, a mg metro, mg maestro, a mgf, a rover 200vi, and more recently I started rubbing my trousers repeatedly about a local low mileage rover 25gti (one for the rover anoraks).
As you can see from my first post on AS:
http://autoshite.com...m-of-the-range/
...I confidently predicted back in June that in 6 months I'd be the proud owner of an MG Maestro, but true to my name I got distracted and ended up with something completely different.
So, why a 924? Blame GarethJ of this parish. He put forward such a compelling argument for the 924 here:
http://autoshite.com...iteists-choice/
...and again here:
http://autoshite.com...?hl=porsche 924
...that the car went from 'not even considered the merits of ownership' to 'top chod and I definitely should' immediately.
So what appealed to me? These are the main reasons:
1. Fairly simple mechanics, a car that I could learn some car mechanics on.
2. Back seat, essential for the dustbin lid.
3. The mrs approves.
4. It's surprisingly economical, and has a lot of vw/audi parts.
5. They were galvanised in the 80's. Great. Likely to dislove a bit slower than anything elas on my chod for a gran list.
6. Cheap for what they are. Scene tax dodging on a massive scale. If they were a VW, Audi, Karmann Ghia or almost anything other than a Porsche, they'd be worth twice as much. And I wouldn't be able to afford one.
7. The 70's Pascha interior. Wow. Just wow! And pop up headlights. POP UP HEADLIGHTS!!!
8. It's not a proper Porsche mate... Yes, great. A Porsche that Porsche enthusiasts aren't enthusiastic about. That's the car for me.
9. It's got a van engine. Yes, there's nothing I want more in a car than for the Top Gear/Pub Bore car loving squad to misunderstand it. (Maybe explains the love for the MG Maestro?).
10. Underdogs are for winnaz.
What's not to like? Er, just the ==PORSCHE== graphics most of these have down the sills. Ruins the clean lines of what is, to my eye, a sexy devil of a car. Also smacks of attention seeking. Is it really that desperate to be accepted as a Porsche?
I started looking for a 924 for about £750, but the kindly folk at the owners club made a sensible suggestion to up my budget to £1000-1500. This seems to be about the right amount for a car with an MOT that doesn't need expensive/extensive work doing to it. The less attractive alternative appears to be spend £750 on a car and then another £750 on work that needs doing to it.
So this summer I've been watching any 924 that came up on ebay, autotrader car&classic, gumtree etc for £1500 or less. Unfortunately they were all either wrecks, automatic, the other end of the country, boring interiors, out of my budget or red. Or any combination of those.
Having nearly bought a low mileage but incredibly rusty grey MG Maestro from Aberdeenshire out of desperation (lucky escape) I nearly choked on my Port and crackers I was so surprised to spot this thread from GarethJ:
http://autoshite.com...le/#entry455477
Surprised that he was moving it on, but excited that it seemed to be just what I was after. So we talked, and I headed up a few saturdays ago on a very un-epic, un-autoshite collection un-adventure. (Bus to East Croydon, then one train right through London to Flitwick, and a lift from the station from the Gent himself. Took about 90 mins & £20 door to door).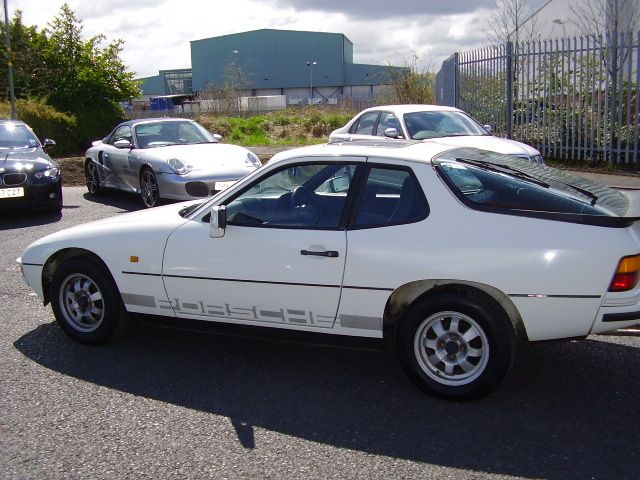 As I looked over it, Gareth went about soldering some ignition wiring to fix a starting problem. I couldn't work out if having the seller working on the car as I was viewing was a really bad sign, or showed commitment way above and beyond expectation. Being a bit new round these parts, I decided it was probably just the Autoshite way.
Like all Autoshite, the photos flattered it, but it was nice and solid, with only a couple of bits of rust that will need sorting at some point. Had been resprayed at some point, and not especially well, but white hides all sorts, and I'm not buying it for Concourse. No leaks, all the electrics work, and the interior is even more fab in real life. As much as I tried, I couldn't find any reason not to buy it. We had a drive, and I liked it even more. Nice exhaust sound, steering heavy for parking but really nice on the move. Nippy enough, without being silly fast. Gareth took me past a house that had a couple of Maestros fizzing away in the front garden that the owner was slowly turning into a shrubbery and I decided that bizarre as it might sound, buying a Porsche was the sensible option.
Other than the usual, what should I look out for on these... Having consulted every possible bit of info on the web, the same stuff comes up over and over:
1. Rust... the galvanising doesn't last as long as you'd like. I'd like it to last forever, ideally. Especially rear end of the inner & outer sills, battery tray and front valance.
2. Engine... Piston rings can wear out. Things seem to wear out unspectacularly on these cars rather than break spectacularly.
3. Electrical... these are the most likely probs... battery to starter cable can melt and short on exhaust, electric windows and sunroof can be trouble, headlights can struggle to pop up or pop down, and as the fusebox is under the battery tray if that's rusty then water comes into the footwell in an entertaining fashion via the fusebox. Pretty much anything electrical can be a problem. It's what these old Porsches do best.
4. Fuel tank leaks... hard to get hold of new tanks, also rear axle/gearbox needs to be removed to replace tank, so an expensive job.
5. Clutch... with gearbox at the rear it's a costly job to replace the clutch.
6. Rear glass hatch... can leak water, and exhaust fumes into the car.
I knew about all of the work that Gareth had done over the summer, as it was documented here and on RR. Although no guarantee, it helped to know that a fair bit of stuff had been done to it, especially the fuel tank and clutch had been replaced for the mot.
So, I bought it. Then drove it home avoiding the motorways as much as possible. Although I have to say it's been a long, long time since I grinned so much going round the M25. Here's some photos, which flatter it, obviously: