As I went to the trouble of putting this on RetroRides yesterday, I'll do a complete copy and paste on here. Say what you like about the blue forum, if everyone on ebay used this template we'd have a lot less to laugh at on the Ebay Tat thread.
Model: 924 2 litre, non-turbo

Year: 1984, B registration

Mileage: 88,000

Tax: October 2013

MOT: May 2014

Location: Flitwick, Bedfordshire

Price: £1250

Contact details: [email protected] or 07710 532614

I wanted one of these for ages, in white with a Pasha interior and back in May this is the one I bought.



The MoT had just expired when I got it, the faults were a leaking fuel tank, anti roll bar mounts (they bolt on to the wishbones), handbrake effort and a small amount of welding at the front jacking point. Not too bad I thought...

The leaking fuel tank is a very common 924 issue and unfortunately it means dropping the rear gearbox out to change it. This one got a refurbished tank put in and while it was on the ramp a new clutch was fitted too. Anti roll bar mounts were fitted, new fuel lines, jacking point welded and the rear brakes adjusted.

I use it for commuting to work and it's 75 miles a day, to keep it sweet I've also had:
New battery
New water pump
New cambelt
New starter motor
New ignition coil (£60!)
New HT leads
New plugs
New fuel filter
New rotor arm
New distributor cap
and some semi synthetic oil with new filter.

The electric windows work, as does the electric tailgate release, this being a late Lux model. It's also got a stainless steel exhaust and a tilt & slide glass sunroof.

Mileage seems genuine at 88,000, the early service history for the car confirms that it didn't go far in its early life.

Driver's seat is good, on the passenger one the stitching has split between the two different materials. The interior is 70s-tastic and I recently fitted a radio cassette player with graphic equaliser to keep it authentic. I plug my mp3 player into a cassette adaptor.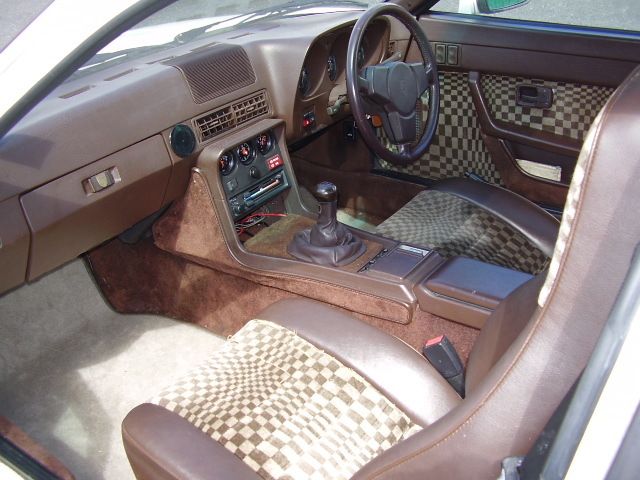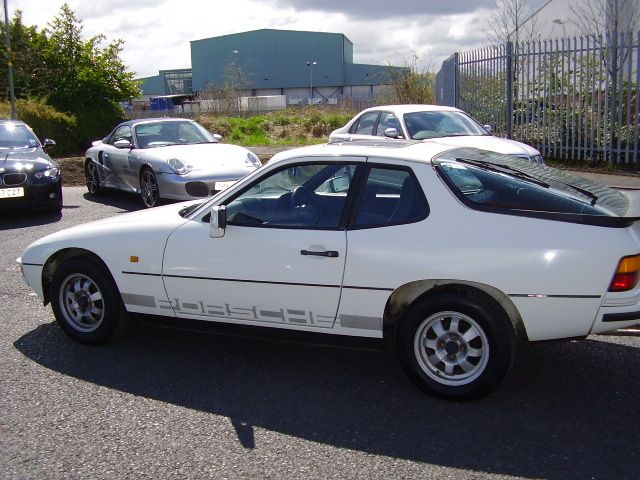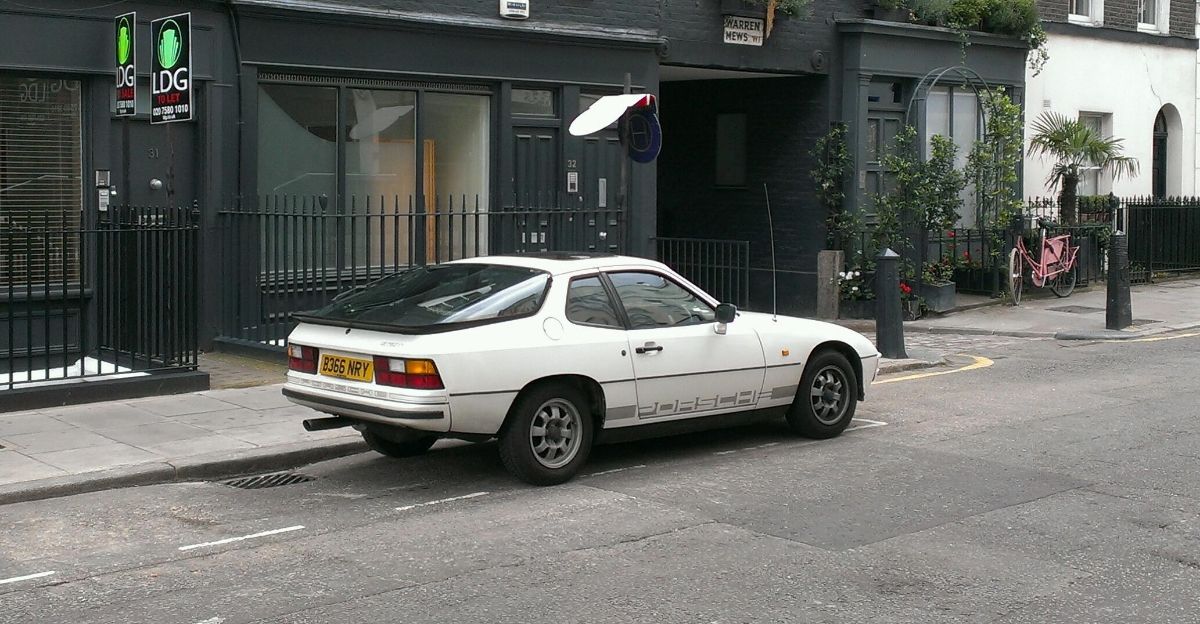 Things that don't work, because I don't want you to trek across the country and waste your time, the clock tells me it's always 2 o'clock, the water temperature gauge doesn't work (although the electric fan kicks in fine) and the oil pressure gauge and voltmeter sometimes read a bit low. The headlights pop up fine but are lazy going down. Last week the starter quit so I changed the starter motor but it looks like there's a wire from the ignition key that's at fault. I'll fix that over the next couple of days because opening the bonnet and hotwiring it isn't a long term solution.

In its favour the sills are extremely good, and with the clutch and fuel tank the most expensive 924 jobs have been done. The 2 litre is the cheapest engine to fix (a cambelt change for a 924S or 944 is £300) and it's pretty economical at 35mpg. It drives very nicely, it's very comfortable and my commute is much more enjoyable when I'm in it.

Values for 924s are everywhere, I'd like £1250 as this one is so solid. If you want to haggle down we can start at £1500 and get to £1250 that way