Welcome to Autoshite Welcome to Autoshite, like most online communities you must register to view or post in our community, but don't worry this is a simple free process that requires minimal information for you to signup. Be apart of Autoshite by signing in or creating an account.
Start new topics and reply to others
Subscribe to topics and forums to get automatic updates
Get your own profile and make new friends
Customize your experience here
The Bikeshite Thread
Started by
warren t claim
,
May 12 2013 11:05 PM
1802 replies to this topic
Posted Yesterday, 08:57 PM
Obviously that's allowed!
---
Posted Yesterday, 09:01 PM
Not been out on the Fireblade in a bit, so got it out the garage today. here's how it went:
Battery flat, no problem, I'll bump start it: FAIL.
Got booster pack, took seat off, it ran.
Put seat back on, it stalled.
Took seat off, jumped it, let it run for a while, went for a ride.
Got about 30 yards, stalled it. Wouldn't bump start, pushed it back.
Jumped it, ran it for ages, went for a ride.
Ran out of fuel/didn't switch to reserve. Battery flat, pushed it home about 3/4 mile.
Put fuel in it, jumped it, ran for ages, went for two or three mile ride. Saw mate, shouted hello, nearly fell off.
It's back in the garage now.
Fat_Pirate, John F, Aston Martin and 1 other like this
"As for actually admitting to liking Corsas on a public forum: you're a bollock-brained, biscuit-eating, faux-northern, bastardy, bollocky, wank-brain"
---
Posted Yesterday, 09:24 PM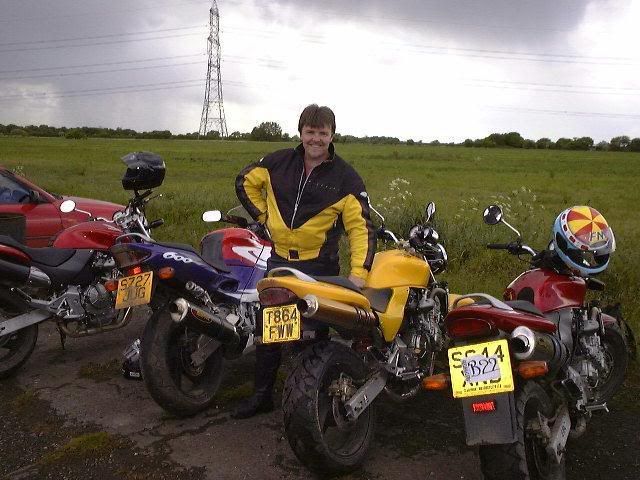 this was 17 years ago

red hornet feb 99
marts yellow may 99
at elvington
red one no mot since 2008 - i was knocked off it in 2001 and it got taken away but someone fixed it as it has been reg moted since
his yellow one was in use until 2012 - mart turned into an aprilia perv and went thru the lot mille tuono rsv4 and coupla triumphs

i love this pic
Fat_Pirate and brandersnatch like this
---
---
0 user(s) are reading this topic
0 members, 0 guests, 0 anonymous users